'Pihu' Sent for Guinness Book Even As Makers Receive Flak for Promotional 'Distress Calls' Imitating a Child
The film is now being considered for the Guiness World Records for being the only full length feature film starring a lone character, played by a 2-years-old- child actor.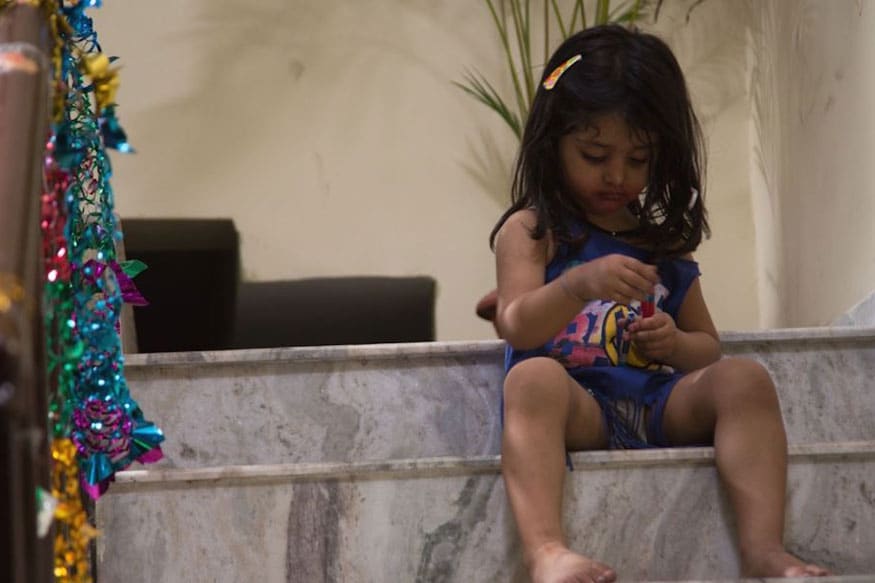 Myra Vishwakarma in a scene from Pihu.
National Award winning filmmaker Vinod Kapri's upcoming film 'Pihu' has already generated chills in the box office.
The viral and controversial trailer featured a seemingly two or three-years-old girl, alone inside a high-rise apartment while her mother seems to be drugged or dead inside the house. The chilling, 125-seconds-long trailer traces the child's dangerous antics inside the house, keeping the audience guessing what her fate holds. Many have referred to the trailer as a parent's worst nightmare and many even called it out for being too disturbing.
In fact, the success of the trailer seems to have encouraged makers Vinod Kapri and Ronny Screwvala and Siddharth Roy Kapur, who are apparently in talks with Guinness World Records for nominating Pihu. The film has just one character, a 2-year-old child actor.
While #PihuTrailer has won tremendous praise, the latest is, the makers are in talks with Guinness World Records: Only film to have just one character, played by a 2-year-old child... #Pihu is directed by Vinod Kapri... Presented by Ronnie Screwvala and Siddharth Roy Kapur.

— taran adarsh (@taran_adarsh) October 29, 2018
However, while reactions to the trailer itself have been largely on the positive side with many claiming they can't wait to watch the film, set for a November 16 release, the makers have since been receiving a lot of flak on social media for a particular viral marketing stunt that seems to have backfired for the film. While the trailer was promising, what followed next has left many disturbed. As part of the film publicity gimmicks, many cell phone users got an anonymous call from a child allegedly in trouble.
Once the user answered the call, a child's voice spoke on the phone and asked for help, and then promptly hung up. Genuinely concerned by the call, many users tried calling back on the number to get in touch with the distressed child - only to get a text message in return containing a link to the Pihu trailer.
The gimmick was widely criticised after some people put the incident on Twitter. Many claimed that they felt 'disturbed' after getting the call, others blamed the makers of using a child's distress to play audience emotions just for publicity. Even others claimed that the gimmick was, in fact, an invasion of privacy. Check out some of the reactions on  Twitter:
Got a call from an anonymous number. A baby wailed about her mother and dad, and hung up. Disturbed, I tried calling back in vain. Got a message with a link to help the child. A link, as it turns out, of #Pihu's trailer. A horrible idea, a disgusting invasion of privacy.

— Sudhir Srinivasan (@sudhirsrinivasn) October 26, 2018
What kinda sick marketing strategy is this?! Scaring the fuck outta people is not cool you dickheads!fuck your stupid movie! #Pihu #Disturbing

— samira bhat (@bhatpink) October 28, 2018
If you have seen the trailer of Pihu (you have been warned: https://t.co/jsngg3uu5v), you'd know how despicable this marketing tactic is. Using fear to sell products like insurance, I can understand, because the end goal is supposed to be for our benefit. But, to sell 1/4 pic.twitter.com/9xPe1gFyfL

— Karthik (@beastoftraal) October 28, 2018
I just got a call from a child named Pihu who wanted desperate help. No. was 7024720657. THIS KIND OF MOVIE PROMOTION IS DISGUSTING TO SAY THE LEAST.

— Karan Bhardwaj (@journokaran) October 26, 2018
Did I just get a call from a hysterical child called Pihu asking for help ???? And this is a film promotion? The no is 7024820657 totally disgusting. I am so traumatised

— Chuman Das (@chumandas) October 26, 2018
Many blasted the move as 'sick' and referred to it as marketing gone wrong. No statements have yet been made by the film's makers.
Get the best of News18 delivered to your inbox - subscribe to News18 Daybreak. Follow News18.com on Twitter, Instagram, Facebook, Telegram, TikTok and on YouTube, and stay in the know with what's happening in the world around you – in real time.
Read full article