PM Modi Sported A Madiba Shirt, Internet Can't Get Over It
A lot of PM's fans seemed to be really impressed with his choice.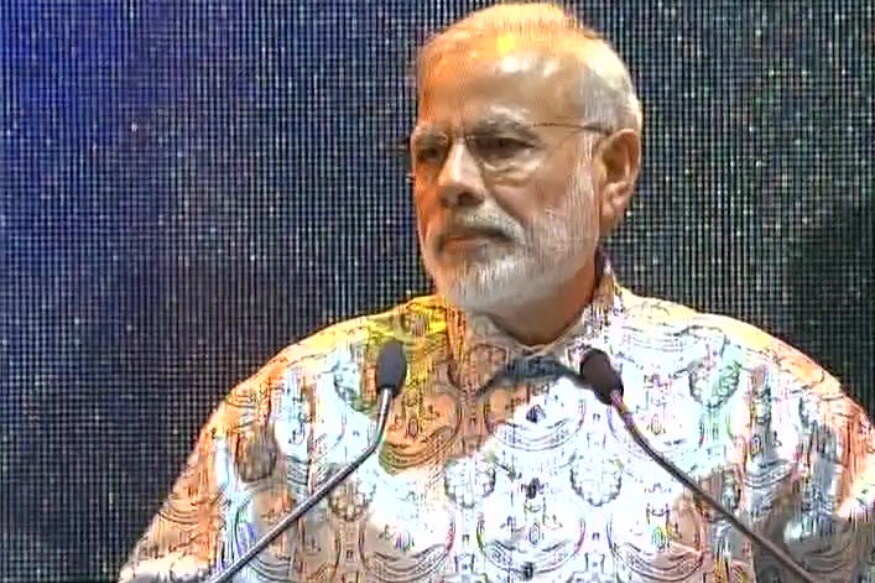 (Picture courtesy : ANI/Twitter)
Prime Minister Narendra Modi, who is on a five-day tour of four countries, including Mozambique, South Africa, Tanzania and Kenya, addressed the Indian diaspora in Johannesburg on Friday night.
The event was organised by SAWelcomesModi, an organisation that represents the 1.3 million people of Indian community living in South Africa.
And while the venue was packed with Modi supporters and fans who cheered as he entered and while he left, the one thing that surely left a lasting impression was the Madiba shirt with Indonesian batik print that the Prime Minister wore to the event.
PM Modi arrives at the venue to address the Indian community in Johannesburg (SA) pic.twitter.com/kiZWXyVTzo

— ANI (@ANI_news) July 8, 2016
And obviously the internet can't get over it.
Am I the only one wondering what's wrong with #Modi's shirt in Johannesburg! Waiting for him to break into a Hawaiian dance! #ModiInSA

— Mr.Yo (@yogesh05915929) July 8, 2016
Must Say, Loving PM Modi's Blue printed Shirt More Than His Speech at Johannesburg today. Reminds of The Great Raj Kapoor in Mera Nam Joker.

— *THE PERFECTIONIST* (@AAkshatt) July 8, 2016
seems the shirt is specially designed by Smriti Irani.. #ModiInAfrica #ModiInSA #Modi https://t.co/CNSWsoqnDC

— Maninder Singh (@maninderonline) July 8, 2016
Modi's shirt reminds of those moving patterns which are an illusion.

— SK (@CorporateKity) July 9, 2016
@PMOIndia modi in that shirt and swag English! Life seems kinda lopsided now. #PMModiInAfrica pic.twitter.com/uZvXg3XbHs

— Samriddh (@samriddhd) July 8, 2016
This Twitter user wants PM's shirt...badly!
I want that Shirt badly 😂😂 #ModiInAfrica

— Sultan di maa di (@iam_sdb) July 8, 2016
And this user truthfully accepted it's difficult to get over the PM's choice of shirt
Can't get over NaMo's shirt #Johannesburg #PMModiInAfrica

— Tarana (@tan_O) July 8, 2016
A lot of fans of the PM seemed really impressed with his choice
Modiji looking super cool in this Mandela Shirt #ModiInAfrica https://t.co/nzG8s4hnND

— sheetal (@sheetal_here) July 8, 2016
PM @narendramodi looking handsome in that Shirt. :) #ModiInAfrica https://t.co/vROrqzQnul

— Devika (@Dayweekaa) July 8, 2016
Dear Mr Prime minister @narendramodi , nice shirt sir 😍#ModiInAfrica

— Rachittt (@ra_chittt) July 8, 2016
PM Modi looking fantastic in this shirt!! #ModiInAfrica #PMModiInAfrica #Johannesburg

— SRaizada (@sraizada2000) July 8, 2016
@PMOIndia @narendramodi Love your Madiba Shirt choice Sir! And Thanks for working so hard for us! God Bless! Jai Hind!

— Shalini Lakhanpal (@paul_shalini) July 8, 2016
@narendramodi in Madiba shirt...excellent sir hatsoff to you #ModiInAfrica

— K V Rao (@vrkommaraju) July 8, 2016
Read full article