Priyanka Chopra Wore a Dress Designed by Harvey Weinstein's Estranged Wife, and She isn't Sorry
The Quantico star called Georgina Chapman her friend and a 'self-made' woman.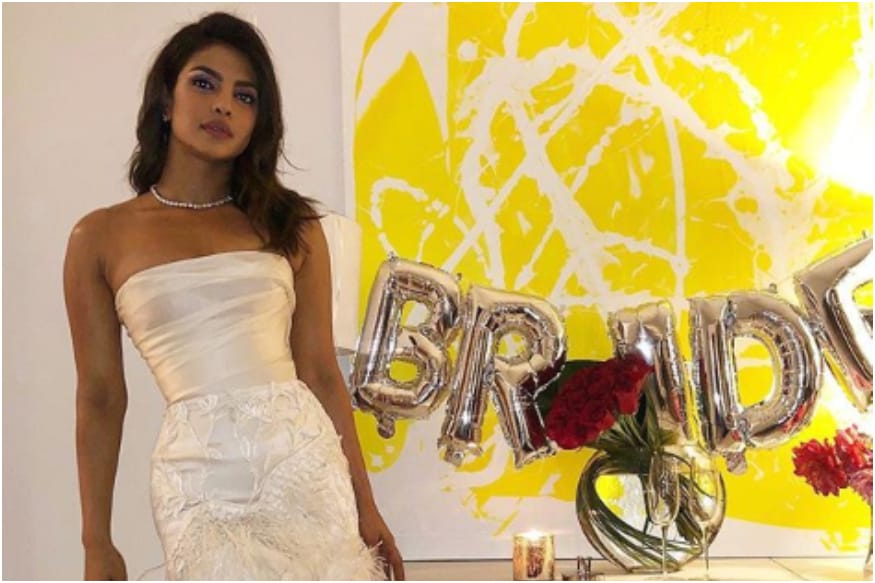 Image Courtesy: Mimi Cuttrell/ Instagram
Recently, photos of Priyanka Chopra in a white Marchesa gown entering Tifanny's for her wedding shower went viral on social media. With her upcoming nuptials with Nick Jonas being the talk of the town right now, anything related to the wedding was bound to go viral.
However, the enthusiasm soon soured after several people called Chopra out for wearing a gown by Marchesa - the luxury label co-owned Georgina Chapman, the estranged wife of the now infamous Hollywood producer Harvey Weinstein.
In the past year, Weinstein has been accused been accused of rape by 13 women and of sexual misconduct by at least 100 women including his employees or other women he worked with. There have previously been reports of actresses such as Felicity Huffman and Sienna Miller among others who were pressured into wearing Marchesa gowns by the producer to further the interests of his wife's company.
While many complemented how Priyanka looked, the fact that she was wearing a Marchesa gown soon provoked reactions on Twitter.
Because none of this matters. In 2 yrs time, he'll be back at work. If you don't believe this, you've never been to #Hollywood

Why Priyanka Chopra Wore A Dress By Harvey Weinstein's Estranged Wife At Bridal Shower - NDTV https://t.co/gVPYPhbNfI

— Sophie (@Sophie67518576) October 31, 2018
Wow. Priyanka has the balls to call Harvey Weinstein's wife "self made". I don't think that phrase means what you think it does, @priyankachopra. Why don't you ask Georgina how much of Marchesa Harvey owns? Or how it was his money that started the business and kept it afloat? https://t.co/rHkTmDFgSe — John Doe (@JohnDoe78359022) October 31, 2018
⚀georgina is a nobody without her rapist husband ⚀ clearing a path 4 her ⚀ Weinstein FORCED A-list actresses to wear marchesa ⚀

.

.#PriyankaChopra believes Harvey weinstein's Wife is self-made😂

— Butt Ugly Art (@maestrocanada) November 1, 2018
Priyanka, your friend is not self made. Marchesa Fashion is an direct outgrowth from the sexist and misogynistic Hollywood trash that sat quietly for years while knowing full well the criminal and degenerate behavior of that perverted pig Weinstein. — Lipton ☕ & 🍪 s (@ybrig2) October 31, 2018
However, refusing to let criticism bog her down, Priyanka came out in support of Chapman, whose clothing line has been shunned by several actors since the allegations against Weinstein. Speaking to a Women's Wear Daily, the actress said that she chose Marchesa to prove a point about women supporting women. She said that Chapman was her friend and that the accusations against Harvey were not her fault.
Calling Chapman a 'self-made' woman, the Quantico star said, "It's not her fault. And I don't think it's right to take it out on a self-made woman what somebody in her life did."
Many also came to her rescue and questioned why women were always questioned for the actions of other men.
Blaming Priyanka Chopra for wearing a dress by Georgina Chapman, the EX of Harvey Weinstein, is the perfect example of the patriarchal notion that women are still the moral compasses for men and it is somehow THEIR fault and not the man's himself when he screws up.

— sai sailaja seshadri (@Saisailu97) October 31, 2018
Her dress was made by the ex (!) of Harvey Weinstein. This once again proves that women will somehow always be blamed for the mistakes men make. #PriyankaChopra #HarveyWeinstein https://t.co/DUjrRIyRr4

— Manisha 💄 (@_ManishaSingh_) October 31, 2018
Y'all better not even think about coming for Ms.Priyanka Chopra soon to be Mrs. Priyanka Chopra-Jonas. Her bridal shower dress her damn choice. Don't think because she's in the public eye that any of you have a say. Girl is slaying to the gods. #PriyankaChopra

— Jovonna (@JovonnaYamada) November 1, 2018
I love the dress, the shoes? Not so much. And leave the designer out of it. What Weinstein did is his problem and only his. Don't drag everybody that had the misfortune of working with him down to.

— Paula (@Paula60693769) October 31, 2018
Priyanka Chopra sat down & thought "Guess what?I'll wear Harvey Weinstein's ex for my bridal shower" .. that's how ridiculous your misleading click-bait title sound!! https://t.co/1NsPOSq1BV

— Sunshine & Shadows (@beuxmess) November 1, 2018
So Harvey Weinstein sexually harassed women and his former wife should be punished. Ridiculous

— "luh*lee*tah." Lolita is my evil twin. (@LLAmos) October 31, 2018
Why on on earth is there a backlash against the wife of Weinstein ?? She left him. If someone is guilty does it make their entire family guilty too ?

— Juezan J (@lon_jeremy) October 31, 2018
Get the best of News18 delivered to your inbox - subscribe to News18 Daybreak. Follow News18.com on Twitter, Instagram, Facebook, Telegram, TikTok and on YouTube, and stay in the know with what's happening in the world around you – in real time.
Read full article