'Pukka Muslim' Boy Who Tore India's Flag in Viral Video Turns Out to be Hindu Prankster
The boy hand his friend have been let off with a warning.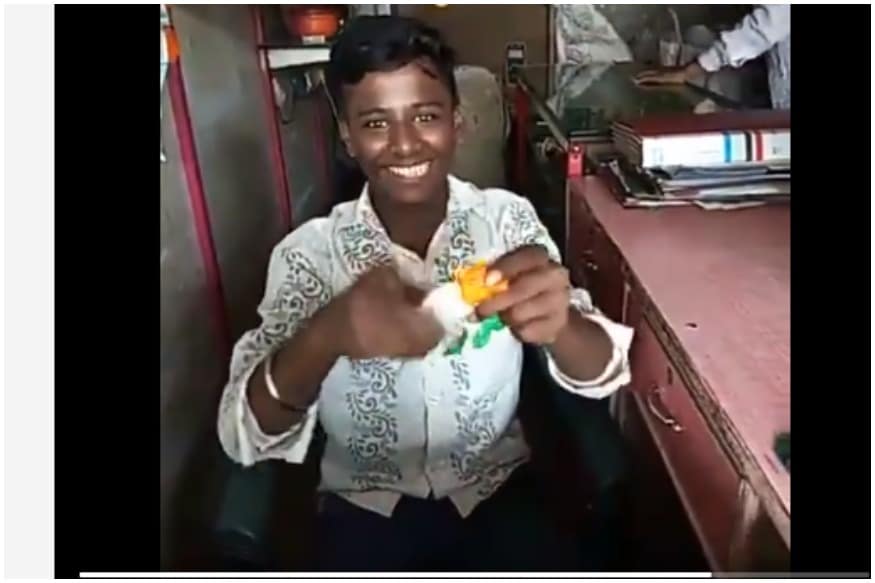 The boy hand his friend have been let off with a warning.
A few days after the 72nd Independence Day of India, an objectionable video started doing the rounds on social media.
In it, an apparently teenaged boy is seen holding up the flag of India. The boy goes on to proclaim himself as 'Pakka Musalmaan' (devout Muslim) and then shreds the flag to pieces. It was posted by a Twitter user going by the handle @AnuMishraBJP, a fake account of journalist Rohit Sradana, that is followed by at least one BJP leader, Tejinder Singh Bagga.
भारत के राष्ट्रीय ध्वज को फाड़ के फेंक दिया इस लड़के ने कह रहा है....

कि "पक्का मुसलमान हूँ"

ये मानसिकता कहाँ से पैदा हो रही है?@sardanarohit@KapilMishra_IND@TajinderBaggapic.twitter.com/AwFBDp0LsW

— Rohit Sardana (@AnuMishraBJP) August 20, 2018
The video went viral on Twitter and Facebook and generated a host of communal responses. It was retweeted over 20,000 times and evoked widespread communally abusive responses. A subsequent video that also went viral depicted a mob beating and abusing the boy from the previous video. In a second version of the video, the boy is seen saying "Pukka Hindu hoon," (I am a devout Hindu) after being beaten and abused.
Although violence is not the right way,but honestly there is a limit to everything.Don't have to love India but u just can't disrespect it in this manner.#Pakistan was made specifically for this type of Pukka Musalman... #IndiaForAll #Hindu #Muslim #Sikh #Christian https://t.co/Wo2CxMX7u0 — Mayank (@UdtaIndian) August 21, 2018
Superb! This Allah's banda insulted the National flag and had to pay an apt price for his act. Watch both videos... pic.twitter.com/BcTnReNge9

— Adriana Livingstone (@ALivingstone45) August 20, 2018
All these videos were shared thousands of times, in fact even by journalists and media persons such as Sudesh Chavhanke of Sudarshan News. In fact, Chavanke went as far as to justify lynching in his defence of the abuse meted out to the boy.
पक्का मुसलमान हूँ इसलिए तिरंगा फाड़ के फेंकने वाला "स्वामी अग्निवेश" संस्कार होते ही #भारत_माता_की_जय बोल कर नारे देने लगा। लातों के भूत बातों से नहीं मानते। अब कोई कहेगा कि ये तो #Lynching है पर कोई यह भी बताए कि संविधान इस को कैसे रोक सकता है? क़ानून तो इनको रोकने में विफल है ! pic.twitter.com/MvVgV3UcSL

— Suresh Chavhanke STV (@SureshChavhanke) August 21, 2018
However, closer inspection reveals a more complicated truth.
After getting beaten by a mob, the boy reveaed that he was not Muslim but Hindu and that the video was meant to be a prank. A report by Times of India said that authorities picked up the boy and his friend who filed the video but later let them off with a warning after the two and their families apologised.
The incident highlights once again the ease with which hate and misinformation can be spread online and also how quickly mobs can now attack an individual for their views on social media. From the above videos, it is clear that the boy in the video got beaten up soon after publsihing his prank online.
It was only after getting beaten that the boy revealed he was Hindu. Such instances of mob violence have been growing in the past few years, and if not curbed, may end up posing a serrious challenge to law and order.
Read full article
Countdown To
Elections Results
To Assembly Elections 2018 Results