With an ever-expanding fake news industry and fear-mongering rumours that recently led to a spate of lynchings across the country, Trinamool Congress leader Derek O'Brien called for an attention motion -- a provision to raise questions on a matter of urgent public importance -- in Rajya Sabha on Thursday.
Giving a snippet of what would follow in Rajya Sabha, O'Brien took to his Twitter profile and wrote:
"Misuse of social media to spread #FakeNews & rumors often leading to incidents of lynching. #InsideParliament Calling Attention Motion in RS from 2pm. Am speaking for Trinamool. Expect sharp Qs to BJP govt from Oppn. And we expect answers."
Stressing upon the misuse of social media in recent times, O'Brien didn't hold back and posed three "tough" questions to the BJP government.
Question #1
If Postcard News was brought down, we know the content, why are BJP MPs, MLAs, ministers now demanding Facebook that it should be brought back?
Notorious for peddling fake news on the Internet, the accounts of Postcard News were recently removed from Facebook and Twitter. The move came two and a half months after Mahesh Vikram Hegde, its founder, was arrested by the Bengaluru Crime Branch for spreading fake news about a group of Muslims attacking a Jain monk.
He had also tweeted images of the injured monk and said that "no one is safe in Siddaramiah's Karntaka." The post was shared thousands of times on social media platforms.
Hegde was booked under various sections of the Indian Penal Code that deal with promoting enmity between religious groups and outraging sentiments. Several BJP leaders came to his defence and started a #ReleaseMaheshHegde campaign on social media sites. Among them was union minister Anant Kumar Hegde, who said that Siddaramiah was behaving in a dictatorial manner.
Question #2
If we know, India's most bilious, hatred spreading Twitter handle is @ippatel, why was he called to the BJP President's social media network last week?
O'Brien's second question was about Prashant Patel Umrao or @ippatel on Twitter -- a 31-year-old lawyer who shot to fame when he filed the office of profit petition against 20 Aam Aadmi Party MLAs in March 2015. BJP had organised a social media meet in Delhi on 21 June and among the many attendees was Umrao -- who has been, on several occasions, accused of spreading misinformation on social media.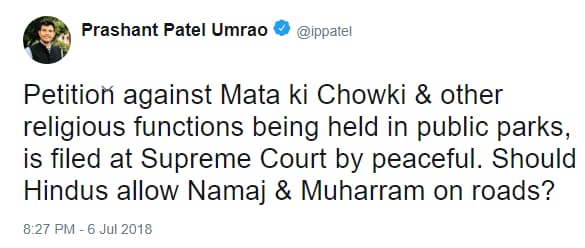 Back in 2012, Umrao had falsely attributed a quote to journalist Rajdeep Sardesai, in which the former had reportedly called for the killing of 1000 Hindus.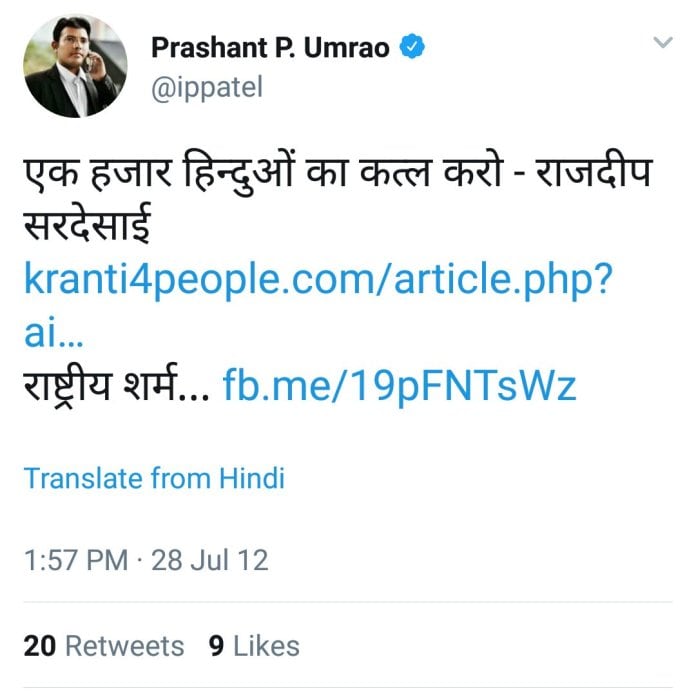 Screenshot credits: Alt News
Sardesai later lodged a complaint alleging that Umrao had been spreading fake news on social media.
After O'Brien's question in the parliament, the lawyer has decided to take legal action against him.
Many on Twitter later came out in Umrao's defense and started tweeting with hashtag #IStandWithPrashantPatel on Thursday.
Question #3
Facebook's largest advertiser in India with19 sponsored ads for the last six months is Nation With Namo. My question is who is paying for this?
In his 4-minute-long stint in the Rajya Sabha, O'Brien also claimed that a Facebook page 'Nation With Namo' has 19 sponsored ads running since the last six months.
The 'About Me' section of the page reads: 'Nation with NaMo' is a pan-India citizen engagement platform to build awareness of and promote participation in Sri Narendra Modi's New India Movement.
By clicking on the 'Info and Ads' tab of any Facebook page, you can check the active ads running from that page.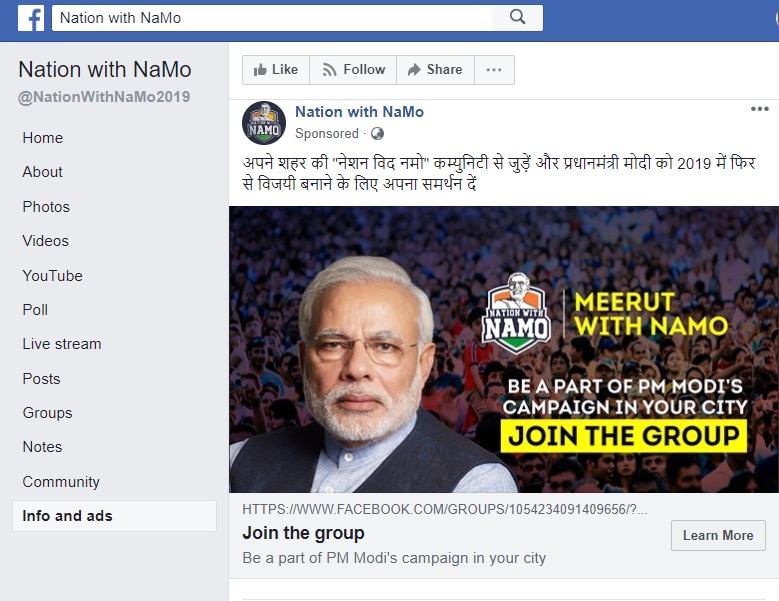 Dhruv Rathee, a popular YouTuber, famous for his videos criticising the government, too shared the same question on his Twitter page.
O'Brien simply wanted to know who runs those ads.