RSS Man & RBI Board Member Linked Women's Entry to Sabarimala With Kerala Floods. Twitter Not Pleased
RBI's non-official director tweeted that Lord Ayyappa's anger is causing the Kerala floods and it is not amusing the internet.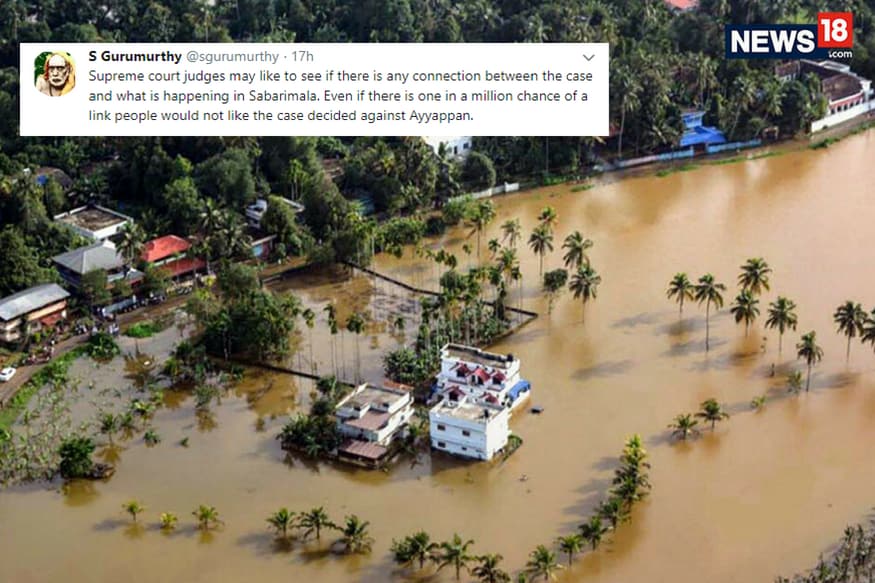 (Image: News18)
What has caused the floods in Kerala?
Well, according to some people on Twitter, it's because women wanted to enter the Sabarimala temple and that has apparently angered Lord Ayyappa so much that he has caused massive destruction.
Earlier this month, the Supreme Court had reserved its verdict on the petitions challenging the restriction on the entry of menstruating women into Kerala's Sabarimala temple. Many on Twitter suggested that this is the reason why Kerala is facing floods right now.



@harishsalvee #SupremeCourtMeddling Entire Kerala is livid on those who interfered with the discipline of Sabrimala temple - Lord Ayyappa is angry & punishing Kerala for letting outsiders to meddle. Note that all rainfall is falling on Kerala dists and none in TN or Karnataka !


— rajji3351 (@rajji33512) August 18, 2018
For eons ...women between the ages 10-50 yrs have NOT entered the temple ... AND NOTHING UNTOWARD HAPPENED ...EVER ... IN THE HISTORY OF #SABRIMALA SRI AYYAPAN TEMPLE. We are entitled to our disbelief ... but we should not meddle with age old beliefs & Customs — RajiRajan (@chembolly) August 18, 2018



Sabarimala Ayyappan Temple..


No law is above God... If u permit everyone, he denies everyone. #KeralaFloods pic.twitter.com/phk8HyvMg4

— Hari Prabhakaran (@HariIndic) August 17, 2018
And in all these tweets, is also a tweet by S. Gurumuruthy, who was appointed to the board of the Reserve Bank of India as a part-time non-official director by the Centre on 7 August 2018.
Supreme court judges may like to see if there is any connection between the case and what is happening in Sabarimala. Even if there is one in a million chance of a link people would not like the case decided against Ayyappan. https://t.co/0k1818QZGU — S Gurumurthy (@sgurumurthy) August 17, 2018
Of course, his tweet met with immediate criticism from the collective social media, who argued against Gurumuruthy's tweets.



Don't link this with any religious issue. Not in good taste. Didn't expect this one from you. Helping the stranded people is the need of the hour. If you can help in some way, do it please.


— Manikandan (@chitlapakkamngr) August 18, 2018
Sir, don't you feel ashamed to talk at this moment about this? People are dying, rendered homeless & u talk like bharathiraja movie villager — SudhirSrinath (@SudhirSrinath) August 18, 2018



Please keep quiet. Do not speak if you cannot help and even wisdom fails you. Much appreciate your silence here on.


— Vijaya Moorthy (@vmoorthynow) August 18, 2018
Gurumuruthy, however unsuccessfully, tried to pacify the Internet in his own way.
What I said is this: If there is even one in a million chance of a link between the case and the rains, people -- repeat people -- would not like the case decided against Ayappan. It is about people's belief. For the info of all I am not an Ayyappa devotee, going to Sabarimala. https://t.co/AUmeyVD3bb — S Gurumurthy (@sgurumurthy) August 18, 2018



Amazed at the hypocrisy of Indian intellectuals who trash people's faith. 99% Indians believe in God. 100%, including liberals, seculars, intellectuals, believe in astrology. Atheist Karunanidhi's followers prayed for him. I am among those who look to God but not astrology!! https://t.co/UJsr9Ip0eP


— S Gurumurthy (@sgurumurthy) August 18, 2018
Read full article
Next Story
Next Story
Also Watch

India Will 'Stop' Flow of Our Share of Water to Pakistan, Says Nitin Gadkari
Countdown To
Elections Results
To Assembly Elections 2018 Results