A few days ago, the image of a fiery, young, shirtless Palestinian rebel wielding a flag of Palestine in one hand and a slingshot in the other at an Israeli blockade went viral across social media. Many hailed it as a symbol of Gaza's resistance of Israel. Now, it appears that the protester, A'ed Abu Amro, has been shot.
According to reports, the young protester who recently became an international icon of the Palestinian protests against Israeli occupation was shot. However, according to social media reports, it seems Amro is still live.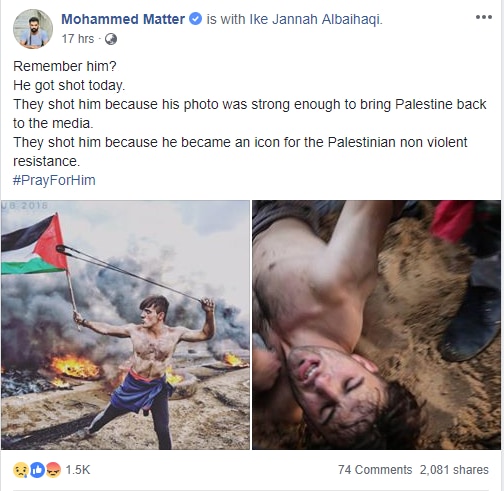 The previous photo, which had been taken on October 22, had been compared to the iconic Eugene Delacroix painting of the French Revolution, Liberty Leading the People.. It had been taken by Mustafa Hassouna of Turkey's Anadolu Agency. Amro is in his twenties. According to a report in Al Jazeera, Amro lived in the al-Zaytoun neighbourhood and participated in protests every Friday and Saturday with his friends.
In a Facebook post, the user named Mohammed Matter who shared the images of Amro after being shot claimed that the protester was fine. However, he asked people to pray for Amro's the well being.
Social media came forward in support of the protester, whom they hailed as a hero.
His iconic photo went viral a week ago, and today he's one of injured protesters in Gaza.

He's simply asking for his basic rights in Gaza. pic.twitter.com/QNqfKIXFi8

— Muhammad Smiry | Gaza (@MuhammadSmiry) November 5, 2018
The injury of iconic Palestinian flag bearer Ayed Abu Amro during the naval march on the northern border of Gaza in protest of Israel's blockade of the Gaza Strip . pic.twitter.com/v7q8mvFwsH

— Days of Palestine (@DaysofPalestine) November 6, 2018
Israel shot the iconic Palestinian flag bearer A'aed Abu Amro today, near the northern maritime "boundary" of Gaza pic.twitter.com/EuODJtSUNs

— Days of Palestine (@DaysofPalestine) November 5, 2018
Remember this outstanding photo which drew global acclaim? Out of control Israeli snipers are having none of it and have carried out a revenge shooting on this young Palestinian man from Gaza. https://t.co/gK4Hbrjbq9

— Suzy S (@PalestinePR) November 5, 2018
The reason for the shooting remains unconfirmed.
Read all the Latest News, Breaking News and Coronavirus News here. Follow us on Facebook, Twitter and Telegram.