Renuka Shahane Wrote A FB Post On India-Pakistan Relations And It's Bang On
Nailed it.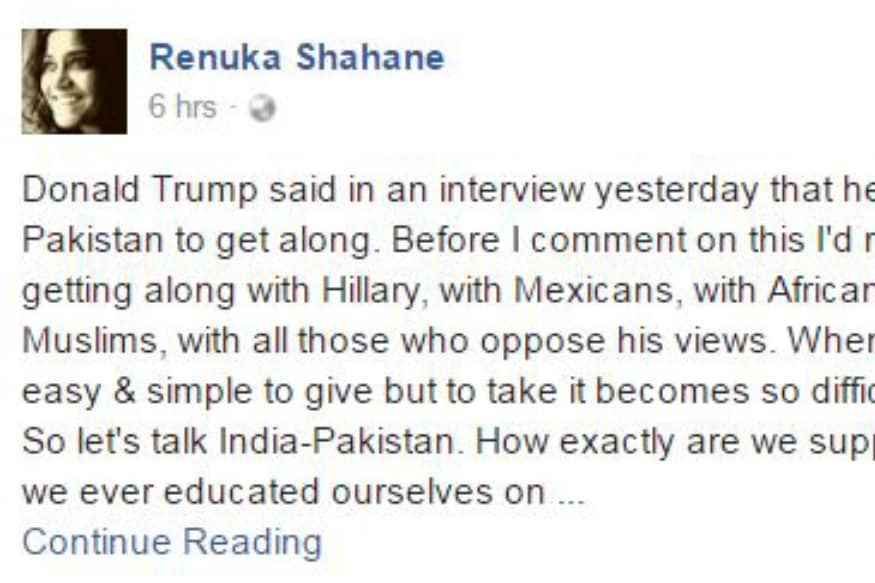 (Photo: Renuka Shahane Facebook post screen grab)
Actress Renuka Shahane is not one to mince her words. She speaks her mind without fearing the consequences, and there have been instances in the past which have only reinforced this belief about her.
In a recent Facebook post, Shahane, who seemed rather miffed with Donald Trump for his remark at a recent interview in which he said that he would like to see India and Pakistan get along, spoke about Indo-Pak diplomacy, PM Modi's 'biryani' detour, Pathankot, Gurdaspur, Uri and everything that could not help the two nations get along with each other.
Shahane also spoke about the much debated topics of recent times - the ban on Pakistani artistes.
"If Karan Johar is asked to sacrifice the release of Ae Dil Hai Mushkil, shouldn't business houses and industrialists also show solidarity with the soldiers who've lost their lives? Is our "nationalism" about soft targets to lynch? she wrote in her post."
She added, "I for one have no hesitation in saying that there should be no exchanges of art & culture between the two countries till things become normal. Because I feel these exchanges are random and determined more by commercial aspects rather than a vision of bridging the trust gap between the two countries. More often than not people who want peace on both sides are the one's who invite each other. It's like convincing the convinced! But it never percolates to those who do not want peace. These exchanges don't help overcome the hate that most people on both sides have for each other. This hate that has started at the school level is very difficult to eradicate with random acts of cultural exchange. Effective peace can only be brought out politically. If politicians have the will to bring about peace."
To conclude she lists down three points which could probably help in bridging the gap between the two countries and help the nations 'get along'.
Shahane was lauded by several Facebook users for having 'clarity of thought' and penning a 'concise and precise assessment of the current scenario in both countries'.
Read the full post here:
Get the best of News18 delivered to your inbox - subscribe to News18 Daybreak. Follow News18.com on Twitter, Instagram, Facebook, Telegram, TikTok and on YouTube, and stay in the know with what's happening in the world around you – in real time.
| Edited by: Mugdha Kapoor Safaya
Read full article