Renuka Shahane's Conversation With A Journalist Is Hilarious
The entire conversation was shared by Shahane on Facebook and it will leave you in splits.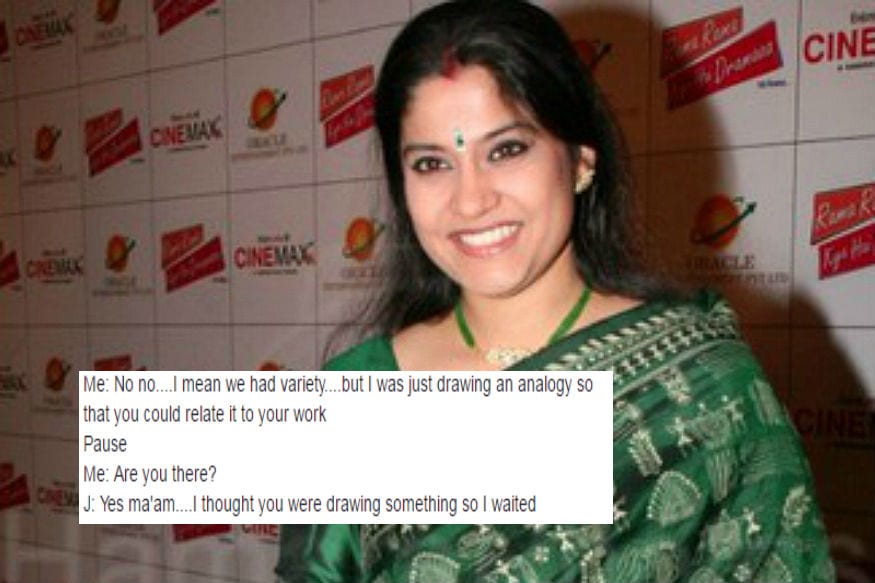 (Photo : File photo of Renuka Shahane)
What is the thumb rule in journalism? Research and read about the celebrity/personality that one is about to interview, compile a list of questions you may want to ask, prepare yourself thoroughly about the work that the celebrity has done and never ever mistake an artist's work with another.
But in a recent Facebook post that has gone massively viral, actress Renuka Shahane shared her experience of being interviewed by an amateur journalist, who did not do his homework before interviewing her.
In a situation like this, where a journalist mistakes another artist's work as their, most celebrities would either take offence or get irritated. But Shahane, who has had a remarkable career both in the television and film industry, did not find it irritating. Instead, she patiently tried to explain to the journalist that she did not work in the TV serials that were being mentioned by her.
The journalist's story was centered around TV serials of a certain vintage.
Surprisingly, as the conversation continues, one discovers that the journalist does not know the meaning of 'dailies' and 'weeklies', and nor does he have an idea what 'analogy' means.
The entire conversation was shared by Shahane on Facebook and it will leave you in splits.
Here's the full text
A "journalist" called on behalf of a well-known daily, I'll call him J for short.
J: Ma'am we would like to 'do' your interview for a column about veteran tv actors.
Me: Okay
J: So apart from Surabhi which I remember you've done Swabhimaan right?
Me: Many serials but not Swabhimaan
J: Oh no no it was Shanti right? It was very popular....
Me: It sure was but I wasn't in it?
J (sounding utterly gobsmacked): Er....then what were you in? Please tell me names of your serials?
Me: Why didn't you do your homework?
J: Please ma'am help me now...I will do it from next time....only a few questions
Me: Okay
J: What is the difference between the serials you did & the serials today?
Me: Serials I acted in were weeklies.
J: Weeklies?
Me ( patiently): We have daily soaps now...they are called dailies because they are shown daily. My Serials were called Weeklies because they were shown once a week
J: Oh so only once a week? You mean one story for one week?
Me: No....how do I explain this? You have daily newspapers, weekly magazines, fortnightly ones & monthly ones.....some are printed quarterly? Right?
J: Oh so you had a lot of variety like Weeklies & Fortnightly
Me: No no....I mean we had variety....but I was just drawing an analogy so that you could relate it to your work
Pause
Me: Are you there?
J: Yes ma'am....I thought you were drawing something so I waited
Me: Hmmmm are you writing anything down at all?
J: Ma'am I've got an excellent memory.....you've acted in Surabhi....and you've acted in Shanti which was a weekly & you acted in a variety of Fortnightly & quarterly Serials too ma'am
Me (trying to hold back the mirth): You're amazing....you've got it spot on....now may I please go back to er....drawing analogies
J: Sure ma'am....if you what's app me the photo of the drawing of the "allergy" I can include it as your hobby....it's a very unique concept.
Sigh....some journalists are a source of great entertainment.....the upside is that I've bought myself a canvas....still not been able to draw my "allergy" though.
We have known Shahane as someone who never shies away from expressing her views. Recently, she had expressed her views on the Rajasthan High Court's decision acquitting actor Salman Khan in the black buck case.
Get the best of News18 delivered to your inbox - subscribe to News18 Daybreak. Follow News18.com on Twitter, Instagram, Facebook, Telegram, TikTok and on YouTube, and stay in the know with what's happening in the world around you – in real time.
Read full article