Kerala is drowning and it needs your immediate attention.
Incessant rains and landslides have been wreaking havoc in the state, claiming several lives, with the death toll rising to 73.
Flight operations at the Kochi airport are suspended till Saturday. The public transport system has collapsed in many parts of central Kerala. Southern Railways and Kochi Metro have suspended their operations on Thursday due to floods.
And with all the shutters of Idukki damn open, swelling of rivers have furthered the flooding in several parts.
Realising how Kerala has come to a halt, citizens have stepped up to provide any assistance to keep the state afloat and moving.
#1 The commoners
Madhya Pradesh resident Vishnu Kacchava's generosity is doing rounds on the Internet. Twenty-eight-year-old Vishnu Kachhawa, a migrant labourer, donated blankets to those affected by the floods and are now stationed at a relief camp in Kannur district.
"Kannur is my second home, Kerala has given me everything, a place to stay, a livelihood, supplies for my family, a good upbringing for my children and really good climate. I am seeing Kerala in such agony for the first time and I can't afford to watch people suffer. So I gave them what I have," Vishnu told Manorama News.
In another instance of selflessness, Coconut Lagoon restaurant on St. Laurent Boulevard has said it'll donate all of its lunch-buffet revenues to disaster relief, reported Ottawa Citizen.
The award-winning restaurant will donate all of its lunch proceeds collected from Thursday to Saturday.
Kanhaiya Kumar, a rescue operation officer risked his own life on Saturday as he crossed the Cheruthoni Bridge to rescue a child seconds before the bridge got submerged in water.
On Friday, after Kanhaiya received a wireless message to take the kid suffering from high fever to a hospital. He was left with no time when he received the call and he crossed the bridge running while holding the kid in his arms.
#2 Bengaluru Football Club
They may be rivals on the pitch but Bengaluru Football Club isn't backing away from showing true spirit by urging people to help the people of Kerala. In their Facebook post, the football club urged citizens to donate basic necessities such as soaps, toothpaste, first-aid kits, Dettol, sanitary pads, clothes, packed foods, etc.
#3 Defence
The backbone of the country, the army personnels have been meticulously working and performing rescue operations in flood-hit areas. Indo-Tibetan Border Police conducting rescue operation in Thrissur district's Arattupuzha village.
Indian Air Force airlifting a person in flood affected Pathanamthitta district of Kerala. Stranded people are advised to stand in open areas on top of buildings and houses to avoid possible hindrances by trees.
Indian Coast Guard has mobilised 10 teams to assist District Disaster Management Authority on Thursday to evacuate people from the worst affected and completely flooded areas of the district. Equipped with Gemini boats, the relief team has been evacuating scores of people in distress to safer places every hour from the affected areas.
One column of Military Engineering Task Force (ETF) landed at Kozhikode. Two more groups will be landing at Trivandrum.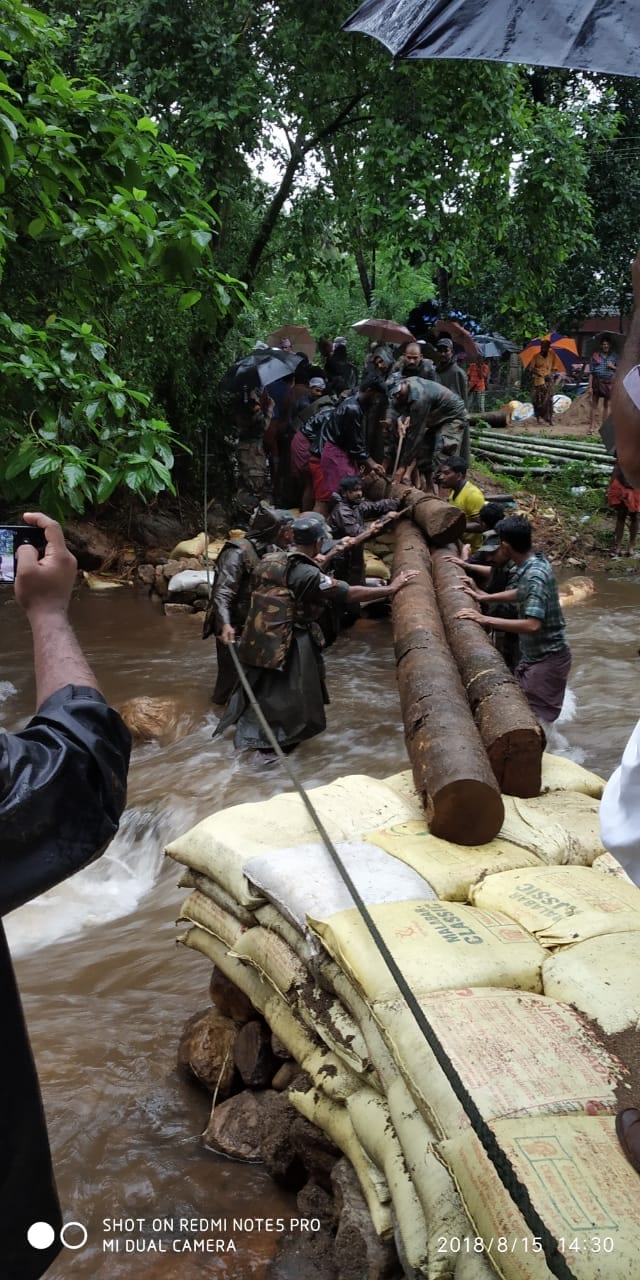 Defence Minister Nirmala Sitharaman spoke to Kerala CM, who requested for more boats, life jackets and other supplies.
#4 Relief Website
The state government launched a website to ease the rescue and relief operations in Kerala, with CM Pinarayi Vijayan encouraging people to stay united in these times of distress.
The website has six categories — request, district needs, contribution, volunteer work, registered requests, and contact.
The Chief Minister of the state, Pinarayi Vijayan, in a letter uploaded on the website, wrote about the magnitude of the calamity and how many lives and livelihoods were lost due to it.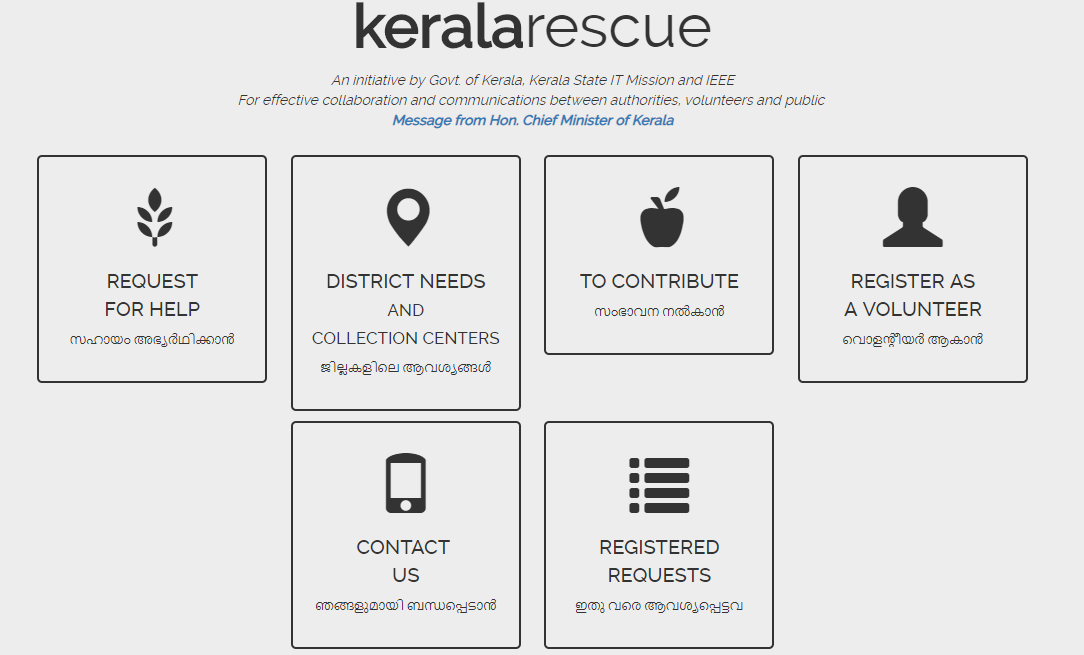 He also said, "For the first time in history, 27 dams in the state had to be opened. Never before the state witnessed a calamity of this scale."
The biggest need in most districts of the state was stationery and study material for children, sanitary napkins for women, and blankets for senior citizens. The need for basic amenities such as first aid kits, packaged food items, candles, and toiletries was also listed.
You can check the website here.
#5 Actors and their fans
The Cheif Minister of Kerala, Pinarayi Vijayan, put out a tweet on Saturday with a distress relief fund asking people to contribute generously - to help better the situation.
Following this, several prominent celebrities took to Twitter and asked people to help contribute to the fund.
The Association of Malayalam Movie Artists (AMMA) has donated Rs 10 lakh and Kamal Haasan donated Rs 25 lakh. Surya and Karthi have contributed a total of Rs 25 lakh.
This also saw fans, of some prominent actors following their suit and reaching out to help.
#6 Social media
Cricketers, politicians, and netizens have been tweeting with hashtag #StandWithKerala on Twitter to help and contribute to the relief fund.
#7 Humanity first
A Madrasa (a Muslim eduational institute) in Kozhikode district of Kerala has now become the largest relief camp in the district.
You can check the News18 live updates here.