Restaurants Offer Food, Labourer Gives Blankets: How Kerala's Bravehearts are Keeping State Afloat
Incessant rains and landslides have been wreaking havoc in Kerala.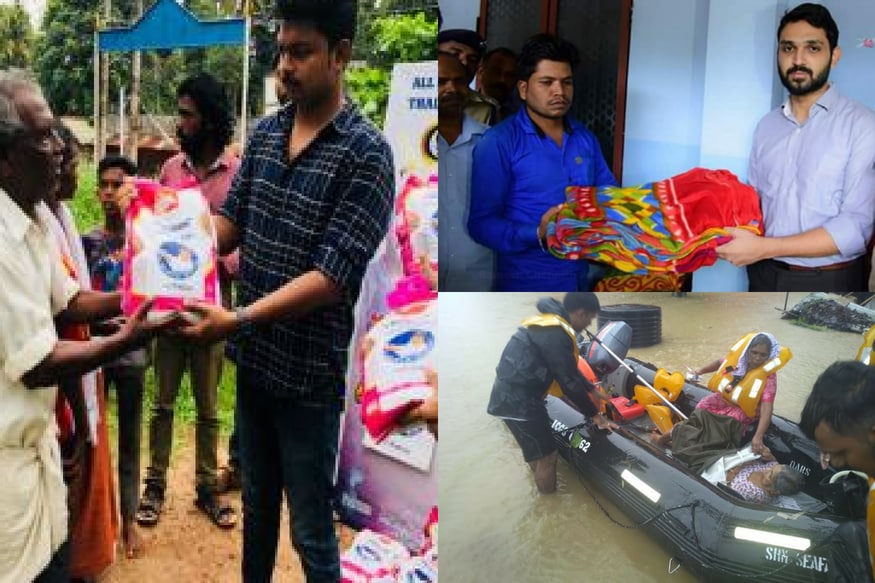 Photo credits: @chennithala / @sekartweets | Twitter
Kerala is drowning and it needs your immediate attention.
Incessant rains and landslides have been wreaking havoc in the state, claiming several lives, with the death toll rising to 73.
Flight operations at the Kochi airport are suspended till Saturday. The public transport system has collapsed in many parts of central Kerala. Southern Railways and Kochi Metro have suspended their operations on Thursday due to floods.
And with all the shutters of Idukki damn open, swelling of rivers have furthered the flooding in several parts.
Realising how Kerala has come to a halt, citizens have stepped up to provide any assistance to keep the state afloat and moving.
#1 The commoners
Madhya Pradesh resident Vishnu Kacchava's generosity is doing rounds on the Internet. Twenty-eight-year-old Vishnu Kachhawa, a migrant labourer, donated blankets to those affected by the floods and are now stationed at a relief camp in Kannur district.
Meet #Vishnu. He is a blanket merchant from Maharashtra. He came back to Kerala with 50 blanket to sell. But once he knew about the calamities this guy didn't have to think twice he donated his entire stock of blankets to the district collector. #KeralaFloodRelief pic.twitter.com/fcz7MTE5LL

— Pishu Mon (@PishuMon) August 11, 2018
Hats off to #Vishnu from Madyapradesh. The magnanimity to donate his entire stock of blankets to the people in distress should be an eye opener. pic.twitter.com/k1kTBVXak5

— Ramesh Chennithala (@chennithala) August 12, 2018
"Kannur is my second home, Kerala has given me everything, a place to stay, a livelihood, supplies for my family, a good upbringing for my children and really good climate. I am seeing Kerala in such agony for the first time and I can't afford to watch people suffer. So I gave them what I have," Vishnu told Manorama News.
In another instance of selflessness, Coconut Lagoon restaurant on St. Laurent Boulevard has said it'll donate all of its lunch-buffet revenues to disaster relief, reported Ottawa Citizen.
The award-winning restaurant will donate all of its lunch proceeds collected from Thursday to Saturday.
Kanhaiya Kumar, a rescue operation officer risked his own life on Saturday as he crossed the Cheruthoni Bridge to rescue a child seconds before the bridge got submerged in water.
On Friday, after Kanhaiya received a wireless message to take the kid suffering from high fever to a hospital. He was left with no time when he received the call and he crossed the bridge running while holding the kid in his arms.
And this video I think defines the rescue efforts in Kerala. A rescue official runs with a child just as the water starts gushing over the Cheruthoni dam. pic.twitter.com/dbOMw5UYt2

— Dhanya Rajendran (@dhanyarajendran) August 11, 2018
#2 Bengaluru Football Club
They may be rivals on the pitch but Bengaluru Football Club isn't backing away from showing true spirit by urging people to help the people of Kerala. In their Facebook post, the football club urged citizens to donate basic necessities such as soaps, toothpaste, first-aid kits, Dettol, sanitary pads, clothes, packed foods, etc.
#3 Defence
The backbone of the country, the army personnels have been meticulously working and performing rescue operations in flood-hit areas. Indo-Tibetan Border Police conducting rescue operation in Thrissur district's Arattupuzha village.
#KeralaFloods : Indo-Tibetan Border Police conducts rescue operation in Thrissur district's Arattupuzha village pic.twitter.com/NXFkgpf8CO

— ANI (@ANI) August 16, 2018
Indian Air Force airlifting a person in flood affected Pathanamthitta district of Kerala. Stranded people are advised to stand in open areas on top of buildings and houses to avoid possible hindrances by trees.
#WATCH Indian Air Force airlifts a person in flood affected Pathanamthitta district of Kerala pic.twitter.com/DvOY7tS740

— ANI (@ANI) August 16, 2018
Indian Coast Guard has mobilised 10 teams to assist District Disaster Management Authority on Thursday to evacuate people from the worst affected and completely flooded areas of the district. Equipped with Gemini boats, the relief team has been evacuating scores of people in distress to safer places every hour from the affected areas.
One column of Military Engineering Task Force (ETF) landed at Kozhikode. Two more groups will be landing at Trivandrum.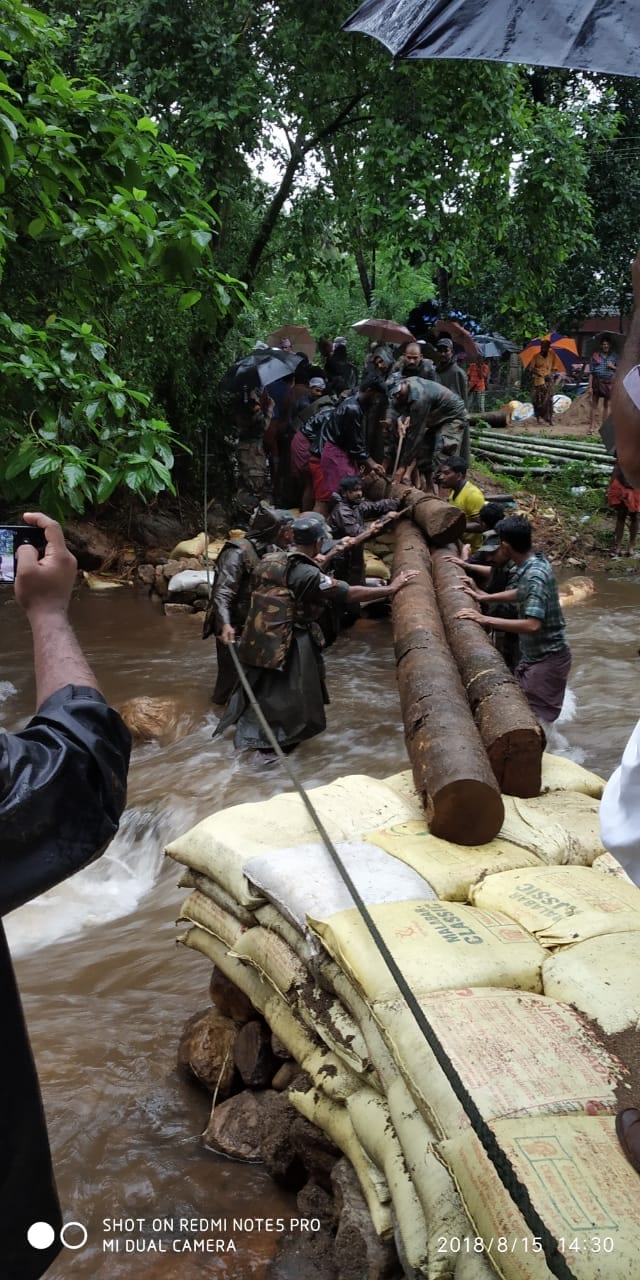 Defence Minister Nirmala Sitharaman spoke to Kerala CM, who requested for more boats, life jackets and other supplies.
Hon @CMOKerala spoke requesting for more boats, life jackets etc. Have instructed Def. Secretary to respond immediately. Awaiting the list from Chief Secretary, Kerala. There shall be no delay from our side. Additional @IAF_MCC helicopters being deployed. #KeralaFloods @PIBTvpm

— Nirmala Sitharaman (@nsitharaman) August 16, 2018
#4 Relief Website
The state government launched a website to ease the rescue and relief operations in Kerala, with CM Pinarayi Vijayan encouraging people to stay united in these times of distress.
The website has six categories — request, district needs, contribution, volunteer work, registered requests, and contact.
The Chief Minister of the state, Pinarayi Vijayan, in a letter uploaded on the website, wrote about the magnitude of the calamity and how many lives and livelihoods were lost due to it.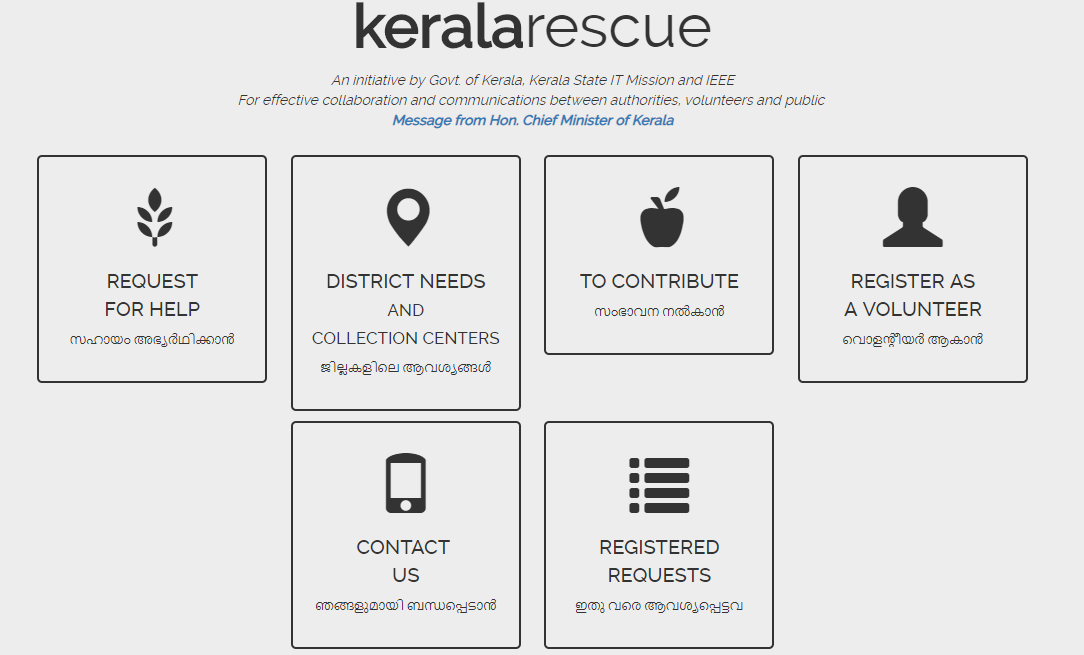 He also said, "For the first time in history, 27 dams in the state had to be opened. Never before the state witnessed a calamity of this scale."
The biggest need in most districts of the state was stationery and study material for children, sanitary napkins for women, and blankets for senior citizens. The need for basic amenities such as first aid kits, packaged food items, candles, and toiletries was also listed.
You can check the website here.
#5 Actors and their fans
The Cheif Minister of Kerala, Pinarayi Vijayan, put out a tweet on Saturday with a distress relief fund asking people to contribute generously - to help better the situation.
Saving their lives was our priority. Now it is our duty to help them rebuild it. Contribute generously to the Chief Minister's Distress Relief Fund. #KeralaFloods #KeralaFloodRelief pic.twitter.com/eNHjyENt8d

— CMO Kerala (@CMOKerala) August 11, 2018
Following this, several prominent celebrities took to Twitter and asked people to help contribute to the fund.
#Kerala is facing great adversity in the form of floods. The people of Kerala have shown incredible strength and are helping each other deal with this calamity. We must all do our bit. Please contribute to the CM's Distress Relief Fund. Stay strong Kerala! #KeralaFloodRelief https://t.co/oSau5fWW1K

— Siddharth (@Actor_Siddharth) August 11, 2018
And now I hear Kerala is reeling under floods and situation is quite bad!

Kerala was my first holiday destination and has given me a lot of love for my work, I've met a lot of people from there who are some of the nicest people I know, I don't know how to reach out personally pic.twitter.com/pA2W3eRx3t

— Vijay Deverakonda (@TheDeverakonda) August 12, 2018
The little what I could for #KeralaFloodRelief pic.twitter.com/pWR2ew1wXw

— Anupama Parameswaran (@anupamahere) August 12, 2018
The Association of Malayalam Movie Artists (AMMA) has donated Rs 10 lakh and Kamal Haasan donated Rs 25 lakh. Surya and Karthi have contributed a total of Rs 25 lakh.
This also saw fans, of some prominent actors following their suit and reaching out to help.
#ThalapathyVijay fans donated rice bags and water bottle to flood affected people in Trivandrum. They are also planning to help out the needy people in interior Kerala 👏👏👏 pic.twitter.com/PPK8lnOIrQ

— Rajasekar (@sekartweets) August 12, 2018
#6 Social media
Cricketers, politicians, and netizens have been tweeting with hashtag #StandWithKerala on Twitter to help and contribute to the relief fund.
Prayers are always good but in times of dire need and suffering we all can do more. Right now the victims and families of the #KeralaFloods need our help. Let's show them that we #StandWithKerala. Even a small contribution to Kerala's #CMDRF would go a long way.@CMOKerala pic.twitter.com/UFQCVL3G3x

— Sachin Tendulkar (@sachin_rt) August 14, 2018
Here's how you can help those affected by the unprecedented floods in Kerala. Now you can make donations online to Chief Minister's Distress Relief Fund through the site, https://t.co/OFHTHlZ9by #KeralaFloods #StandWithKerala. pic.twitter.com/XNlBKqdCUT

— CMO Kerala (@CMOKerala) August 14, 2018
District Control Room Numbers.#StandWithKerala #KeralaFloods #keralarains pic.twitter.com/BbUSZ6nYdL

— Krishnaveny (@Ammu_veny) August 15, 2018
Helpline Numbers. Do Spread 👍#KeralaFloodRelief #KeralaFloods #PrayForKerala pic.twitter.com/n9W1N38r73

— Selva Ganesh (@Selvaganesh3094) August 15, 2018
#7 Humanity first
A Madrasa (a Muslim eduational institute) in Kozhikode district of Kerala has now become the largest relief camp in the district.
This madrasa in Kozhikode district of Kerala is the largest relief camp in the district. Even in this cataclysm, humanity thrives in Kerala.

We are together in this battle for survival. #KeralaFloods pic.twitter.com/QThJ1MsLXa

— Sudeep Sudhakaran (@SudeepSudhakrn) August 15, 2018
You can check the News18 live updates here.
Get the best of News18 delivered to your inbox - subscribe to News18 Daybreak. Follow News18.com on Twitter, Instagram, Facebook, TikTok and on YouTube, and stay in the know with what's happening in the world around you – in real time.
Subscribe to Moneycontrol Pro and gain access to curated markets data, trading recommendations, equity analysis, investment ideas, insights from market gurus and much more. Get Moneycontrol PRO for 1 year at price of 3 months. Use code FREEDOM.
Read full article