Rural Olympics, boat races, and buffalo races: 10 lesser known sports in India that you probably didn't know existed
Did you know there are some sports that are being played in India since the Mahabharata era?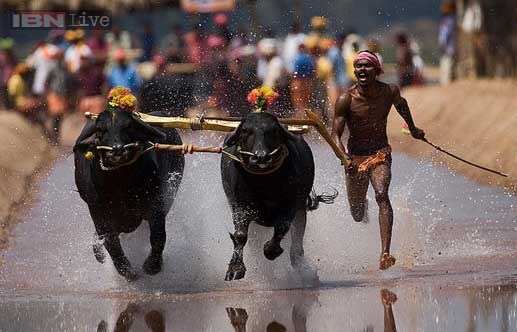 Did you know there are some sports that are being played in India since the Mahabharata era?
Do you know the number of sports played in different regions across India? Cricket, Hockey, Tennis, and Badminton are some of the most popular international sports we know India plays, but did you know we still play a few sports that are believed to have been played even during the Mahabharata days? Yes, in remote regions of India the sporting traditions date back to centuries ago!Wrestling and archery are among the sports that we have excelled at on an international level. You'll find some of these sports bizarre and some outdated, but in a land that is known worldwide for being the melting pot of traditions, it isn't surprising how some of these sports are still surviving in different states of India.
####
Kambala Buffalo Race: Kambala is an annual Buffalo Race held traditionally under the auspices local land lords and households in coastal Karnataka. The Kambala season generally starts in November and lasts until March. Kambala is traditionally a simple sport which provides much needed entertainment to the rural people. The 'track' used for Kambala is a paddy field filled with slush and mud. The contest generally takes place between two pairs of buffaloes, each pair raced in wet rice fields, controlled by a whip-lashing farmer. In olden days, the winning pair of buffaloes was rewarded with coconuts and a bunch of plantains and nowadays, gold coins, silver coins are given, in some competitions, cash award is also in vogue. Some organising committees award eight gram gold coin as first prize.
Rural Olympics: Kila Raipur Sports Festival, popularly known as the Rural Olympics, is held annually in Kila Raipur (near Ludhiana), in Punjab, India. In villages which formed the first habitation of civilised man rural sports grew out of sheer necessity. The need for cultivating individual strength for labour on the fields, the interdependence within the community and need of defence, joint defence against onslaughts of a common foe and dangerous animals must have given birth to sports like wrestling, running, jumping, weightlifting and such performing arts as of measuring strength by holding wrists, twisting hands. In order to toughen the frames and steel the minds of his followers Guru Hargobindji had started the tradition of holding wrestling bouts within the precincts of Akal Takht Sahib and it is mostly because of the fillip that he gave and the seal of ethics that he put on them that sports become a proud facet of life in Punjab.
Yubi Lakpi: Yubi lakpi is a seven-a-side traditional football game played in Manipur, India, using a coconut, which has some notable similarities to rugby. Despite these similarities, the name is not related to the game of rugby or Rugby School in England, it is in fact of Manipuri origin, and means literally "coconut snatching". It is said to have started as a ceremonial re-enactment of the celestial snatching of the pot of nectar after the Samundra Manthan. An official game is held on the occasion of the Yaoshang Festival of Shri Shri Govindajee at palace ground and with Royal presence. Unlike rugby it is an individual sport, not a team one. Before the start of the game, players rub their bodies with mustard oil and water to make slippery to catch each other. A coconut properly soaked with oil is place in front of the chief guest of the function, known as the "King", who does not take part in the game itself. Before the start the coconut is placed in front of the seat of the "King".
Thoda: Thoda, the impressive martial art form of Himachal Pradesh, relies on one's archery prowess, dating back to the days of the Mahabharata, when bows and arrows were used in the epic battles, between the Pandavas and the Kauravas, residing in the picturesque valleys of Kulu and Manali. Thus, this martial art has its origin in Kulu. Thoda, the name is derived, from the round piece of wood fixed to the head of the arrow, which is used to blunt its wounding potential.
Elephant polo: Elephant polo is a variant of polo played while riding elephants. It is played in Nepal, Sri Lanka, Rajasthan (India), and Thailand. England and Scotland regularly field teams. Equipment consists of a standard polo ball and six to ten foot cane (similar to bamboo) sticks with a polo mallet head on the end. The pitch is three-quarters of the length of a standard polo pitch, due to the slower speed of the elephants. Two people ride each elephant; the elephants are steered by mahouts, while the player tells the mahout which way to go and hits the ball. Elephant polo game was originated in Meghauli, Nepal. Tiger Tops in Nepal remains the headquarters of elephant polo and the site of the World Elephant Polo Championships.
Vallamkali: Vallam Kali is a traditional boat race in Kerala, India. It is a form of canoe racing, and uses paddled war canoes. It is mainly conducted during the season of the harvest festival Onam in autumn. Vallam Kali includes races of many kinds of paddled longboats, the traditional boats of Kerala. The race of Chundan Vallam (snake boat) is the major event. Hence Vallam Kali is also known as the Snake Boat Race and is a major tourist attraction. Other types of boats which do participate in various events in the race are Churulan Vallam, Iruttukuthy Vallam, Odi Vallam, Veppu Vallam, Vadakkanody Vallam and Kochu Vallam. The Nehru Trophy Boat Race is a popular Vallam Kali event held in thePunnamada Lake near Alappuzha, Kerala, India.
Dhopkhel: Dhopkhel is a traditional ball game played in the Indian state of Assam. The game is played between two eleven member teams on a 125m by 80m field bounded by four flags. The players take turns throwing the ball at the opponent to knock them out of the game, while seeking to catch the ball and evade other players. It is a test of speed, stamina, and acrobatic skills. Matches of the game were traditionally made to observe the spring and New Year festival of Bihu. The game was once played to amuse Ahom royalty as a spectator sport. It is no longer widely played in Assam, though efforts are being made to revive it.
Gatka: Gatka is a traditional South Asian form of combat-training in which wooden sticks are used to simulate swords in sparring matches. In modern usage, it commonly refers to the northwestern Indian martial arts, which should more properly be called shastara vidiyā. In English, the terms gatka and shastar vidya are very often used specifically in relation to Panjabi-Sikhs. In actuality, the art is not unique to any particular ethno-cultural group or religion but has been the traditional form of combat throughout north India and Pakistan for centuries. Attacks and counterattacks vary from one community to another but the basic techniques are the same. Gatka can be practiced either as a sport or ritual. The sport form is played by two opponents wielding wooden staves called gatka. These sticks may be paired with a shield. Points are scored for making contact with the stick. The other weapons are not used for sparring, but their techniques are taught through forms training.
Onathallu or Avittathallu: The days of wars in ancient may be over but the communities that fought in them can never really sever their identity from their traditional role. In fond memory of the role they played, the Nair community of Pallassana in Palakkad, Kerala conducts a traditional festival called Onathallu or Avittathallu as a grand finale to the Onam celebrations. In an enactment of war-like situations, men pair up and engage in physical struggles, war cries, and pretend battle behavior.
Silambam: Silambam is a weapon-based Indian martial art from Tamil Nadu, but also traditionally practised by the Tamil community of Sri Lanka and Malaysia. It is closely related to Keralan 'kalaripayat' and Sri Lankan 'angampora'. The word silambam refers to the staff which is the main weapon used in this system. Masters are called 'asaan' while grandmasters are addressed as 'periyasaan' or 'iyan'. Silambam may either be practiced for the purpose of combat or purely for demonstration. Oral folklore traces silambam back several thousand years to the 'siddha' (enlightened sage) Agastya. While on his way to Vellimalai, Agastya discussed Hindu philosophy with an old man he met, said to be the god Murugan in disguise. The old man taught him of 'kundalini yoga' and how to focus 'prana' through the body's 'nadi' (channels). Agastya practiced this method of meditation and eventually compiled three texts on palm leaves based on the god's teachings.
Get the best of News18 delivered to your inbox - subscribe to News18 Daybreak. Follow News18.com on Twitter, Instagram, Facebook, Telegram, TikTok and on YouTube, and stay in the know with what's happening in the world around you – in real time.
Read full article