'Salt Bae' is Back and This Time He's Making Burgers in the Most Extreme Way Possible
Salt Bae just leveled up his game.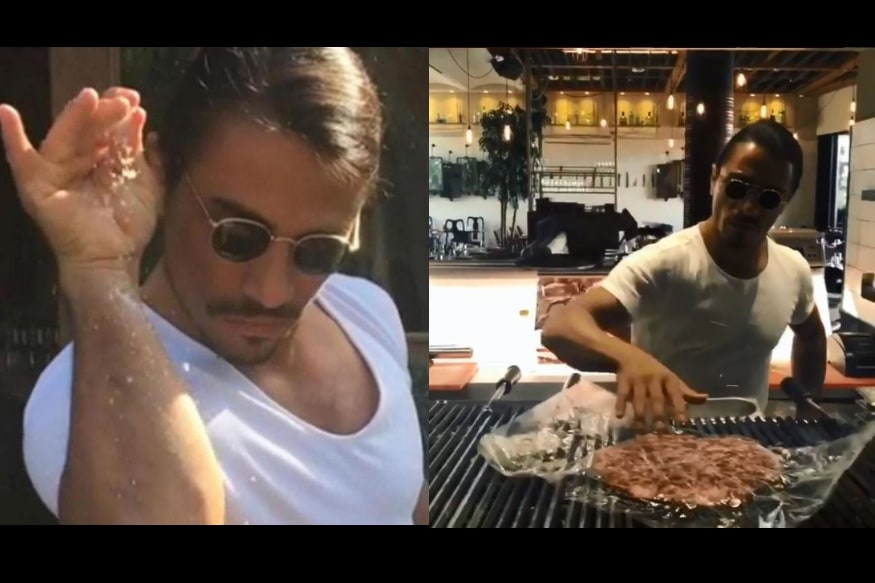 Salt Bae just leveled up his game.
Memes have become so common and so ingrained in our daily lives that a simple mention of the name, like 'sPoNgEbOb meme' and 'disloyal boyfriend' and the "???? guy" conjure up the images of the meme in your heads automatically. The same goes for 'salt bae.'
Salt Bae, or Nusret Gökçe, who was nicknamed Salt Bae, after his video of sprinkling salt in a strange way went viral and spawned meme content, is back. While in real-life, he is a Turkish chef and owner of the restaurant chain of steakhouses called, Nusr-Et, his art of cooking and preparing the meat became the internet sensation, which made him popular.
Even though it was his method of sprinkling salt went viral, he is a trained butcher and a chef, which is why now he's back with a more skilled video - one of the extreme burgers.
A video posted on Instagram shows the chef flipping a huge burger, and then standing on the second-floor balcony of a building and then pouring the dressing for the burger - which is kept at the base level.
View this post on Instagram
While this video doesn't show salt, 'salt bae' is still making what are extreme burgers, in the most extreme way we could have imagined.
The video is surely blowing up - with over 6 million views, and over 800 thousand likes - this could just be the starting of a new viral sensation - one which as his caption states, is "pushing it to the limits."
The Internet is also sending its appreciation.
Salt bae does not disappoint. https://t.co/wgMjDVCagE

— Adam Liaw (@adamliaw) September 14, 2018
This don had to go to the 2nd floor to put the cheese on the monster burger and this is exactly the type of content I subscribe to pic.twitter.com/7GFehB1amE

— Stembü (@ZuaKenya) September 12, 2018
This was literally me watching this... pic.twitter.com/oQu1hcqxSD

— Girly Girl (@GirlyGi12300083) September 14, 2018
When that cheese landed pic.twitter.com/8JzerTA1Bf

— Tebogo (@DK_TheGuy) September 13, 2018
Get the best of News18 delivered to your inbox - subscribe to News18 Daybreak. Follow News18.com on Twitter, Instagram, Facebook, Telegram, TikTok and on YouTube, and stay in the know with what's happening in the world around you – in real time.
Read full article