Sania Mirza's Tweet a Reminder That Trolling Before India-Pak Match is New Definition of National Pride
Why you gotta be so mean?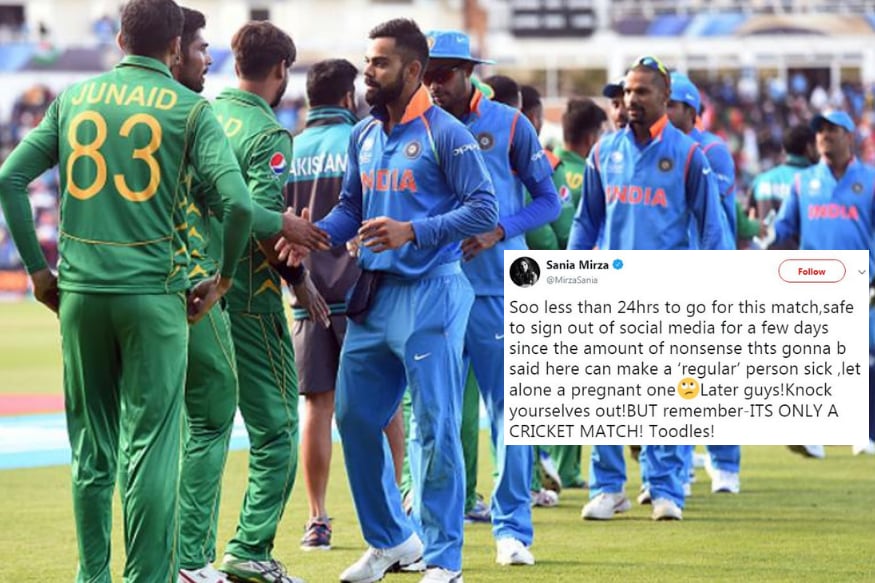 (Image: Twitter)
Any and every India-Pakistan cricket match is high on adrenaline and emotions, and naturally so too. The two countries, who last played at the ICC Champions trophy final exactly 14 months ago at the Oval in London, prepare for their latest encounter at the Asia Cup 2018 on Wednesday. It is expected, established even, that the social media trolls will have a gala time poking 'fun' at each other.
Perhaps aware of the cruel routine that plays out on social media, tennis player Sania Mirza took to Twitter to announce that she would be taking a social media break for some days because the toxic comments and taunts that would infiltrate social media in the coming days have the power to make anyone sick. Let alone an Indian who is married to a Pakistani cricketer.
Soo less than 24hrs to go for this match,safe to sign out of social media for a few days since the amount of nonsense thts gonna b said here can make a 'regular' person sick ,let alone a pregnant one🙄Later guys!Knock yourselves out!BUT remember-ITS ONLY A CRICKET MATCH! Toodles!

— Sania Mirza (@MirzaSania) September 18, 2018
And Sania is absolutely justified in wanting to take a vacation from the humdrum routine of cancerous social media abuse. The tennis player, who is expecting her first child with Pakistani cricketer Shoaib Malik, has often been targeted by internet trolls during previous India-Pakistan matches.
Though she represents India in the international podium, her love for the country must be questioned. Right? WRONG.
Social media can be cruel. When it can make a mockery of any and every individual simply for existing, what's stopping it from leaving a golden chance such as an India-Pakistan match to make malicious memes, posts, and comments on their 'beloved' neighbours. These matches have become the token opportunity to parade one's national pride even if that means mercilessly berating another country. So much for love thy neighbor, eh?
If social media was a person, it would be the quintessential mean girl from the teen comedies who rules the high school with an iron fist as her 'posse' (read: internet trolls) walks behind her, putting the 'genteel peasantry' in their rightful place, simply because they can.
And these trolls aren't limited to being a social media fad either, the 'Mauka Mauka' advertisements showcased on TV before EVERY India-Pakistan match are living proof that there is a sadistic, and generally warranted, pleasure in demeaning the neighbouring country to satiate the national pride and fulfil the criterion of the questionable quota of what counts as patriotism in this nation.
Fun at the expense of an individual, gender, community, religion or a nation reeks of hypocrisy and privilege. The pernicious influence of the privilege, which internet trolls enjoy behind the afforded safety of anonymous handles, becomes more pronounced when the realisation that the ammunition of these 'jokes' (made in extremely poor taste) will never extinguish, hits us all like a big, yellow school bus.
The good news is that trolls aren't limited to targeting celebrities and minority communities, but also people –regular people like us all. Hurray! To voice any sentiment which dares to step outside the realm of the popular nationalist ideology attracts loud cries of "Go to Pakistan, you anti-national", "You are a 'sickular' person", or "Pakistanis should adopt you as their brand ambassador." The very idea of what is regarded as national pride now will be dictated by the internet trolls. And sorry to say, the rules surely mandate that you cannot play Switzerland and support both countries even in a cricket match. Oh well.
To say that there will be a sunny morning when internet trolls die down and everyone is calculatedly cordial with one another is an exaggerated understatement. Social media will exploit the average Indian's patriotism before any and every India-Pakistan match and internet trolls will continue to thrive and prosper under the security blanket of lax cyber rules and a lackadaisical attitude adopted towards wanting to live in a troll-free world. And until that happens, we can only quote Taylor Swift and quietly croon, "Why you gotta be so mean?"
Get the best of News18 delivered to your inbox - subscribe to News18 Daybreak. Follow News18.com on Twitter, Instagram, Facebook, TikTok and on YouTube, and stay in the know with what's happening in the world around you – in real time.
Subscribe to Moneycontrol Pro and gain access to curated markets data, trading recommendations, equity analysis, investment ideas, insights from market gurus and much more. Get Moneycontrol PRO for 1 year at price of 3 months. Use code FREEDOM.
Read full article