Yes, yes. Spoiler alert. You know the drill.
Never dismiss a character's ability to evolve. We all did this with Sansa Stark in 'Game of Thrones' and for good reason really. Kind of a snob, had crush on the Dolores Umbridge equivalent of Westeros. Defended every kind of spoilt-brat-like move by that guy because hey, isn't that how love works? But that is where it ended.
After the death of Ned Stark, Sansa's life was one downward spiral after the other. From being humiliated by Joffrey, to being conned by Petyr Baelish, to being raped by Ramsay. Sansa's fate went from sad, to pitiable to 'what the f*#k George, why don't you kill her off and end her suffering?'
Yes, at one point, somewhere in between, we did realize that Sansa's character had some potential for growth especially after she successfully took control of the Vale with Baelish's help. Of course that was marred by Ramsay. But we never really cared for Sansa, did we? In our minds we have all said at some point or the other, that Sansa is an idiot with a knack for taking all the wrong decisions.
However, Sansa is the one who stood out in the latest episode of GoT: 'The Battle of the Bastards'. She kept her quiet during the strategic discussions and only gave her advice to Jon when everyone had left. She respected her commander's decision but did not flinch about speaking her mind. She was pretty cold about it as well. This is no longer the sensitive and naive little girl who was thrilled at the idea of moving to King's Landing in season one. No. This Sansa is a mature woman who weighs her strengths and weaknesses and knows the battles she has lost. She gives more value to logic instead of principles.
Jon's fault is the same one that Ned Stark had: He puts his principles before everything. He is hot-headed in war and he is not someone who always makes the soundest of judgement. His battle plan lacked something essential that Sansa's didn't: an insight inside the mind of the enemy. She had seen the devil and she knew that saving Rickon was a lost cause. She wasn't sacrificing her brother. She knew that saving him was an impossibility that would put everything into jeopardy.
And when Jon did not pay heed to her advice, she took matters into her own hand. In the Battle of Bastards, when all seemed to be lost, in true 'Lord of the Rings: The Two Towers' fashion, Sansa came to the rescue of her brother. Sansa was Gandalf and Baelish and the Vale's army was Eomer and the Rohirrim, and I digress. Sansa's threat to not falling into the clutches of Ramsay alive is not a mere resignation to fate, it was a pragmatic statement. She simply did not want to endure him anymore and took matters into her own hands to make sure it stayed true.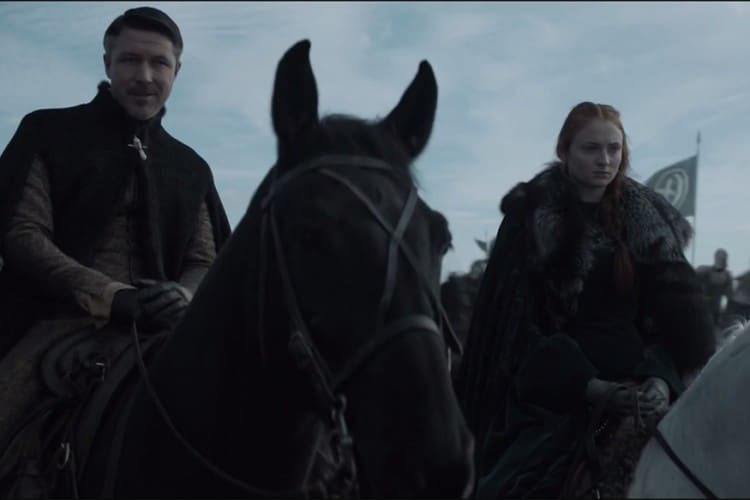 Sansa may seem cold and even a little cunning at this point, but that is not what she is. She is a woman who refuses to bend over anymore. She was pushed over the edge and she returned. Jon Snow may have had a literal rebirth in the show, but it Sansa who is more deserving of that feather in the cap. She reshaped her entire personality. She built an armour around herself. An armour made of pragmatism, planning ahead and boldness.
Sansa's true change is reflected in the very last act of the episode. As she watches Ramsay suffer the ordeal of getting eaten up by his own hounds, she smirks at his fate and accepts it as justice, and this Mafioso-like karmic retribution is what makes Sansa one of the best developed characters in the show so far.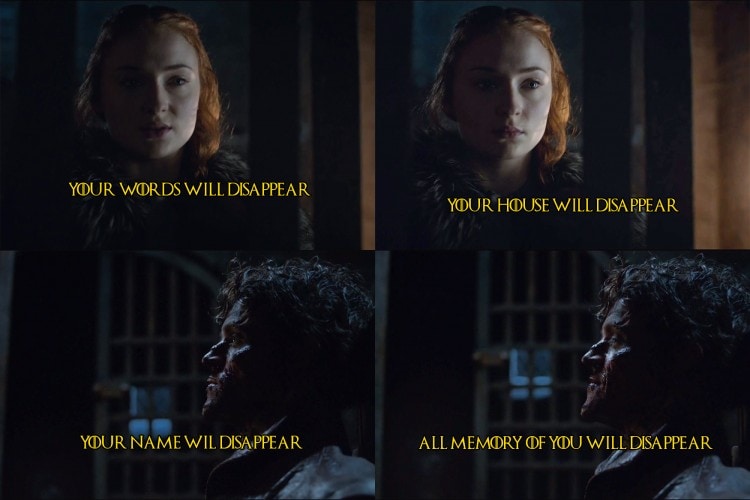 PS: We know that whenever a character seems to gain a little good fortune, they get killed off or suffer in eternal agony. We hope Sansa is spared that fate.