Searching For 'Bitches Near Me' On Google Returns Locations Of Girls Hostels, Schools and PGs
Blame it either on the algorithm, or on society.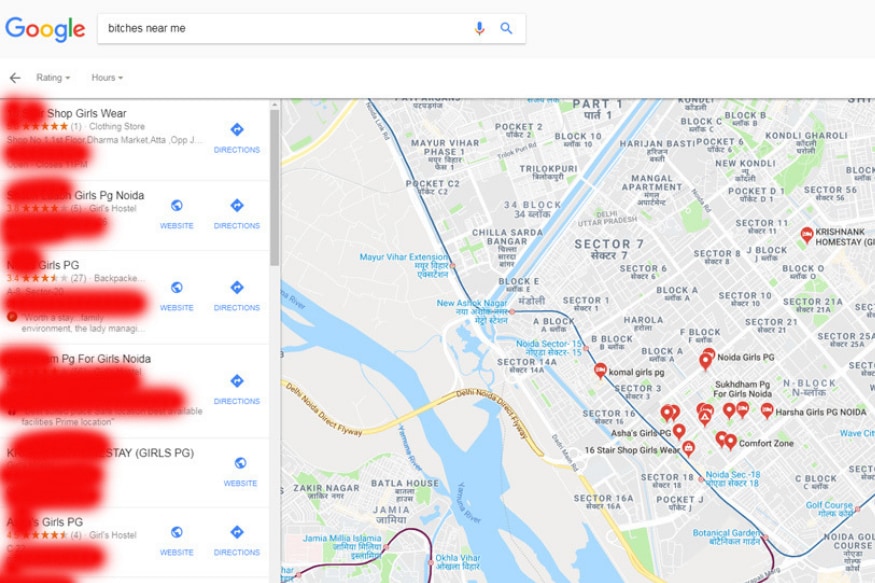 Image credits: Hindi News18.
Looking for girls hostels and PGs near you? Google has got you covered. Just search 'Bitches Near Me.'
The pretty horrifying revelation came to light when a Twitter user posted a screenshot of searching 'bitches near me' on Google maps, which showed the search results as girls hostels and PGs near your current location.
Originally posted by user @trollenku, someone discovered how the search term even included girls schools near your location.
The fact that this is sexist, not to mention extremely disrespectful exists - didn't go down with most people.
Google, can you explain why this fuckin exists pic.twitter.com/w0eslFoVSz

— aesthetic potato (@AHappyChipmunk) November 25, 2018
And this wasn't limited to a particular city - but apparently everywhere in the world.
Also happens here... Google - WTF?? @googlemaps https://t.co/KD6SXxuHwy

— Rachel McArthur 🖋️ (@raychdigitalink) November 26, 2018
LMFAOOOO this is in Bangalore pic.twitter.com/OYAly5qL5c

— AV (@ameypv) November 25, 2018
WTF @GoogleIndia?! pic.twitter.com/ttat2Y5yrR

— Natasha 🌓 (@NutAshes) November 25, 2018
I'm a tad pissed with the subtle shaming with responses featuring girls' schools. Way to associate :-((

— Lavanya (@TheSignOfFive) November 26, 2018
I really wanted to believe this was a joke but it isn't. @googlemaps do something about this

— Jun's Daughter #MONO (@012_knight) November 26, 2018
I got locations of Girls PG and hostels nearby as suggestions! Whoa, @googlemaps this better have some valid explanations! https://t.co/pq3ViWAZfl

— Dwikul Jyoti Das (@dwikuljyotidas) November 25, 2018
The implications of what this would mean, is also not great.
Google's AI trying correlate on mass communication and slangs, You see how learning nebie child would find pattern and correlate things @demishassabis @sirajraval @Sentdex

— Avinash K (@Bosonium) November 25, 2018
I think it is their algorithm.The word derogatory word bi*ch is associated with woman so I think it shows such. pic.twitter.com/UyeZLPlMwP

— Megananda Swamigal (@megeshvaidun) November 26, 2018
After this, Google fixed it, people started citing that this was a 'bug.' There was no acknowledgement on part of Google, though.
Dint acknowledge, but fixed. pic.twitter.com/v32UMuJaow

— جویریہ (@pepper_smoker) November 26, 2018
However, this isn't the first time this 'bug' has affected Google. In 2017, searching "South Indian Masala" turned up images of girls from Southern India.
That's bizarre & disgraceful. @Google @sundarpichai can you explain -- & fix? https://t.co/0MSylDtAYc

— Shashi Tharoor (@ShashiTharoor) July 7, 2017
If we go on to cite how this is all but an algorithm - that 'bitches near me' has been searched so many times that it's been associated with women and their locations. But AI is machine based - So who's really at fault?
If it's the artificial intelligence, what is it learning from? @googlemaps https://t.co/zeT6xXWzyK

— Andho🎈 (@andhos) November 26, 2018
The answer is you and me, and us as a collective society. We add to it by searching for women in disrespectful terms. Even though this is a 'glitch' that Google has fixed - how many other degrading terms for women do we have to keep googling until society stops searching for 'Bitches near me?'
#still_needs_to_be_fixed@Google pic.twitter.com/6XnDS3yz5B

— Shahbaz Salam (@Shz_707) November 27, 2018
Get the best of News18 delivered to your inbox - subscribe to News18 Daybreak. Follow News18.com on Twitter, Instagram, Facebook, Telegram, TikTok and on YouTube, and stay in the know with what's happening in the world around you – in real time.
Read full article