Shehla Rashid Started a Twitter Thread on Premenstrual Dysphoric Disorder and It's a Must Read
PMDD is real and it's time to start a conversation on the issue.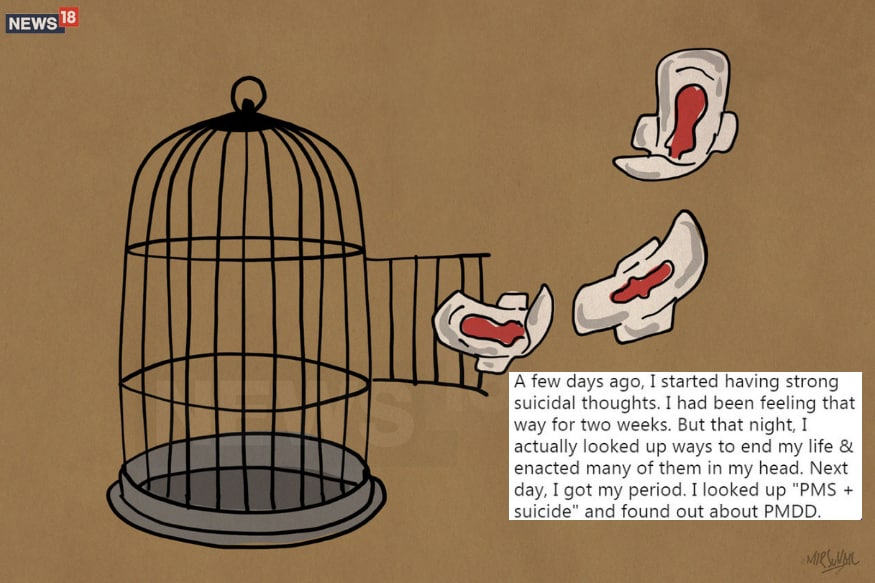 (Image: News18 Creative)
On Sunday morning, former vice president of Jawaharlal Nehru University Student Union (JNUSU), Shehla Rashid took to Twitter to share a very personal story in "public interest, hoping to reach someone who needs to hear it."
Shehla began the thread by talking about having "strong suicidal thoughts", which she had been experiencing for two weeks when she even searched the nooks and corners of the Internet to find ways to end her life.
Incidentally, after Shehla had her period the next day, she looked up "PMS + Suicide" on the Internet and discovered about Premenstrual Dysphoric Disorder (PMDD).
Okay, so, I've decided to share a deeply personal story on Twitter, even though I know that Twitter isn't kind at all. But I'm sharing this personal story in public interest, hoping it might reach someone who needs to hear this. (1/n)

— Shehla Rashid (@Shehla_Rashid) September 23, 2018
A few days ago, I started having strong suicidal thoughts. I had been feeling that way for two weeks. But that night, I actually looked up ways to end my life & enacted many of them in my head. Next day, I got my period. I looked up "PMS + suicide" and found out about PMDD. (2/n) pic.twitter.com/R5mOP9QpCV

— Shehla Rashid (@Shehla_Rashid) September 23, 2018
PMDD is a "severe form of premenstrual syndrome" which affects 3-8 percent of all menstruating women. Premenstrual Syndrome (PMS), often used as a 'taunt' by men to justify 'irrational behaviour', in fact has more than 200 symptoms which include several emotional and physical symptoms like stress, insomnia, mood swings, abdominal cramps, and constipation.
According to a paper published in the American Family Physician, almost 80 percent of all menstruating women report having some symptoms prior to their menstruation cycle. However, these symptoms qualify as PMS in 20 to 30 percent of women and in three to eight percent are severe--which is called PMDD.
To confirm PMDD, a professional evaluates the previous medical history and carries out several tests to rule out any other condition. Treatment for PMDD may include anti-depressants, anti-inflammatory medicines and making lifestyle changes.
Shehla subsequently points out patriarchy as the reason behind the lack of acknowledgement and extensive research of PMDD, however, she insists that there is an urgent need for creating an awareness about the issue. Talking about how real it can get for women who actually suffer from it, Shehla tweeted that, "You start picking ways and spots to end your life. You start planning it!"
PMDD is not often acknowledged as an issue, because, well, it concerns women. But if you care about your sister, partner, or friend do raise awareness about PMDD. It's scary how real it can get. You start picking ways and spots to end your life. You start planning it! (3/n)

— Shehla Rashid (@Shehla_Rashid) September 23, 2018
She went on to point out the 'sensitivity' of website algorithms, or lack thereof.
And then, of course, you have algorithms to help you die. Since I was actually contemplating suicide, I didn't care that I was logged in. And this morning @Quora sends me an email asking if I'm still contemplating suicide, and that they're here to help! (4/n) pic.twitter.com/0QTivHADD2

— Shehla Rashid (@Shehla_Rashid) September 23, 2018
In a world where algorithms will help you end your life if you want to end your life, it's really important to share information about PMDD - premenstrual dysphoric disorder - a severe form of PMS that can even make you suicidal. Knowing it can prevent it. (5/n)

— Shehla Rashid (@Shehla_Rashid) September 23, 2018
Talking about living in a world where even the "algorithms help you end your life" if you really want it, Shehla again insists on the importance of spreading information about PMDD. Shehla concludes by saying that it is unfair to women to dismiss "PMDD as a mood swing." She talks about the support women need and not sexist comments like "Even get stressed out."
If there are women in your friend circle or family whom you care about, don't dismiss PMDD as mood swing. Don't tell her that she's imagining it. It's hormonal. Be supportive. Don't say that "men also get stressed". Women are already supportive and considerate about men's issues.

— Shehla Rashid (@Shehla_Rashid) September 23, 2018
Several women came out in support of Shehla and even narrated their own experiences.
Read this thread about PMDD - premenstrual dysphoric disorder - a severe form of Premenstrual syndrome (PMS) that can drive you to think about ending, or end, your life. Learn about it. Raise awareness. Be kind. 🙏 #Pakistan #SuicidePreventionMonth #SuicideAwarenessMonth https://t.co/gXRYmJWaS3

— Mehreen Zahra-Malik (@mehreenzahra) September 24, 2018
Thank you @Shehla_Rashid for being courageous and kind enough to share this. People like you give people like me a lot of strength. #PMDD https://t.co/TgcyqrcfVl

— smriti kiran (@smritikiran) September 24, 2018
I will be honest.

I was unaware of this

Love you for sharing it on a public platform. Many women will benefit from the sudden depression that precedes this.

Sending you a tight hug.

— Dr Pooja Tripathi (@drpoojaa) September 24, 2018
Oh God, this is scary. Search based algorithms can be so misleading & harmful at times. @Quora, @Google, other tech literate peeps, is there any solid fix for such algo behaviour with manual intervention? How can you possibly filter common words strung together that means harm? https://t.co/vVk7XfspoF

— Sohini Guharoy (@sohinigr) September 23, 2018
@Shehla_Rashid I totally relate to this one ☝️ I go through this almost every month plus to add on sometimes a mild trypophobia also triggers for me. https://t.co/gV1T3zLees

— Sana (@farooquisana) September 24, 2018
The number of times I have been told to "man up" by employers and friends and have been blamed by doctors for my struggle with PCOD has left me feeling angry and depressed! @Shehla_Rashid thanks for speaking up! https://t.co/v8M6XZzMVP

— Rashee Mehra 🏳️‍🌈 (@hanuzdilidurast) September 23, 2018
Such things needs some attention! We suppress or ignore few things as 'common' which is not! @Shehla_Rashid is bold enough to share it! 👍🏻 Be in good company and never hesitate to get help if needed! https://t.co/SsHJbQpRCH

— Bhavani Krishna (@bhavanitweeting) September 23, 2018
Love you beta!! I am proud of you, because in my generation we could not talk about it so openly,I have shared this article with many people. @Shehla_Rashid https://t.co/599dwLtT5I

— Rikki (@rikkijoshi) September 23, 2018
These are of course severe manifestations, but unfortunately we usually have to start the conversation with, Hey, PMS is real, not a figment of my imagination! I really wish we would all woman up and speak about all this more, and more openly. Thanks both, for doing that.

— Nupur Chaturvedi (@nupurc123) September 23, 2018
Thank you! This was informative. And I'm someone who experienced this multiple times. Since its momentary or at best described as fleeting never bothered to google it.

— Divya (@ayvid) September 23, 2018
PMDD is not an urban myth, it is real. Says who? Says the American Psychological Association. And while there are debates on the nature and intensity of the problem, the fact that it has adverse effects on women cannot be ignored any longer.
Get the best of News18 delivered to your inbox - subscribe to News18 Daybreak. Follow News18.com on Twitter, Instagram, Facebook, TikTok and on YouTube, and stay in the know with what's happening in the world around you – in real time.
Subscribe to Moneycontrol Pro and gain access to curated markets data, trading recommendations, equity analysis, investment ideas, insights from market gurus and much more. Get Moneycontrol PRO for 1 year at price of 3 months. Use code FREEDOM.
Read full article