Sherfane Rutherford Lifting Both IPL and PSL Trophies in a Span of One Week Has Baffled Cricket Fans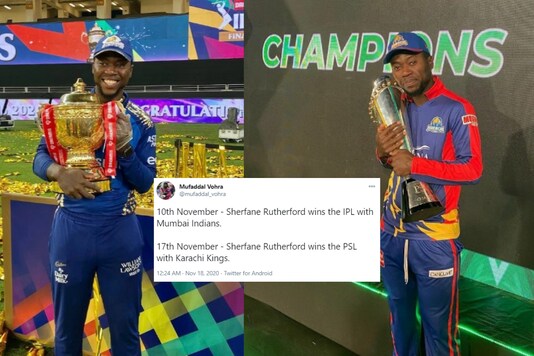 Sherfane Rutherford / IPL 2020 PSL 2020 (Twitter screegrab).
Sherfane Rutherford was part of the Mumbai Indians franchise which lifted the IPL 2020 trophy on November 10. Seven days later, Rutherford found himself on the winning side as Karachi Kings defeated Lahore Qalandars in PSL 2020 finals on November 17.
Last Updated: November 18, 2020, 10:20 IST
FOLLOW US ON:
Sherfane Rutherford is everywhere.
Karachi Kings, on Tuesday, were crowned the champions of Pakistan Super League (PSL) after Babar Azam's (63 off 49) heroics with the bat helped his team register a comfortable victory over Lahore Qalandars by five wickets. Chasing Lahore's 134 for seven wickets, Karachi finished the business with eight balls to spare and five wickets in hand.
Notably, this was the first time ever Karachi lifted the trophy since the inception of PSL. But for the Caribbean cricketer Sherfane Rutherford, it's an entirely different story.
Rutherford, who was part of the winning Karachi squad in PSL on November 17, had earlier lifted the trophy for Mumbai Indians in the recently-concluded Indian Premier League where the Men in Blue defeated Delhi Capitals in the big finals on November 10.
Also Read: Karachi Kings Get Trolled as Sherfane Rutherford Spotted Wearing Mumbai Indians' Gloves in PSL
Although the 22-year-old cricketer didn't feature in a single match for MI, the fact that he was part of two big wins in two T20 leagues within a span of 7 days wasn't lost on anyone.
Earlier, Rutherford made headlines after he was spotted wearing gloves of Mumbai Indians franchise from the Indian Premier League while batting for Karachi Kings in Pakistan Super League.
The hawk-eyed cricket fans soon took to microblogging site Twitter to report the apparent gaffe by the cricketer. Several memes and jokes were made at the expense of PSL and the Karachi team.
The West Indian cricketer was also snapped wearing a Mumbai Indians sweatshirt and face mask upon his arrival in Pakistan.
Next Story