GET Stock

Quotes


Shoaib Akhtar Trolled For Posting Incomprehensible Tweet In English
Trolled!
(Photo: Reuters)
Known for his express bowling, former Pakistani cricketer Shoaib Akhtar was on Monday trolled severely after he posted a tweet in English which social media users found extremely difficult to comprehend.
Akhtar tweeted about having the honour of meeting Samina Baig - first Pakistani woman to conquer Mt. Everest - but his English confused everyone on the micro-blogging site.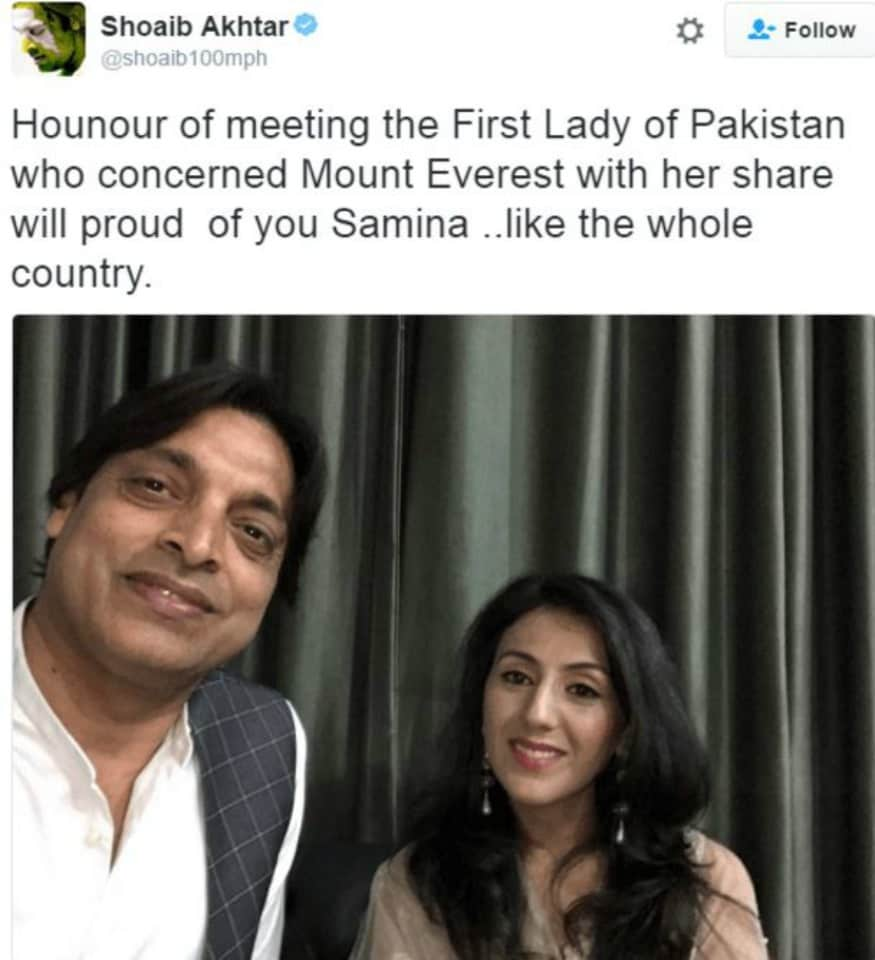 Akhtar's incomprehensible tweet had the entire virtual world talking, with people advising him to restrict his English to answers like, "boys played very well."
Dear @shoaib100mph pls restrict your English to "Insallah boys played very well"! 😂 https://t.co/EMMq3b59XJ

— Pankaj Mishra (@pankajmishra23) October 24, 2016
And while hundreds struggled to understand the meaning of his tweet, some social media users from both India and Pakistan came together to troll the former speedster.
Reaction after reading Shoaib Akhtar's tweet:Dhttps://t.co/ExkOhHC6Le pic.twitter.com/x2NFE1vbYb

— Chinmay Jawalekar🏏 (@CricfreakTweets) October 24, 2016
@iarakhan @shoaib100mph First Lady of Pakistan 😂😂 is she president or his wife? 😉

— Sumit (@Zugzwang_20) October 23, 2016
Surgical strike by Sohaib Akhtar on English speaking Pakistanis. No casualties till now. pic.twitter.com/XYY8KVzEBv

— The Viral Fever (@TheViralFever) October 24, 2016
This Twitter user suggested that Akhtar take a few lessons in English before posting such tweets.
.@shoaib100mph sir, please accept this as a Diwali gift from my side. pic.twitter.com/IG8Au8aKTC

— Sand-d Singh (@Sand_In_Deed) October 24, 2016
Q. What is common to Partition and Shoaib Akhtar's tweet?
A. It left India in splits

— Avinash Iyer (@IyerAvin) October 24, 2016
This social media user suggested that he should write in Urdu instead.
@shoaib100mph shoaib bhai, khuda da wasta urdu likh kiya karain.

— Ahad Supertramp. (@_ErrorGuy) October 23, 2016
People were so confused that one user suggested Akhtar outsource his Twitter account and make it easy for them to understand what exactly he wants to convey.
"Shoaib Akhtar bhai needs to outsource his twitter account like Afridi (sic)," said this Twitter user.
Shoaib Akhtar bhai needs to outsource his twitter account like Afridi

— Raza (@razonater) October 23, 2016
Hours later, Akhtar deleted his tweet and posted a fresh one clarifying what he meant to say.
In d inspiring company of Samina Baig,1st Pakistani woman 2 scale
Everest. It wasn't an expedition but a statement pic.twitter.com/fZwmaUaE5v

— Shoaib Akhtar (@shoaib100mph) October 24, 2016
And finally, his tweet made some sense!
Also Watch

Beatles Drummer Ringo Starr Knighted For Services To Music
Read full article