Shocking Viral Video Shows a Boy Miraculously Surviving After A Car Drives Over Him
Shocking!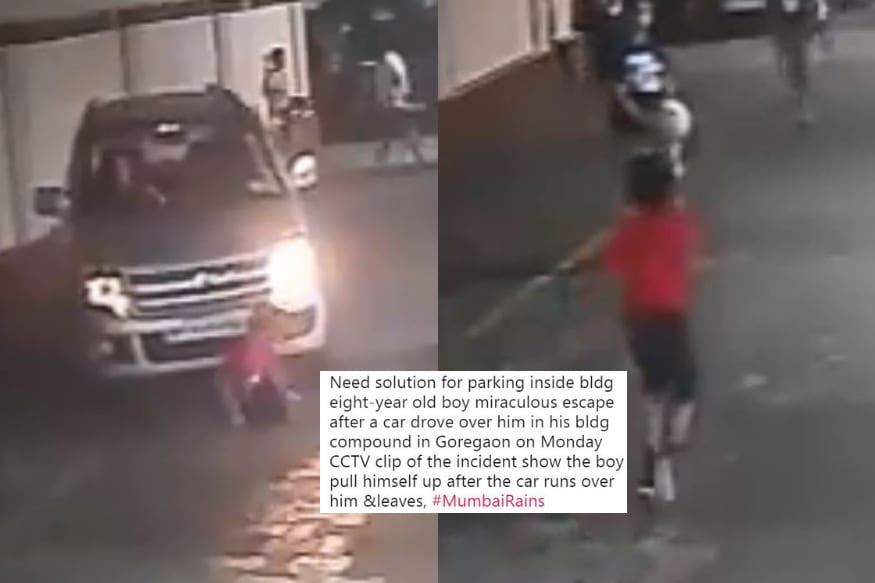 (Image: Twitter)
In a bizarre incident, a woman drove over an eight-year-old boy in a society compound in Goregaon, Mumbai on Monday. However, the boy, who was dragged on for several feet, quickly ducked down as the car ran over him; running back to his friends and joins the ongoing football game.
According to CCTV footage, the boy was tying his shoelaces in front of a Wagon R, when a woman got inside the car and without any warning horn, drove over the boy. The eight-year-old, however, acted immediately and lay down on the floor as the car drove over him. The CCTV footage does not show the woman stopping.
The CCTV footage went viral on social media with several people expressing outrage at the inattentiveness of the woman.
Need solution for parking inside bldg eight-year old boy miraculous escape after a car drove over him in his bldg compound in Goregaon on Monday CCTV clip of the incident show the boy pull himself up after the car runs over him &leaves, #MumbaiRains @milinddeora @suhelseth @BDUTT pic.twitter.com/Xp3glDAZwg

— Imran Solanki (@imransolanki313) September 27, 2018
Boy gets run over while playing football 🏈 Incredible. This boy is SO lucky to be alive 😲#GodIsGood pic.twitter.com/VkfOOcWh1C

— Brian J Morales (@BrianJeniel) September 26, 2018
#ViralVideo #careless woman car #Driver run over a minor who was tying his bow ties, luckily minor boy survived with injuries. The incident occured on 24th of Sep somewhere in Mumbai. @mid_day @MumbaiPolice #SafetyFirst #DriveSafe pic.twitter.com/F64JtN98Tt

— Suraj Ojha (@surajojhaa) September 26, 2018
The boy's parents reported that he had received minor injuries on the head and knees.
According to a report by Mumbai Mirror, the woman was arrested by the Dindoshi police on Thursday after the boy's parents filed an FIR. The accused was charged with negligent driving and later let out on bail.
Get the best of News18 delivered to your inbox - subscribe to News18 Daybreak. Follow News18.com on Twitter, Instagram, Facebook, Telegram, TikTok and on YouTube, and stay in the know with what's happening in the world around you – in real time.
Read full article