'Shut Up, PC George': Why Social Media has Come Together to Send Duct Tapes to Kerala MLA
The internet is here to school the Kerala MLA in their own creative way.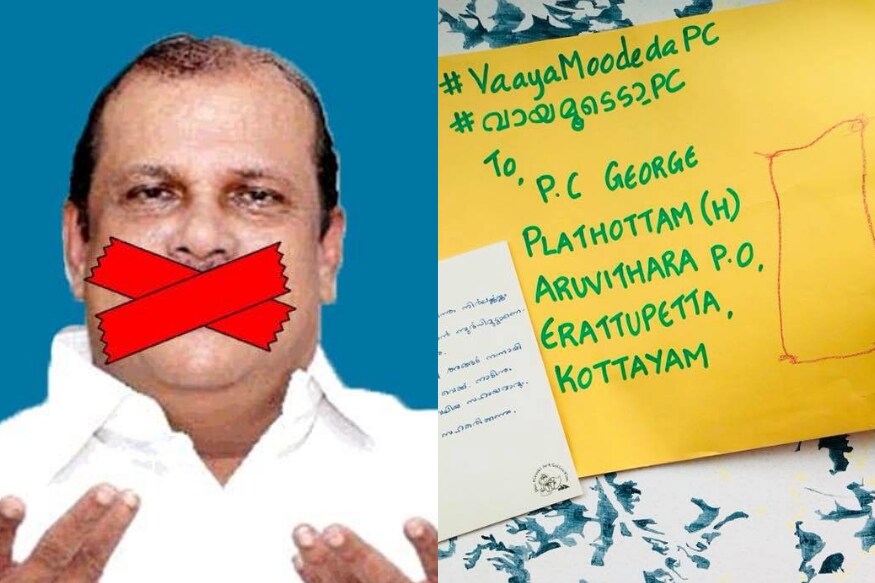 (Image: Facebook/Aysha Mahmood)
Kerala MLA P.C. George is no stranger to controversies. His anti-Dalit speeches, slapping hotel staff, pointing a pistol at tea estate labourers and breaking a toll gate after waiting for just three minutes have become cause célèbres in the recent past.
But it was the MLA's recent accusations about a Kerala nun, who was sexually abused by Jalandhar-based Bishop Franco Mullackal, that has sparked a major outrage on social media.
"Is there any doubt that the nun is a prostitute? 12 times it was pleasure, 13th time it became a rape? Where was she when it happened 12 times? Whom is she telling this to? Why did she not complain on the first time it happened? Let the three sisters be examined. Let us see if they are holy," he had said to media organisations on Sunday.
However, pointing out George's ignorance and his clear lack of understanding about what counts as rape, social media has come up with #VaayaMoodalCampaign or #VaayaMoodedaPC which means "Shut your mouth, P.C. George."
Started by activist Aysha Mahmood on Facebook, it is an invitation to stop the minister from "slandering rape victims and becoming an unnecessary noise factor in discussions and fights to win justice". She asks everyone to buy a duct tape and mail it to George's address with the hashtag written on the envelope "to let him and the world know what the tape is for". The movement has quickly picked up and people are using the hashtag and sending duct tapes to the MLA's address.
Proud of this campaign! #pottymouthpc Enough of this man's DISGUSTING WORD VOMIT #VaayaMoodalCampaign #VaayaMoodedaPC

Saluting our sister and her bravery! #speakup #nofear pic.twitter.com/H3w2WCmiLA

— Parvathy Thiruvothu (@parvatweets) September 11, 2018
Please join this campaign to send a message to the MLA who called a nun #rape survivor a "prostitute". I feel so proud of my fellow Malayalis when they come up with hashtags like this. #VayaMoodalCampaign BTW means #ShutYourMouthCampaign. Spread the word. https://t.co/uS7XJcfpEr — Anna MM Vetticad (@annavetticad) September 11, 2018
Here's my gift to PC George. He deserves it.

#VaayaMoodalCampaign pic.twitter.com/ItbkMJoCpC

— Pheba B Mathew (@pheba_mathai) September 11, 2018
What a fantastic way call out this odious scumbag who abused the nun who reported alleged rape by a priest! Creative non violent protest! Solidarity and more power to you!! #vaayamoodalcampaign #VaayaMoodedaPC #kerala Quite literally 'Shut your mouth campaign' https://t.co/ccxEyUVLx5 — Swara Bhasker (@ReallySwara) September 11, 2018
I am also very proud of this campaign..stop using disgusting words #VaayaMoodalCampaign #VaayaMoodedaPC pic.twitter.com/PVxsDksd4k

— കാത്തൂട്ടി..‍♀️ (@mimosa_sen) September 11, 2018
PC George admits it was wrong of him to have called the nun a prostitute, but won't apologise. Despicable. Where do I sign up for the #VaayaMoodalCampaign? #VaayaMoodedaPC — Coconut Kanmani (@HazeedaVijay) September 12, 2018
Joining the #VaayaMoodalCampaign.

Inviting everyone to join in as well.

Please be kind and donate some tapes. Consider it as your contribution in fighting noise pollution and preventing Kerala society from verbal poison. pic.twitter.com/XcakiZ0Na3

— Korah Abraham (@thekorahabraham) September 10, 2018
#VaayaMoodalCampaign campaign to shut misoginy and crap from our lawmakers who seek to shame the victims of abuse. — ️Aaron (@ROALY) September 12, 2018
Everytime something like this pops up people starts victim shaming. Where was she when it first happened, why did she go out at that time, why did she wear something like that... #VaayaMoodalCampaign #stopVictimShaming #its_not_your_fault https://t.co/TvgAuFlM7R

— Anil Ambooken (@AmbookenAnil) September 12, 2018
#VaayaMoodalCampaign #VaayaMoodedaPC #PCGeorge is not worthy of being a democratic representative when his view of an abused nun is so dismissive and his modus operandi is victim-shaming! pic.twitter.com/wEA7dI0ihv — Dee (@idontlike2tweet) September 10, 2018
Read full article