'Since taking over, I haven't taken even a 15-minute vacation': Top 10 quotes from Narendra Modi's speech at Madison Square Garden, New York
'People ask what is your vision. I got here by selling tea. I want to accomplish big things for the simple man.'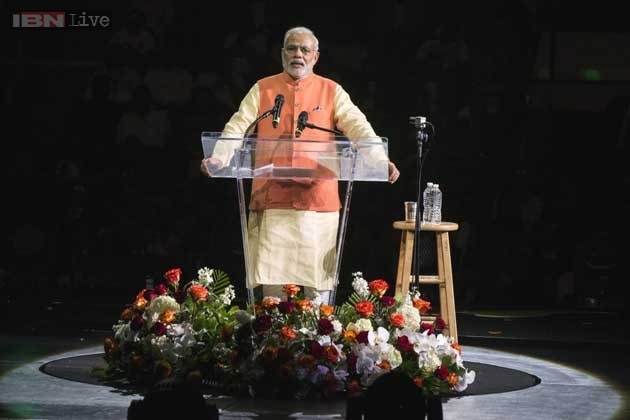 'People ask what is your vision. I got here by selling tea. I want to accomplish big things for the simple man.'
The atmosphere at the Madison Square in New York was electrifying as 18,000 NRIs waited anxiously for Prime Minister Narendra Modi's speech. The rapturous crowd chanted slogans and waved ecstatically at the cameras before the PM arrived at the venue. Beaming with hope and confidence, Narendra Modi did not disappoint the NRI and PIO community at the Madison Square Ground as he assured them the 21st century belonged to India.
The hour-long speech in Hindi began with the PM extending greeting for Navratri festival with 'Bharat Mata Ki Jai'. Modi promised good governance saying after a gap of 30 years India has got a government at the Centre with a clear majority.
'Democracy, demographic dividend in which 65 per cent of its population is under 35 years, and the demand for India because it is a huge market,' according to him were the three biggest strengths that India possesses.
He spoke about an array of issues from building toilets to announcing lifelong visas for PIOs. Here are the top 10 quotes from his speech at Madison Square Garden in New York.
'An auto-rickshaw in Ahmedabad costs 10 rupees per km. India's mission to Mars cost seven rupees per km.'
'People ask what is your vision, what is your big vision? I say bhai, I got here by selling tea. I am a simple man. I like focusing on simple and small tasks. I want to accomplish big things for the simple man.'
'Winning elections is not about getting a post or chair, it is a responsibility. Since taking over, I haven't even taken a 15-minute vacation.'
'When 125 crore people have given me their blessings, it's like the blessing of God.'
'Mahatma Gandhi made the freedom struggle a mass movement. Every Indian felt that yes, I am also a part of the freedom struggle.'
'Mahatma Gandhi never compromised on cleanliness. He gave us freedom. We should give him a Clean India.'
'You may not have voted in 2014 but am sure when results were coming, you didn't sleep & celebrated.'
'There was a time India was known as a land of snake charmers. If you were not there, the perception would have stayed.'
'PIO card holders- they have lot of visa issues. We decided they will get lifelong visas. Those who stay in India for long have to go to police stations too. They won't have to do that now.'
'We have given importance to skill development. We created a separate Ministry for skill development.'
Watch the full speech here:####
Read full article