Slip of Tongue? UK Foreign Secretary Told Everybody that His Chinese Wife is Japanese
Anybody can confuse race - especially when it's someone own wife.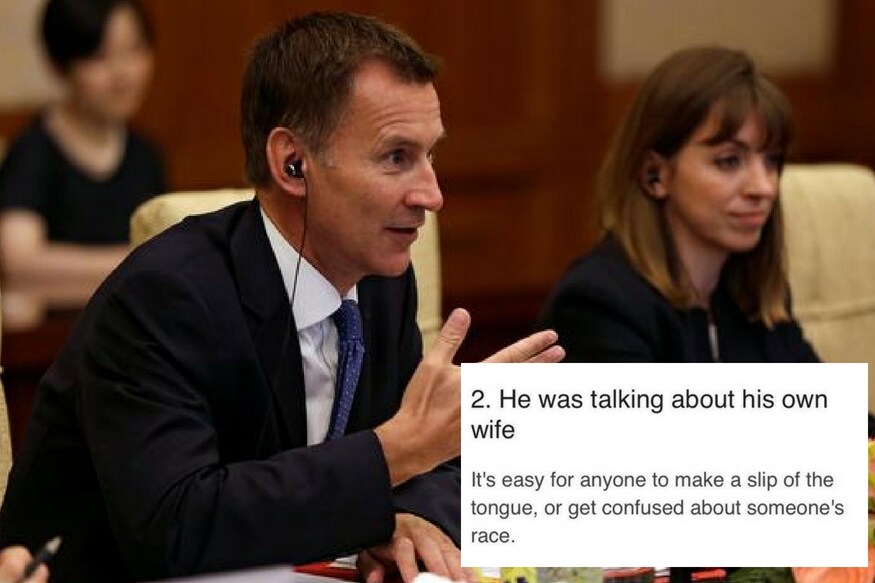 Anybody can confuse race - especially when it's someone own wife.
Newly-appointed British Secretary of State for Foreign Affairs, Jeremy Hunt, has had an awkward start in China.
In his first visit to China, he told a room full of Chinese people which included Chinese Foreign Minister Wang Yi, that his wife is Japanese.
He immediately corrected himself and said, "Sorry, she is Chinese." He follows it up with, "That was a terrible mistake to make."
Jeremy Hunt accidentally describes his wife as Japanese, not Chinese. In a meeting with Wang Yi, Chinese State Counsellor. pic.twitter.com/YaKrSzr2jA

— Kathy Long (@ProducerKathy) July 30, 2018
In the video, he can be seen correcting himself, while the room laughs. While Hunt himself has tweeted explaining how he was confused about switching from languages to people, it doesn't really help his case.
Rule #1 as a new Foreign Sec: when reflecting in English with the Chinese on a conversation you had with them in Japanese about your Chinese wife, don't get any of those mixed up! Apologies to the long-suffering Mrs H...! — Jeremy Hunt (@Jeremy_Hunt) July 30, 2018
Hunt's comment may just be a more than a slip-of-tongue. How do you forget where your wife is from?
Twitter speculated how this slip of tongue may just be a thinly-veiled racist comment about the generalizations of Asians.
JEREMY HUNT: My wife's Japanese.

CHINESE FOREIGN MINISTER: Excuse me?

JEREMY HUNT: pic.twitter.com/hqSNbLJ5Zh

— JOE Politics (@PoliticsJOE_UK) July 30, 2018
Jeremy Hunt obviously thinks all foreigners look the same. Even the one he's married to. https://t.co/2sDdtZWDoB — Denis Skinner (@BolsoverBeast) July 30, 2018
I am here as a person of Chinese descent to tell you that I literally have no idea how you could make this mistake and stay married to a Chinese woman pic.twitter.com/KNVS1zv5KX

— Zing Tsjeng (@misszing) July 30, 2018
nope, sorry, I can't even work out how this happens. there will be a small part of my brain devoted to thinking about this forever

— Chris Boyd (@paperghost) July 30, 2018
Have legit been losing it for half an hour over Jeremy Hunt, a man who SPEAKS MANDARIN and has 3 children who also speak the same language!!!

— hussein kesvani (@HKesvani) July 30, 2018
However, Hunt isn't probably the most racist British foreign secretary out there. Twitterati also used this opportunity to compare between him and the last foreign secretary, Boris Johnson.
Jeremy Hunt has been taking a few tips from Boris Johnson on how to truly excel as Foreign Secretary. — Dr Lauren Gavaghan (@DancingTheMind) July 30, 2018
Boris Johnson: I have not been a good foreign secretary

Jeremy Hunt: Hold my wife... I mean beer pic.twitter.com/xiwr4uIvLC

— Toby Earle Toby Earle Toby Earle Toby Earle Toby E (@TobyonTV) July 30, 2018
Jeremy Hunt is:1) In a competition with Boris Johnson to see who can commit the most knuckle chewing gaffe on an overseas visit2) Sleeping on the sofa when he gets back https://t.co/iWlxQ2rbaA

— Mikey Smith (@mikeysmith) July 30, 2018
Boris Johnson isn't the only British politician referenced, though. Some have a more humorous take.
In an echo of Jeremy Hunt's gaffe today, prime minister Theresa May has just described her husband as a tax-payer. — John Traynor (@Mr_JDTraynor) July 30, 2018
I wouldn't do Jeremy Hunt's job. Not for all the tea in Japan.

— Pete Sinclair (@pete_sinclair) July 30, 2018
Was this actually a larger example of the white-gaze generalizing Asians?
Read full article