GET Stock

Quotes


Smirnoff Experience Brings DVLM To Mumbai
Celebrating life, every day, everywhere.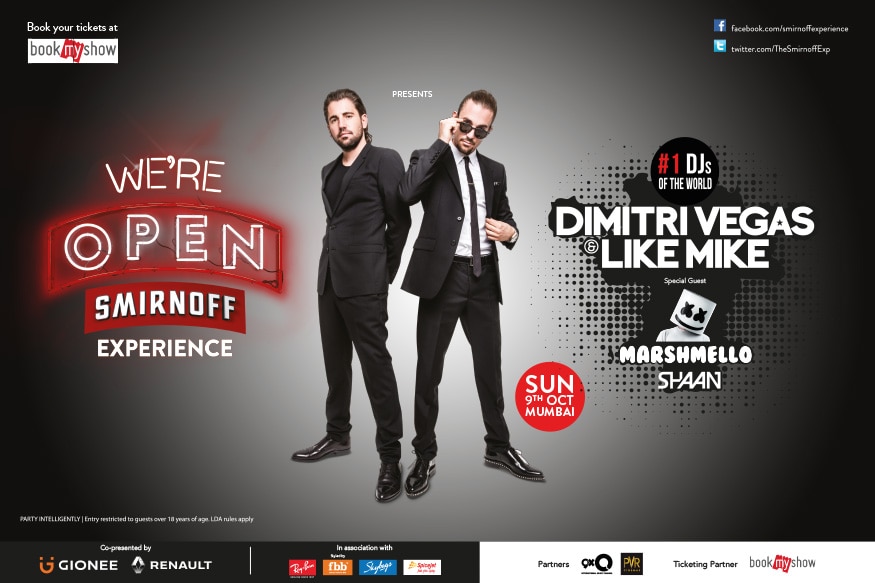 Celebrating life, every day, everywhere.
Smirnoff Experience is a music platform that is inclusive and supports equality for everyone no matter race, gender, ethnicity or sexuality. It supports and brings the best artists and music lovers together for an OPEN experience.
The 2016 Smirnoff Experience event will be India's most inclusive EDM event featuring international music sensations Dimitri Vegas & Like Mike (DVLM). The Smirnoff Experience with DVLM will take place on 9th October, 2016 at Royal Western India Turf Club, Mahalakshmi.
The event will also include an inspirational performance by Chris Fonseca who also features in the 'We're Open' campaign by Smirnoff Experience. Chris Fonseca is a deaf dance teacher from London, who specializes in Hip-Hop and dances by feeling the beat through vibrations in the floor, and interprets and then incorporates the lyrics into his dance moves. He also teaches other deaf dancers that there are ways to enjoy music beyond hearing it.
To make the platform more inclusive for the music lovers, Smirnoff Experience will also have a dance floor that is specially designed to allow hearing impaired individuals feel the music. Other patrons who would like to experience this will be given earplugs to allow them to groove to the music by only feeling the beats.
"With Smirnoff Experience we want to celebrate diversity and encourage millennials to be more inclusive. We want the festival to become the ultimate music platform that will allow audiences to let go of their prejudices and be open to possibilities of a great night. With global sensations like DVLM and Chris Fonseca sharing the stage, we want to show that everyone is equal on the dance floor," says Nitesh Chhapru, portfolio marketing head at United Spirits.
Celebrating life, every day, everywhere.
This is a sponsored article.
Also Watch

Beatles Drummer Ringo Starr Knighted For Services To Music
Read full article