Smog: Delhi's Air Might be Toxic But These Twitter Jokes Are Pure Gold
When life gives you lemons make lemonade. When Delhi gives you smog, make jokes.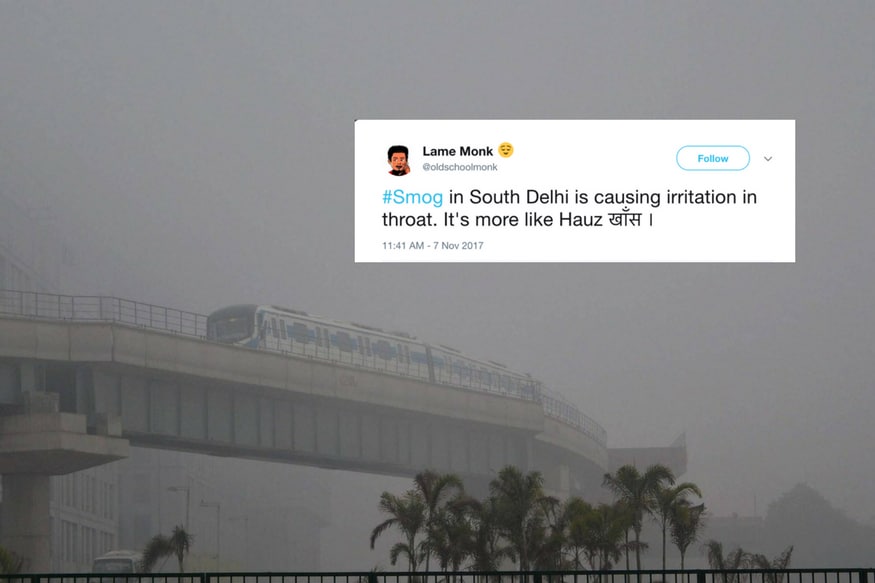 When life gives you lemons make lemonade. When Delhi gives you smog, make jokes.
Recently, the Supreme Court constituted body, the Environment Pollution (Prevention and Control) Authority (EPCA) announced that the quality of air over Delhi has hit the 'severe plus' category, according to its Graded Response Action Plan (GRAP).
A public health emergency was declared in New Delhi by the Indian Medical Association as a choking blanket of smog descended on the world's most polluted capital city. The US embassy website said levels of the fine pollutants known as PM2.5 that are most harmful to health reached 703 -- well over double the threshold of 300 that authorities class as hazardous.
While in real life Delhiites struggled to breathe properly, online their angst translated into humour. Some of these jokes were cheeky while some betrayed a sense of frustration and hopelessness. Here, look at some of them:
Delhi smog vs Salman Khan's Superhero:
Tiger Zinda hai. 5 din ke liye Delhi bhejo apne aap mar jayega.

— pnkj (@AskThePankazzzz) November 7, 2017
Delhi smog vs Man of Steel: Who wins?
Superman after flying through Delhi air for 10 min. pic.twitter.com/1TWGwv4IDy

— The Skin Doctor 🚩 (@thecyberbully13) November 7, 2017
Humour level: Stock photo
Pic 1 - Couples in Rest of IndiaPic 2 - Couples in Delhi#smog pic.twitter.com/yiywYWfmJX

— Bade Chote (@badechote) November 7, 2017
And of course, the jokes got political
These BJPwalas have ruined the capital, look at this Delhi clean & clear during Jawahar Lal Nehru's time pic.twitter.com/QGCQq6xyyQ

— Gabbbar (@GabbbarSingh) November 7, 2017
Invisibility jokes
Mr. India doesn't need his watch in Delhi. No one can see anything anyway. #Smog

— SAGAR (@sagarcasm) November 7, 2017
Right now you will feel like john cena if you are in delhi . #Smog

— Hunट₹₹♂ (@nickhunterr) November 7, 2017
This public service announcement
Air quality in Delhi, this morning. pic.twitter.com/OifNnYxkE1

— Trendulkar (@Trendulkar) November 7, 2017
This nice little spot of wordplay
#Smog in South Delhi is causing irritation in throat. It's more like Hauz खाँस ।

— Lame Monk 😌 (@oldschoolmonk) November 7, 2017
This very legit claim
DELHI BE LIKE: #smog filter for today Because Instagram filters are too mainstream! 😎 pic.twitter.com/ujUmLacMkK

— Barney Stinson (@BarneyStinsonYo) November 7, 2017
This very dark joke
Life is short.If you are in DelhiLife is VERY short#smog

— Anshu Mor (@anshuMor) November 7, 2017
And finally, those pesky Mumbaikars taking a dig at Delhiites.
Dear Delhi,U can take our tax money, build your infrastructure but u can't take away our Arabian Sea & breezeRegardsMumbai#delhismog

— Atul Khatri (@one_by_two) November 7, 2017
Get the best of News18 delivered to your inbox - subscribe to News18 Daybreak. Follow News18.com on Twitter, Instagram, Facebook, Telegram, TikTok and on YouTube, and stay in the know with what's happening in the world around you – in real time.
Read full article