195/288 Seats ((145 Seats to Win)
Alliance
BJP+
YSRCP+
TDP+
INC+
OTH
Wins + Leads
133
31
31
18
13
+/- 2014
+12
-06
-02
+01
195/90 Seats ((145 Seats to Win)
| Alliance | BJP+ | INC+ | BJD+ | OTH |
| --- | --- | --- | --- | --- |
| Wins + Leads | 133 | 31 | 18 | 13 |
| +/- 2014 | +12 | -06 | -02 | +01 |
Watch: Smriti Irani Posts Hilarious Boomerang Video With Janhvi Kapoor on Instagram
Smriti Irani ko aunty kisne bola?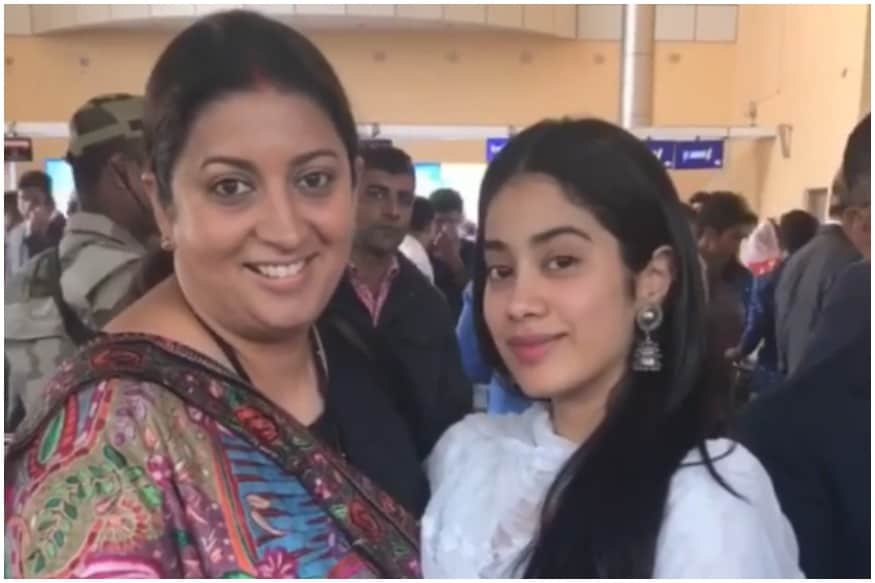 Apparently Janhvi Kapoor kept referring to Irani as 'aunty'. Source: Instagram/Smriti Irani
Smriti Irani is one of the most popular union ministers on social media and with good reason. Recently, the Textiles Minister posted a boomerang video with actress Janhvi Kapoor on Instagram, leaving her followers delighted.
Irani wrote on Instagram that meeting Janhvi was her 'someone shoot me' moment.
In a boomerang, shot in what looks like a crowded airport, Irani is seen bumping into Janhvi, daughter of late actress Sridevi and producer Boney Kapoor who debuted earlier this year with Dhadak. The video is hilariously hashtagged, #auntykiskobola.
"The 'someone shoot me' moment - when Janhvi Kapoor sweetly apologises for continuously calling you aunty and you say, 'Koi baat nahi beta.' #totalsiyapa... Ye aaj kal ke bachche." Irani wrote.
Many of the Gujarat MP's followers commented on her sense of humour. One even observed that Janhvi looked a lot like Irani herself.
However, those who follow Irani's social media profiles would not be surprised as it is just like Irani to say tongue-in-cheek things such as this on Instagram, which she uses to share more intimate and personal photos and information as opposed to Twitter which is more official.
Just recently, Irani posted a photo of her husband Zubin Irani along with Uddhav Thakrey with the caption,"You know how 'pratadit' (harassed) your husband is when even Uddhav Bhai looks at him & says "Himmatwall"(brave)". She hashtagged the photo #fridayfun.
Irani is also not averse to sharing memes on her social media profile. When there was a delay in the release of wedding pictures from Deepika Padukone and Ranveer Singh's private Lake Como nuptials, she posted the meme of a skeleton waiting for the photos.
She also shares 'waiting for weekend' memes that all of us can relate too.
Get the best of News18 delivered to your inbox - subscribe to News18 Daybreak. Follow News18.com on Twitter, Instagram, Facebook, Telegram, TikTok and on YouTube, and stay in the know with what's happening in the world around you – in real time.
Read full article