Social Media is Going Gaga Over This Musician Who Plays Drums, Guitar and Sings At the Same Time
Juggling with multiple instruments and singing on a highway, this 'one man band' leaves people on social media mesmerized with his musical talent.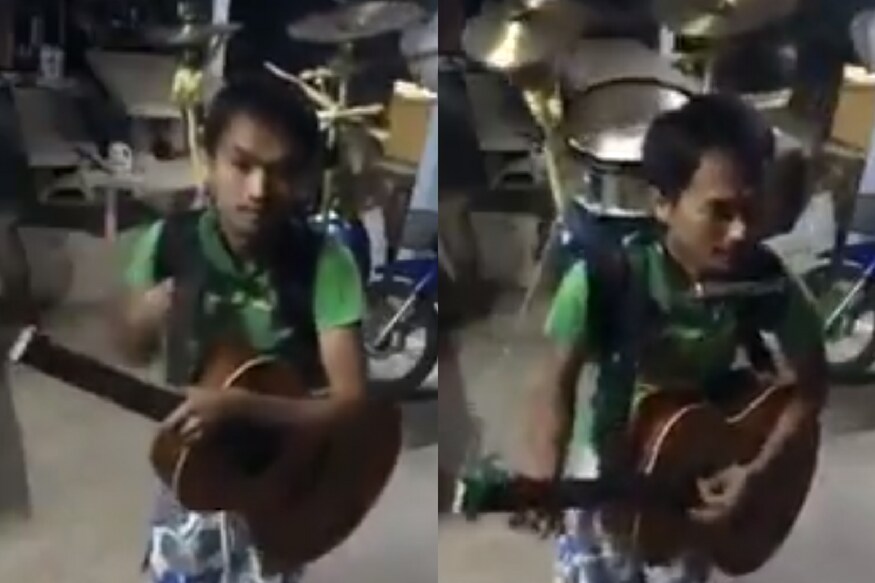 Image credits: @anandmahindra
Jim Garner played the guitar with his hands and triangle with his feet. Will Blankenship of the Blankenship Family of North Carolina played harmonica, autoharp and triangle in shows-- all by himself. And Johnny Watson, popularly known as 'Daddy Stovepipe' would sing, play the guitar, and even used a foot pedal to play bass drum or cymbal.
Now it seems social media has discovered our very own 'one-man band'.
Strapping on drums and a cymbal on his back to playing a rendition with his mouth organ and stomping his feet to playing the guitar - a 'one man band' who juggles with multiple instruments, all at once, has taken social media by the storm.
Seamlessly balancing rhythm and percussion, the man in the video is seen singing and playing music on a highway at night with multiple instruments. With the trucks driving up the highway in the background, one can hear the guitar, mouth organ and the drums distinctively.
The Chairman of Mahindra Group, Anand Mahindra, tweeted the video asking his followers to find who he is as he deserved an award for such creativity.
#whatsappwonderbox The friend who posted this wasn't sure where this rather resourceful one-man-band was from. He suspects somewhere in the NorthEast. Anyone know him? I'd like to give him an award for innovation or musical talent—haven't quite decided which one yet! 😊 pic.twitter.com/MHA3DqXQZf

— anand mahindra (@anandmahindra) June 12, 2018
A music fanatic himself, Farhan Akhtar also tweeted about the 'one man band' calling him a star.
What a ⭐️.. no idea who he is or where he's at but he sure deserves a RT. #musiclove #makehimfamous #onemanband pic.twitter.com/4WRAVEnnAu — Farhan Akhtar (@FarOutAkhtar) June 9, 2018
Now everyone is trying to find the musician who has turned into an overnight star.
Wow....seems "amar" character from movie amar akbar Anthony come alive.

The last song of the movie - Vinod Khanna did the same thing but then that was acting and this is surreal. A great job and what tremendous effort behind it! Salute 2 d dedicated learning.

— Sachitanand Bhardwaj (@sachitanandb) June 12, 2018
very low table and stools in the background... Vietnam ! — TangoTrader (@TangoTrader) June 12, 2018
Read full article
Countdown To
Elections Results
To Assembly Elections 2018 Results