GET Stock

Quotes


Powered by



Social Media Reacts After North Korea 'Successfully' Tests Hydrogen Bomb
The "artificial quake," thought to be North Korea's sixth nuclear test, was 9.8 times more powerful than the tremor from Pyongyang's fifth test, the South's Yonhap news agency reported citing the state weather agency. (Photo: Reuters)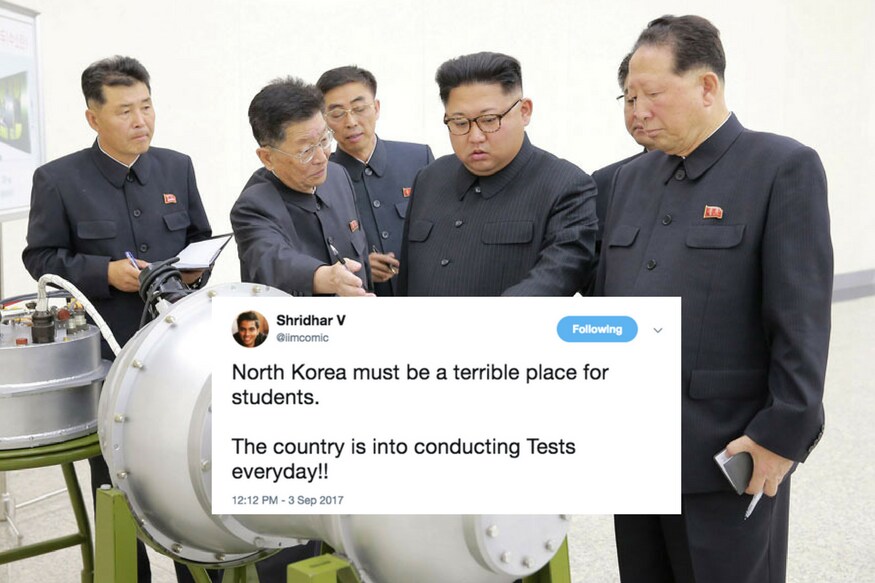 The "artificial quake," thought to be North Korea's sixth nuclear test, was 9.8 times more powerful than the tremor from Pyongyang's fifth test, the South's Yonhap news agency reported citing the state weather agency. (Photo: Reuters)
North Korea has developed a hydrogen bomb which can be loaded into the country's new intercontinental ballistic missile, the official Korean Central News Agency claimed Sunday.
The country detonated a hydrogen bomb with "perfect success", its state media said Sunday, adding that the device was capable of being loaded onto its long-range missiles.
Hours after the nuclear detonation, an announcer on its official Korean Central Television declared: "The hydrogen bomb test was a perfect success."
The "artificial quake," thought to be North Korea's sixth nuclear test, was 9.8 times more powerful than the tremor from Pyongyang's fifth test, the South's Yonhap news agency reported citing the state weather agency.



North Korea confirms sixth nuclear test.


— DEFCONWarningSystem (@DEFCONWSALERTS) September 3, 2017
It was "not only 9.8 times more powerful than the nuclear test conducted in September last year, but it is the most powerful", an official at the Korea Meteorological Administration told Yonhap.
However, the social media wasn't much impressed. Many took to the micro blogging site Twitter to share their concerns around the detonation. Some even sneaked in a joke or two.

One day it won't be a test. America has a right to protect its citizens. It's time to take action.
#NorthKoreaNukes #NorthKorea

— Katherine Byrd (@peaceandjoy101) September 3, 2017




The H-Bomb that North Korea just tested is estimated to be 1 Megaton!!! #NorthKoreaNukes pic.twitter.com/lUzzx54DI5


— Matt1313 (@Mattov7nov) September 3, 2017

Ladies and Gentlemen, we have a crisis. #NorthKoreaNukes #NuclearBomb #hydrogenbomb pic.twitter.com/zc7frMdnba

— Terrel Tan (@NyteVylo) September 3, 2017




It looks like North Korea has just conducted a nuclear test: 5.6 earthquake, 10km deep, recorded in North Korea. More to come


— Anna Fifield (@annafifield) September 3, 2017

North Korea is what you get when you combine kickass, lameass and weirdass together.

— Shakti Shetty (@Shakti_Shetty) September 3, 2017




North Korea must be a terrible place for students.

The country is into conducting Tests everyday!!


— Shridhar V (@iimcomic) September 3, 2017

Hey, you know what would be helpful to address the threat of a nuclear-armed North Korea? A fully-staffed State Department.

— Caroline O. (@RVAwonk) September 3, 2017




BREAKING: Japanese Prime Minister Shinzo Abe: "If North Korea did indeed...conduct a nuclear test, we absolutely cannot tolerate"


— Jacob Wohl (@JacobAWohl) September 3, 2017

Trump 8/22 on Kim: "I believe he is starting to respect us"
North Korea 8/29: Fires missile over Japan
N.K. 9/3: Possible NUCLEAR test

— Manu Raju (@mkraju) September 3, 2017




#NorthKorea appears to have just tested a nuclear device. Time of M5.2 quake at 2017-09-03 03:30:01.860 UTC. (On the half-hour.) pic.twitter.com/gXecreVczj


— Ankit Panda (@nktpnd) September 3, 2017
The hashtag
#northkoreanuke
s is currently trending on the platform.
#NorthKoreaNukes
H-bomb
🇺🇸 elected a man who think's Ted Cruz's father Rafael was involved in the assassination of JFK
"I alone can fix it" pic.twitter.com/TXsWQExm0b

— Chris Fredrickson (@Chrismf6) September 3, 2017
Trump on nuclear war: "Have a great time" *signs random piece of furniture* Me... #NorthKoreaNukes pic.twitter.com/6HddGdnsqO

— RealityTC® 🖤🕳🐇 (@RealityTC) September 3, 2017
North Korea does nuclear bomb test. How will Trump respond?

I'd rather have Baby Groot in charge of our nuclear button. #NorthKoreaNukes pic.twitter.com/xTdSrx53r9

— Edmund Hanlon (@EdmundHanlon) September 3, 2017
#NorthKoreaNukes
President Obama warned Trump about N. Korea but he was too busy trying to take away affordable healthcare #IdiotInChief

— Anne (@AnneHanlon1) September 3, 2017
For those who don't know the aftermath of an H-bomb #NorthKorea pic.twitter.com/Z4mBI6ligb

— Fawkes⚡️ (@Fawkes_2017_) September 3, 2017
Also Watch
Read full article