Someone on Twitter Just Asked PM Modi to Smile More. He Agreed.
Is smiling going to be the next winking?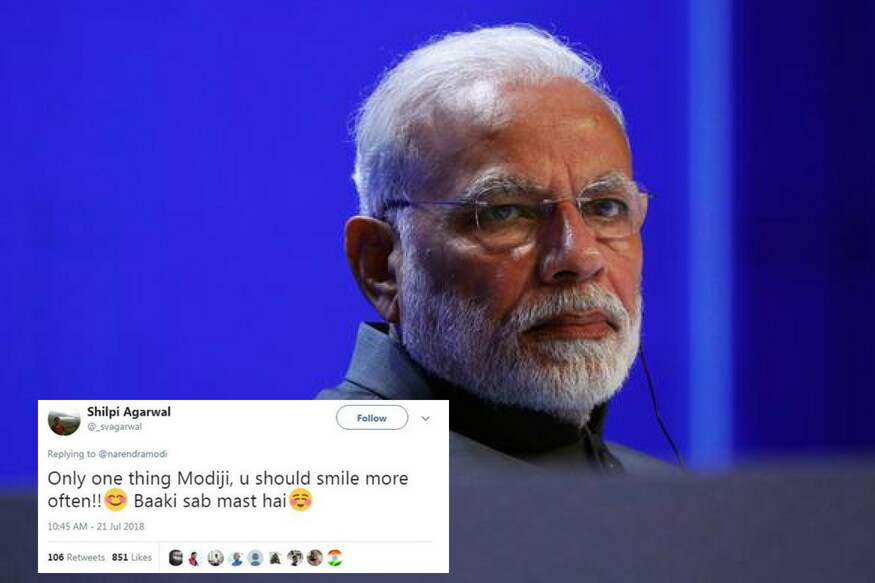 Is smiling going to be the next winking?
Politicians on Twitter often get messages from their followers advising them on how they should run the country. On the Internet, the free for all platform, everyone has an opinion, and they want to share it. Because, why not?
It was the same following the no-confidence vote in the Parliament.
And politicians usually do not respond to these millions of tweets that come their way, either because they don't add anything new other than speculation, or because they get lost in the constant flood of tweets mentioning them. Or just because they don't care.
However, Prime Minister Narendra Modi decided to respond to one such person offering some humble advice.
After the No-Confidence motion where the PM spoke about how the country was running fine and the Congress only wanted to create instability, he tweeted out a video segment of his speech at the Parliament.
The NDA has the support of more than 2/3rd members of the Lok Sabha.

Yesterday the nation saw yet again how the Congress is only interested in creating instability. Congress leaders did the same in 1999 and before that too! pic.twitter.com/5cIjoU9YPH

— Narendra Modi (@narendramodi) July 21, 2018
One Twitter user had a suggestion for PM Modi. 
Only one thing Modiji, u should smile more often!!😊 Baaki sab mast hai☺ — Shilpi Agarwal (@_svagarwal) July 21, 2018
A day later, Modi replied saying, Point taken. :)
Point taken. :) https://t.co/xtFMxxO8M6

— Narendra Modi (@narendramodi) July 22, 2018
While millennials have moved onto emojis and the use of this smiley is seen as passive-aggressive, Modi may be genuinely considering taking the advice. He'd also responded to another Tweet on the same day, which was directed at the same speech.
Very sad to hear about your grandfather. My condolences in this sad hour. https://t.co/g4vv85LVzm — Narendra Modi (@narendramodi) July 22, 2018
Whether Modi starts smiling more and whether it becomes competition for Rahul Gandhi's famous wink at the session, will only have to be a wait to find out.
Get the best of News18 delivered to your inbox - subscribe to News18 Daybreak. Follow News18.com on Twitter, Instagram, Facebook, Telegram, TikTok and on YouTube, and stay in the know with what's happening in the world around you – in real time.
Read full article