Sophia the Robot's Unsettling Duet With Jimmy Fallon Will Remind You of a 'Black Mirror' Episode
'The first ever robot-human duet in the history of The Tonight Show,' claims Jimmy Fallon.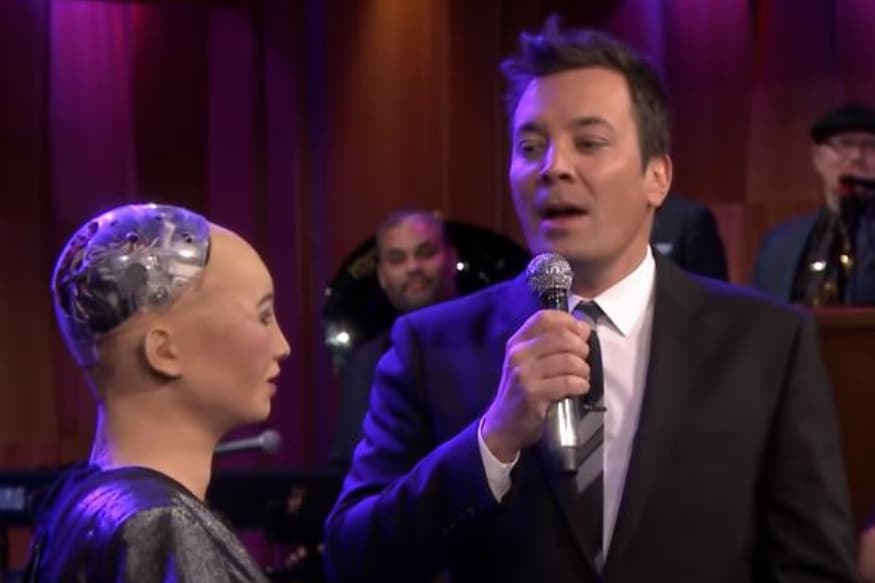 Image credits: The Tonight Show With Jimmy Fallon / YouTube
We are living in 2018, while Sophia the robot is far in the future.
Recently, the humanoid robot made her second appearance (after 575 days to be precise) on
The Tonight Show Starring Jimmy Fallon
and added a new skill set to her resume.
As she makes her way to the stage, Fallon asks her what she has been up to in the last two years.
"Not much, let's see. I travelled to over 25 countries, appeared on the cover of Cosmopolitan magazine, met German Chancellor Angela Merkel and the actor Will Smith, became Twitter friends with Chrissy Teigen. I addressed the United Nations and the NATO. Became the first robot to receive a credit card and became the first robot citizen. What have you been up to?" Sophia responds.
Appearing in the segment called Showbotics, Sophia then introduces her robot sister, Little Sophia, also developed by Hanson Robotics. She then persuades Fallon to join her in a karaoke duet and gives a glimpse of her new Artificial Intelligence-sourced singing.
Fallon suggests and performs
A Great Big World
and Christina Aguilera's hit
Say Something
, with Sophia's performance leaving the audience awestruck.
Their performance struck a chord with Twitterverse.
And it was amazing! Should we put out an album? #FallonTonight #SophiaonFallon

— Sophia (@RealSophiaRobot) November 22, 2018
And it was so beautiful😭😭 y'all voices blended so well😄😄😄

— 🍀Trini FalPal🍀 (@Neuro2343) November 22, 2018
Sing more often Jimmy! It was great 😍 happy Thanksgiving. Love yooooou

— Lindsey (@thesmalltowner) November 22, 2018
Wow! This was so amazing!!! You all gave an emotional performance.. How did you make me feel she was so real? 🙈❤😂 Btw I think Sophia has a huge crush on you😍💕😉 Who said robot's were not intelligent?

— Clare💖Bear✨🍀 (@clarebearfalpal) November 22, 2018
Watch the duet here (scroll to 7:30):

And if you are curious about the Little Sophia, here's a little update from
Hanson Robotics
:
"Like her big sister Sophia, she loves to talk and show her emotions in a full range of facial expressions. She can walk, learn, tell stories, play games, act as a smart assistant, teach coding, AI, robotics and all kinds of things. She will need your care and nurturing so she can reach her full potential. Little Sophia currently serves Hanson Robotics' own AI research, but will soon be available to come into your home and AI labs around the world."
Read full article
Countdown To
Elections Results
To Assembly Elections 2018 Results