'Not Yet': American Director Spike Lee Responds After Seeing His Name in Stan Lee Obituary
Oh dear.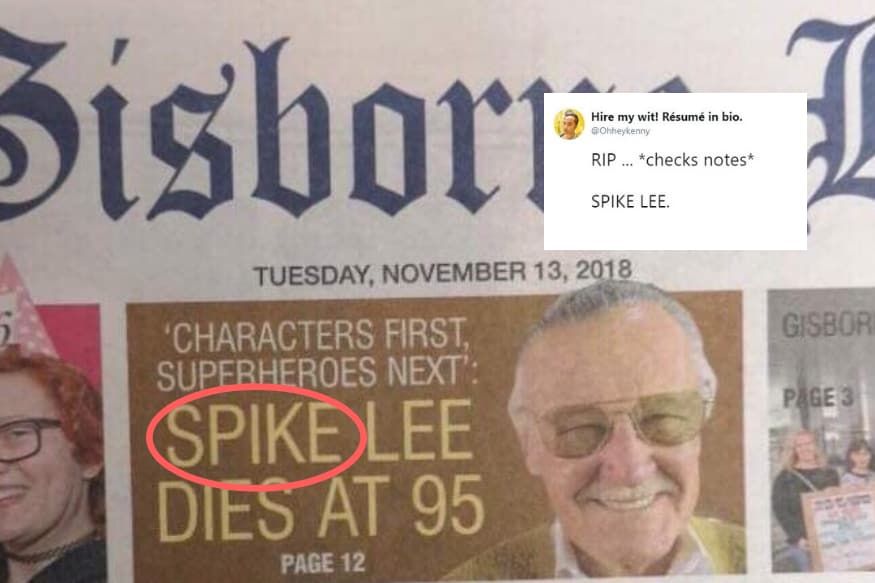 Image credits: @Ohheykenny / Twitter
Remember when a news outlet goofed up and published Apple Chief Steve Jobs' obituary, three years before his actual death?
Newspapers and media houses always have extensive obituaries ready beforehand because they want to avoid tracking down events of a public figure's life at the moment of their demise.
But no one likes reading front page headline about their death while they are still alive, right? American film director Spike Lee recently got the dubious honour of reading the news of his demise, following celebrated comic book writer Stan Lee's departure on Monday.
With their heart in the right place, The Gisborne Herald, a newspaper in New Zealand, mistakenly paid tribute to Spike Lee - The BlacKkKlansman director.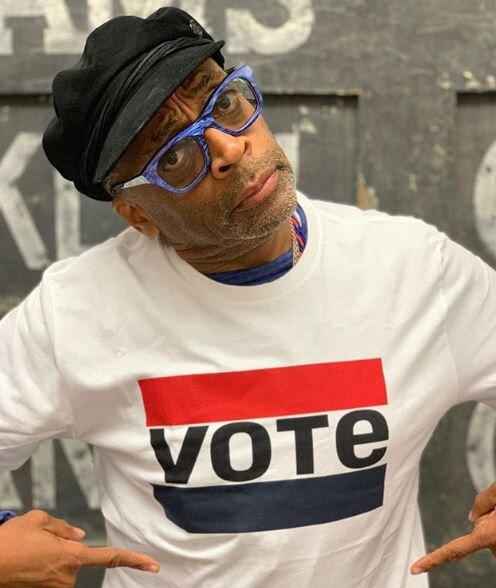 Image credits: @officialspikelee
"Characters first, superheroes next: Spike Lee Dies at 95," the headline read alongside a photo of Stan.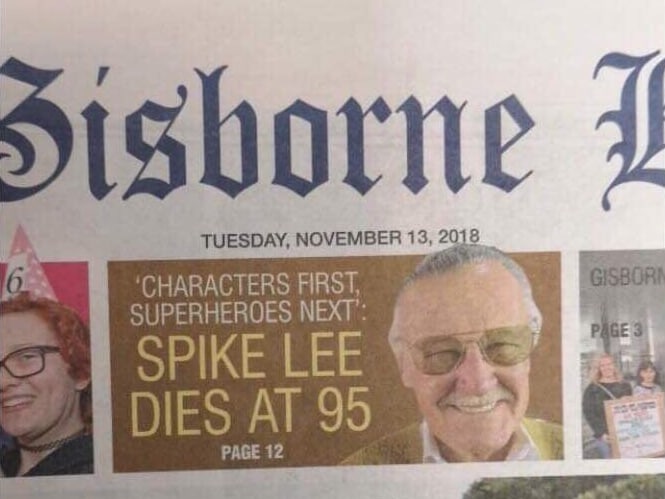 The gaffe was enough to catch the social media's eye as the good people on Twitter shared the newspaper photo in disbelief.
It's so hard to get good subeditors these days. #StanLee #SpikeLee pic.twitter.com/qtrgYsKLDY

— Deep Fried Man (@DeepFriedMan) November 14, 2018
Spike Lee, beloved creator of Professor Malcom X, Spider-Inside Man, and 'Do the right' Thing. pic.twitter.com/hCIbwheXzo

— Man vs Pink (@ManVsPink) November 13, 2018
RIP ... *checks notes* SPIKE LEE.@gisbornenews pic.twitter.com/8uJ0FSfTLW

— Hire my wit! Résumé in bio. (@Ohheykenny) November 13, 2018
Do the WRONG thing. #StanLee #SpikeLee pic.twitter.com/orwD740JUx

— Bob Davidson (@oybay) November 13, 2018
Spike Lee, Stan Lee, Bruce Lee. Arragh, it's one of the Lees who's dead. pic.twitter.com/kwX37VXQpb

— Declan Varley (@declanvarley) November 14, 2018
Three shocks this morning! Not only is Spike Lee dead!! He was also 95 and... WHITE! RIP Stan Lee and the Gisbourne Herald sub pic.twitter.com/C3IxwosPpT

— Nick Michael Copson (@NickMCopson) November 13, 2018
There's something different about Spike Lee but i can't quite place it pic.twitter.com/bjs6fxaHKY

— Hire my wit! Résumé in bio. (@Ohheykenny) November 13, 2018
Spike Lee, who is alive and kicking, took the sad news in his stride and reacted to it in good humour.
"God Bless Stan Lee. Me? Not Yet. And Dat's Da "I'm Still A Live, And Strivin'" Truth, Ruth. YA-DIG? SHO-NUFF," the director wrote on his Instagram page.
Responding to the gaffe, Gisborne Herald editor Jeremy Muir told Stuff that the mistake was "really embarrassing."
"People are having a bit of fun with it. That's fine. It's just really embarrassing. It's a human mistake," Muir said.
It's worth pointing out that before Stan 'the man' transformed into one of the most iconic and loved comic book creators in the industry, the Marvel chief worked for a newspaper where he helped write obituaries for celebrities who were nearing their end.
Making an appearance on American host and comedian Conan O'Brien's show back in 1996, Lee gave insights into his job as a paid writer of obituaries.
"When a celebrity dies, about 15 minutes later, the newspaper comes out and there are about three pages of write-ups about them, and you wonder how did they write it that fast? It's all there in advance," Lee revealed, 22 years ago.
And true to his dark sense of humour, the genius said that he wished his obituary would not be a small write up, adding that it's how he would know he had "finally made it". Although he doesn't want to see it soon, he chuckled.
"I'd love to think my obituary is on file somewhere. Then I'd know I made it. I don't want to see it too soon, but that's how I'd know I made it," Lee said jokingly.
Get the best of News18 delivered to your inbox - subscribe to News18 Daybreak. Follow News18.com on Twitter, Instagram, Facebook, Telegram, TikTok and on YouTube, and stay in the know with what's happening in the world around you – in real time.
Read full article