Stan Lee Once Joked About His Death and Wished His Obituary Was Not a Small Write-Up
Conan O'Brien has a fitting obituary for Stan Lee.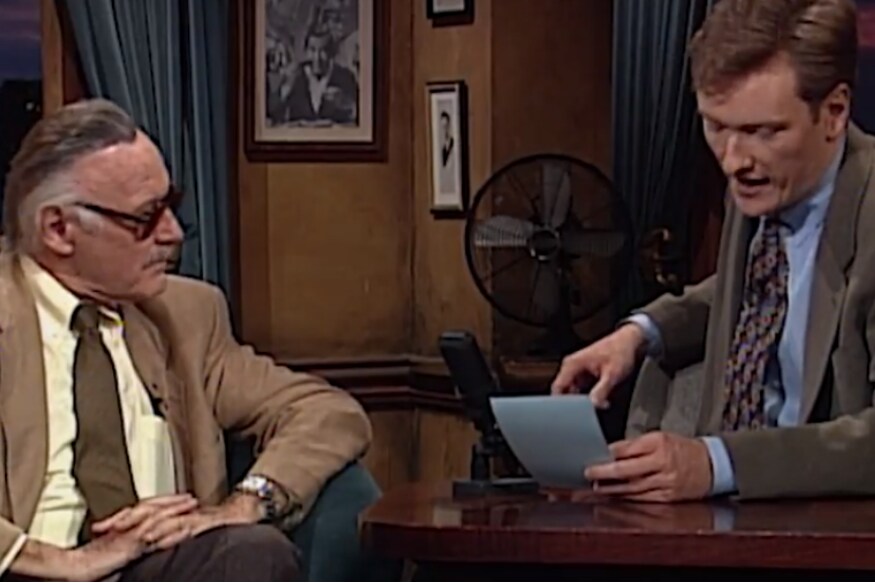 Image credits: Team Coco / YouTube
Celebrated comic book writer Stan Lee died at the age of 95 on Monday, leaving behind a legacy as rich and illustrious as the superhero universes he dreamed up. It was his pen that breathed life into characters like Spider-Man, Iron Man, the Hulk and other Marvel superheroes that have now become pop-culture icons and roaring box-office successes.
But before Lee transformed into one of the most iconic and loved comic book creators in the industry, the Marvel chief worked for a newspaper where he helped write obituaries for celebrities who were nearing their end.
Ever wondered how newspapers and media houses always have extensive obituaries ready beforehand? That's because they want to avoid tracking down events of one's life at the moment of their demise.
Making an appearance on American host and comedian Conan O'Brien's show back in 1996, Lee gave insights into his job as a paid writer of obituaries.
"When a celebrity dies, about 15 minutes later, the newspaper comes out and there are about three pages of write-ups about them, and you wonder how did they write it that fast? It's all there in advance," Lee revealed, 22 years ago.
And true to his dark sense of humour, the genius said that he wished his obituary would not be a small write up, adding that it's how he would know he had "finally made it". Although he doesn't want to see it soon, he chuckled.
"I'd love to think my obituary is on file somewhere. Then I'd know I made it. I don't want to see it too soon, but that's how I'd know I made it," Lee says jokingly.
Stan Lee made his appearance on the Conan show to talk about then comic book he had been working on then - a limited series crossover between DC Comics and Marvel Comics, published jointly by both from April to May 1996.
During the interview, Lee spoke about the much-anticipated limited edition book that dived into the characters from the two universes. It was inthis cross over series that the two universes become aware of each other's existence and later challenged each other to duels.
There were eleven battles fought between the two universes, the most notable among them being:
Superman (DC) vs. Hulk (Marvel)
Batman (DC) vs. Captain America (Marvel)
Thor (Marvel) vs. Captain Marvel (DC)
Spider-Man (Marvel) vs. Superboy (DC)
The interview was posted by Conan's official YouTube channel (Team Coco) as a tribute to Lee's departure on Tuesday and several fans believed it was the only obituary Lee would have asked for.
Read full article