GET Stock

Quotes


Starbucks Employee Offers Free Refreshments For NYPD Officers At Chelsea Blast Site
Act of kindness.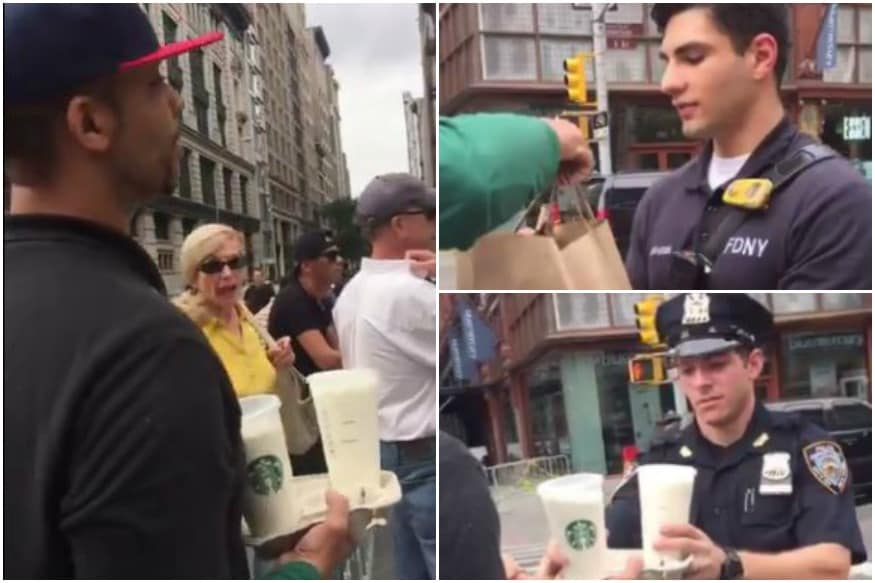 (Photo: Facebook/ Video grab)
The greatness of humanity is not in being human but being humane.
Amid the terror, tragedy, chaos and panic that struck Manhattan's neighbourhood Chelsea following a blast in the city on Saturday night, an act of kindness by a Starbucks employee gave a ray of hope that humanity is still alive.
The blast which happened on West 23rd street, in front of a residence for the blind, near a major thoroughfare with many restaurants and a Trader Joe's supermarket, at around 8:30 p.m. blew out the windows of offices and scattered debris in the area.
The blast left 31 injured and a fear in the hearts of the people of Chelsea.
But every time a tragedy strikes a country, city, place or an individual it is the small gestures that stand out. And exactly this happened when an employee of Starbucks in Chelsea named Germaine, offered the first responders - a group of NYPD and FDNY officers - free coffee and some food.
"I want to give y'all some coffee and some pastries," he can be heard saying in the video clip shared by Knight News.
Although he expressed his desire to do something more for them, but the officers appreciated what he had done for them.
Later, Knight News caught up with Germaine to enquire as to what led him to go all out and thank the officers in such a simple yet extraordinary way, and what he had to say will remind you that nice people do exist in this world.
He said, "This is the least I could have done." He added, "we should be kind to each other that would decrease these negative outbursts and overcome these together as people."
In fact, later on Monday, while NYPD officers still maintained their presence in Chelsea, including the subway station on 23rd Street and Sixth Avenue, near the site of the bombing, locals came out in large numbers to thank them for their relentless service. One person even brought in some pizzas for them.
We need more people like them.
Also Watch
Read full article