'The Drain is No One's First Choice': The Toxic Life of a Manual Scavenger
'If he doesn't shovel shit, we will have no food.'
Sewer cleaners living in Delhi's Rohini play cards to distract themselves between work, September 23 2018 (Credit: Syed Kazim)
On a dull and overcast Monday morning, Dilavar Singh returned home from Ganpati Visarjan – immersion of the idol of Ganesh – to mark the end of Ganesh Chaturthi. He rode a tempo to West Delhi's Rohini, to the 'MCD flats' in Sector 4 along with the other men that lived down his alley. They entered the muddy lane behind the flats that housed a bunch of small, rectangular shops that the Delhi municipal corporation allegedly built but never claimed. They now serve as homes to these men and their families, most of them migrants who came to Delhi in search of better lives.
Dilavar is a manual scavenger, one of about 20 living in the cluster of shops that were initially intended to serve as a market within the gated MCD complex. The 385 odd flats house government sanitation workers while the shop-dwellers clean sewers, septic tanks, and drains in nearby areas for nominal fee. The recent death of six sewer workers in two separate incidents in Delhi has shaken the entire neighbourhood.  And yet they continue with their daily jobs.
"I came here in the 80s from Jhajjar (Haryana) in search of work because some of my relatives who were here said there is steady money in the city. When I came, I found they were involved in manual scavenging. I had a family to feed and cleaning sewers was the only thing that paid instantly," Dilavar said. And thus it began.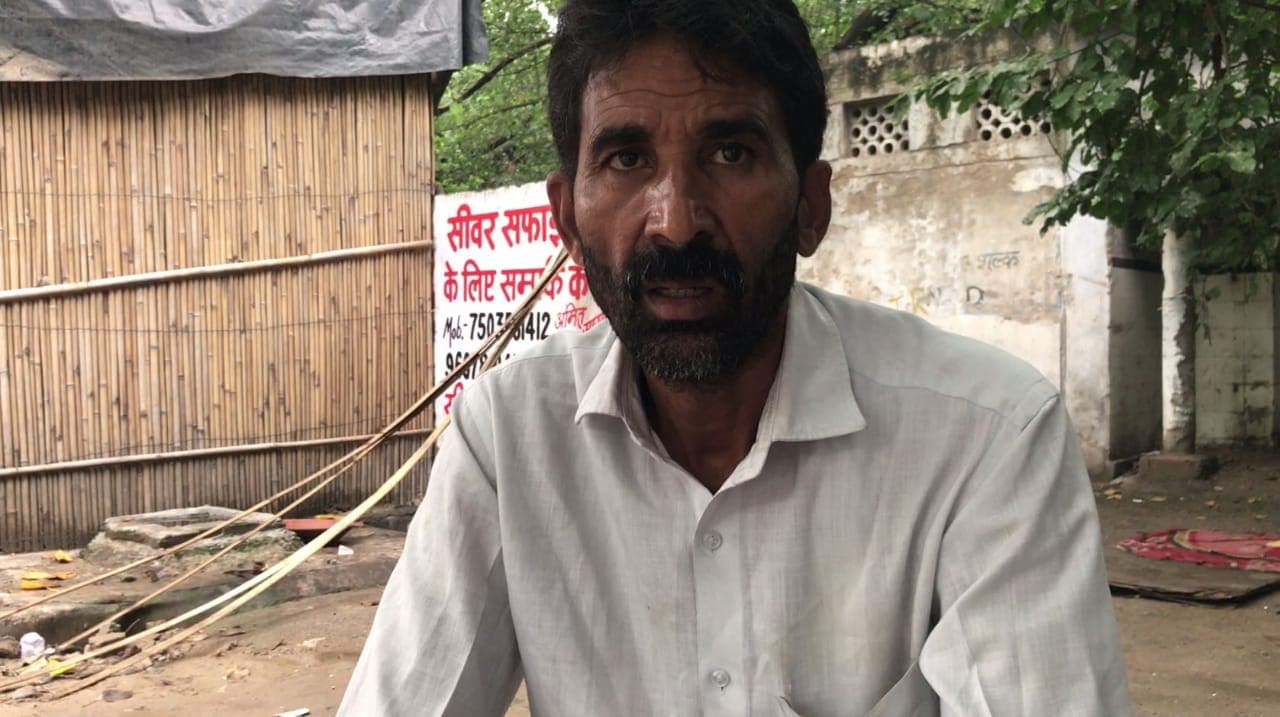 (Dilavar Singh came from Haryana's Jhajjar in the 80's to find work | Credit: Syed Kazim/News18)
Dilavar has been cleaning sewers, septic tanks and pits for almost 30 years now. He has also worked as a labourer in and out but sewer cleaning is the only thing that has been sustainable. "People never run out of shit," he said.
'Tough work'
According to extremely conservative government estimates post the ban on manual scavenging in 2013, there are over 12,000 manual scavengers in India. On the other hand, Safai Karamchari Andolan (SKA) an organisation that has been working expressly for the eradication of manual scavenging in the country, estimates the number of reported instances of manual scavenging since 2013 at over 1,70,000. SKA's head Bezwada Wilson informed News18 that they have documented at least 31,000 such scavengers and has also recorded 1,340 deaths of manual scavengers in the last 10 years. Recently, the National Commission for Safai Karamcharis (NCSK) collated data which shows that since January this year, on an average, a sewer worker has died every five days across the country and even these numbers are based on incomplete surveys.
It was some years ago that Dilavar decided to start working for the improvement of sewage workers in Delhi, many of whom are Dalit migrant labourers with no rights or even records. A few days ago, the man appeared on air for a popular radio channel to talk about the exploitation of manual scavengers. However, on most days, Dilavar is knee deep in the filth of the people living in the surrounding areas.
According to his wife Soma, it was tough work. On most days, Soma remained unsure if the sole breadwinner of her family will make it back home. This is because when her husband and those of the other women in the alley went down to clean the city's filth, they did it in just their underwear and sometimes a pair of worn slippers. No masks, no protective gloves, no harnesses, no goggles. When they had to enter manholes deeper than 5 ft, they were tied to jute ropes and simply dropped down.
"I can't even stop him. He is doing this work for us, for the children. If he doesn't shovel shit, we will have no food," said Soma before she shrugged and went back to fixing her grand-daughter's hair. She and Dilavar have three adult sons, two of whom are married. One of them had studied till class 9, another till Class 12. All three are unemployed.
Dilavar's sons do not understand why their father went out to clean sewers every day. They say that they have studied so that they can get out of this life, that they will never become sewer cleaners. Dilavar agrees. "That's why I had to do it. So that they don't have to," he said.
But finding a job for them has not been easy. They tell their father that they will die of hunger but not do the job their father has been doing. Dilavar has been trying his best to open a stall or some kind of shop for his sons. But he is afraid no one will buy from them.
Hereditary discrimination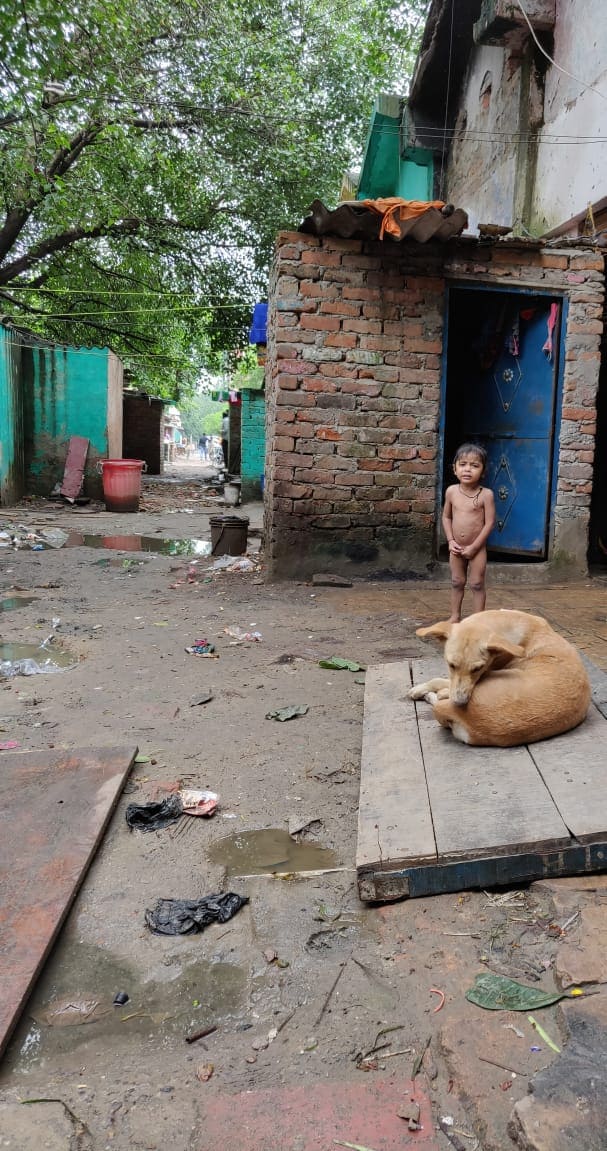 (A child cries in the alley behind the MCD flats, home to about 30 odd families of sewer workers | Credit: Rakhi Bose/News18)
Close to Dilavar's house, is a small cubicle inhabited by Naresh, another private sanitation worker. His wife died a few years ago, driving his son to depression due to which he could not continue his education. Naresh hopes that his son does not have to do what he does but also fears that he may not have a choice.
"I tried doing other work before. But for the people of our caste, it is not easy to find a job. Additionally, labour work is infrequent and often payment goes through middlemen. It may take days or may not come at all," Naresh said. At least his current job gets him payment on the same day, he added.
For entering manholes, sewers and septic tanks, Naresh, Dilavar and others like him are offered anywhere between Rs 600-Rs 1000. But some of the cleaners admitted that they could work for even as little as Rs 500 if days were hard. In addition, any equipment or gear that they may need has to be arranged for by the workers themselves. The men usually work with bamboo sticks tied to each other on end using wires. These they call 'khapachchi' and it is used to prod and poke the inside of the clogged sewage lines – if it doesn't work, the worker has to enter and clean the clog with his own hands.
"No one becomes a sewer cleaner by choice. Sometimes, the job we do makes it hard for us to eat food later. But we had no education, no money. We were not considered worthy of job and so we have to risk our lives almost every day" Naresh said.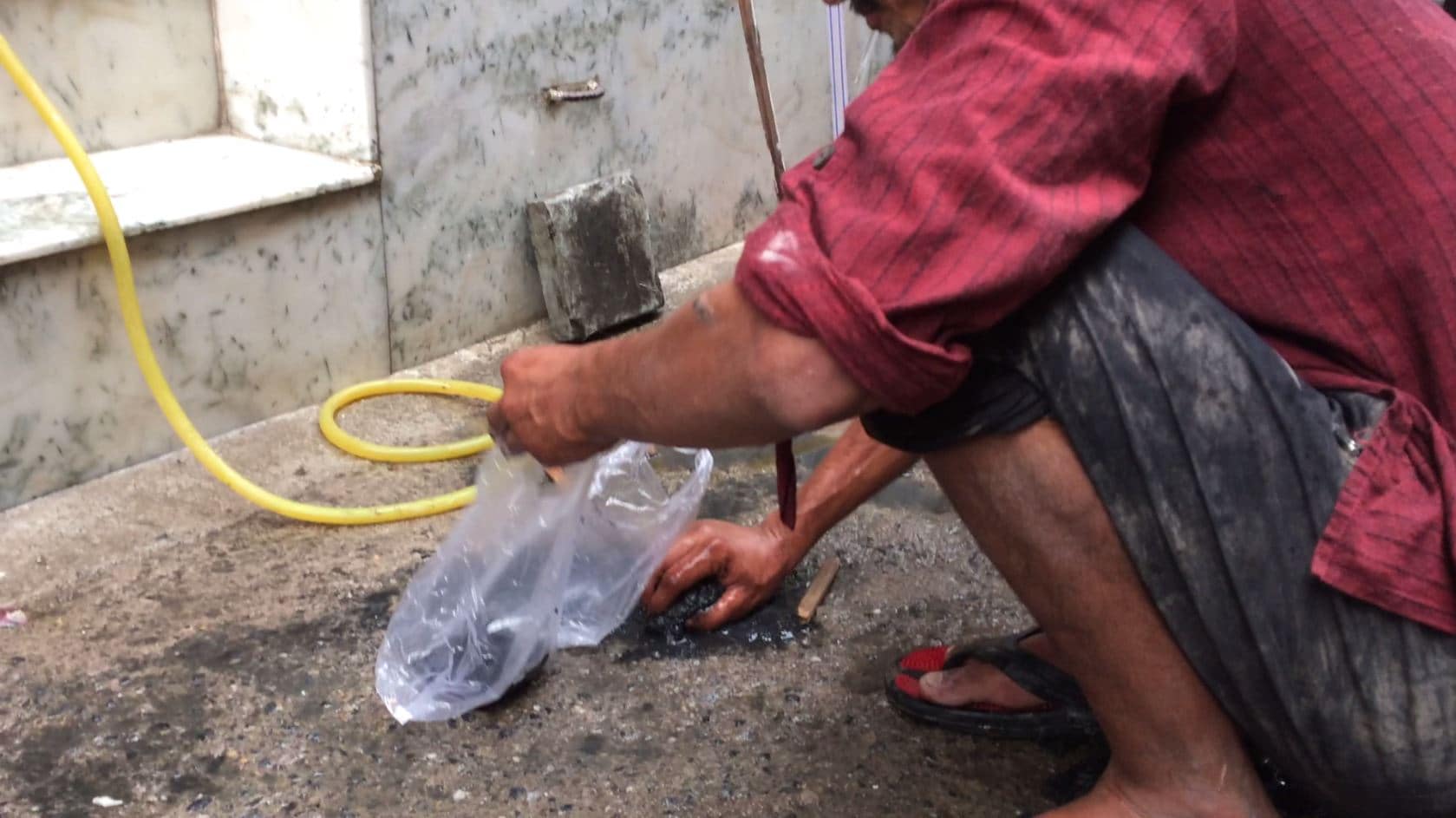 His arms and legs bear testimony to the treacheries his body has endured while doing his job. He has deep gashes on his hands, scarred palms and clobbered toes – reminders of his everyday reality. Last year, while cleaning a septic tank, Naresh had inhaled some toxic gases and had fallen unconscious. He had to be pulled out and regained consciousness hours later.
Many sewer cleaners have lost their lives to the toxic fumes that percolate inside an enclosed sewer. In fact, the gases, largely methane, hydrogen sulphide, ammonia, and carbon monoxide, rise up to the lid and start affecting the nervous system and the lungs of cleaners even while they open the lid. In this month itself, ten people across Delhi have died inside sewer tanks due to prolonged exposure to toxic gases.
Naresh, who has lost sight in one of his eyes, said he did not want to end up like the others. But for private workers like Naresh, there aren't too many options and one of their biggest dreams early on is usually to become a government employed sanitation worker. But soon, the workers realise that getting into government service wasn't as easy as it looked.
Dreaming of 'government' jobs
According to Rahul, who has been working as a private sanitation worker for about five years now, corrupt bureaucrats and municipal officials often demanded money in order to enrol private workers. Once the money was paid, there is no telling if the applicant will get the job or not and there was no way to hold these corrupt officials accountable.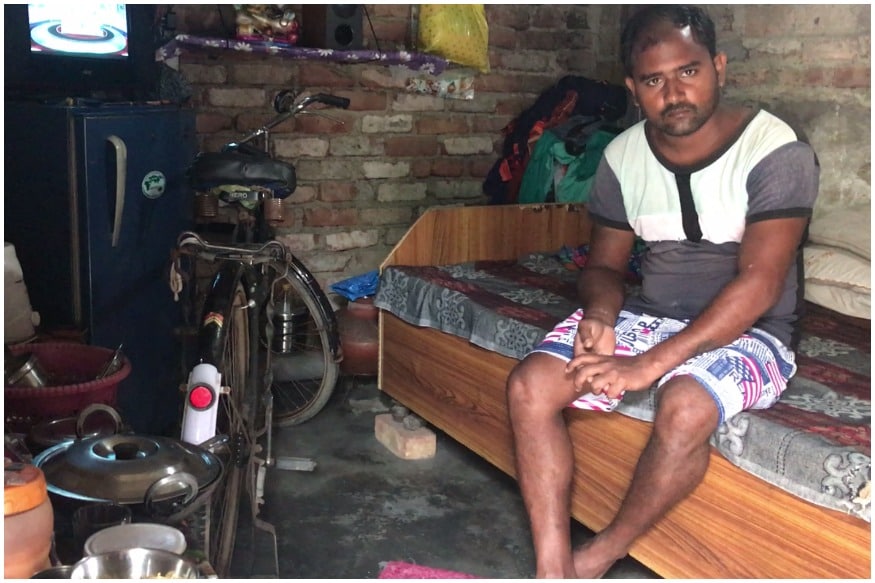 (Rahul waits for his wife to return from work | Credit: Syed Kazim/News18)
"Earlier, it used to be Rs 5,000. Now, the officers charge Rs 5 lakh to get us government jobs. And we know of instances when officers have not even got the man the job despite taking the money," Rahul said. A migrant from Bengal and one of the handful of non-Dalit cleaners in the neighbourhood, Rahul had initially tried to drive a rickshaw. But he could not earn enough from that. His wife worked as housekeeper in a nearby building and they lived in a brick room which had a wooden bed, a television and small stools for seating. The corner of the single door to the room served as the kitchen with a small stove, surrounded by discarded plastic jars, some half-filled with condiments, some empty and waiting for a refill.
Meanwhile, Renu, a government certified sanitation worker, sat on a charpai outside Dilavar's house. She had been working as a contractual worker with the Delhi Jal Board for five years and was finally going to become a semi-permanent employee. Her husband also works as a government sanitation worker, though even he is not permanent. According to Renu, permanent employees were paid Rs 40,000 – Rs 45,000 per month, while the semi-permanent staff got Rs.15,000. Contractual workers earned about Rs 8,000 a month. Government workers also received other benefits such as ration card, passport eligibility, pension and all the other 'perks' of having a government job.
(Renu and Soma trade stories of government and private sanitation workers | Credit: Rakhi Bose/News18)
"At least we don't need to clean sewers. My husband and I both work as sweepers. Not like these folk who would clean anything," Renu said with a slightly disgusted jerk oh her head toward Dilawar's blue door. But she agreed that the 'corporation' should provide protective gear to the private workers too, especially when they were the ones often employing private workers.
No one responsible
According to Dr Renu Chachar of SKA, the organisation that Dilavar works with sometimes, though the government had employed sanitation workers, these were often not the ones cleaning the sewers. Even when the government hired private companies or individuals to clean sewers or septic tanks, private contractors like Dilavar were hired to bring in their team. They were paid about Rs 1000-1500 for the job and they then do it, without any protective gear.
Speaking to News18, Delhi Jal Board's (DJB), SL Meena, Chief Nodal Officer (Water), said that the DJB had completely outlawed manual scavenging.
"We have machines that clear out fecal sludge. The process is mechanised. We do not use manual scavengers," Meena said. However, he admitted that under 'special circumstances', the DJB 'outsourced' the work to private contractors.
"Sometimes, the machines cannot enter the narrow sewer lines. These need to be cleaned manually,' he said. He was quick to add that it was not the DJB sanitation workers who were made to do the scavenging. Private companies were hired to bring in their own workers, i.e private manual scavengers like Anil who lost his life in a Delhi Jal Board sewer pit in Dabri in September.
Meena told News18 that when private companies were hired, providing them gear was not the DJB's responsibility. It was the company's job to provide gear. Manual scavenger Dilavar, who works as a local-level contractor and has been cleaning sewers for almost 30 years now, said that he and his boys were often hired by 'companies' to clean tanks.
So while Delhi Jal Board on paper maintains that no manual scavengers are employed by them, they are actively engaged in the hiring of manual scavengers through private companies and contractors.
"Often private contractors go to flood or drought-stricken areas and lure young men with the promise of city jobs. Once here, they are pushed into manual scavenging. It's difficult to find steady jobs and these men have to send money home. That's usually how most of them get inside sewers," SKA's Wilson said, adding that these were the people whose deaths usually went unrecorded.
According to the Ramon Magsaysay awardee, most of them do not tell their families and villages back home about the work that they are doing. The lack of records of these migrant sewer workers also makes it easier for the contractors to evade the law.
Meanwhile, the previous night's festivities wore off along with the day and the faces of the workers in Rohini took on an anxious colour. After a night of festivities and a morning spent distributing 'prasad' of the Ganesh puja and free meals for all later, the private workers of the MCD flats now hoped to get some work. And a few like Dilavar, got 'lucky'. While distributing bhandara, Dilavar got a call. The rains had choked up a sewer in a residential alley nearby and his expert services were required to clear it up. He called on a fellow worker, picked up a khapacchi and a pointy, rusted rod of iron, and set off in the direction of the blockage. In the end, they used their hands to pick out the black slime and waste that was blocking the gutter and earned Rs 100 each for the job. Dilavar was happy that they did not have to descend inside shit, at least not on the day after Ganpati.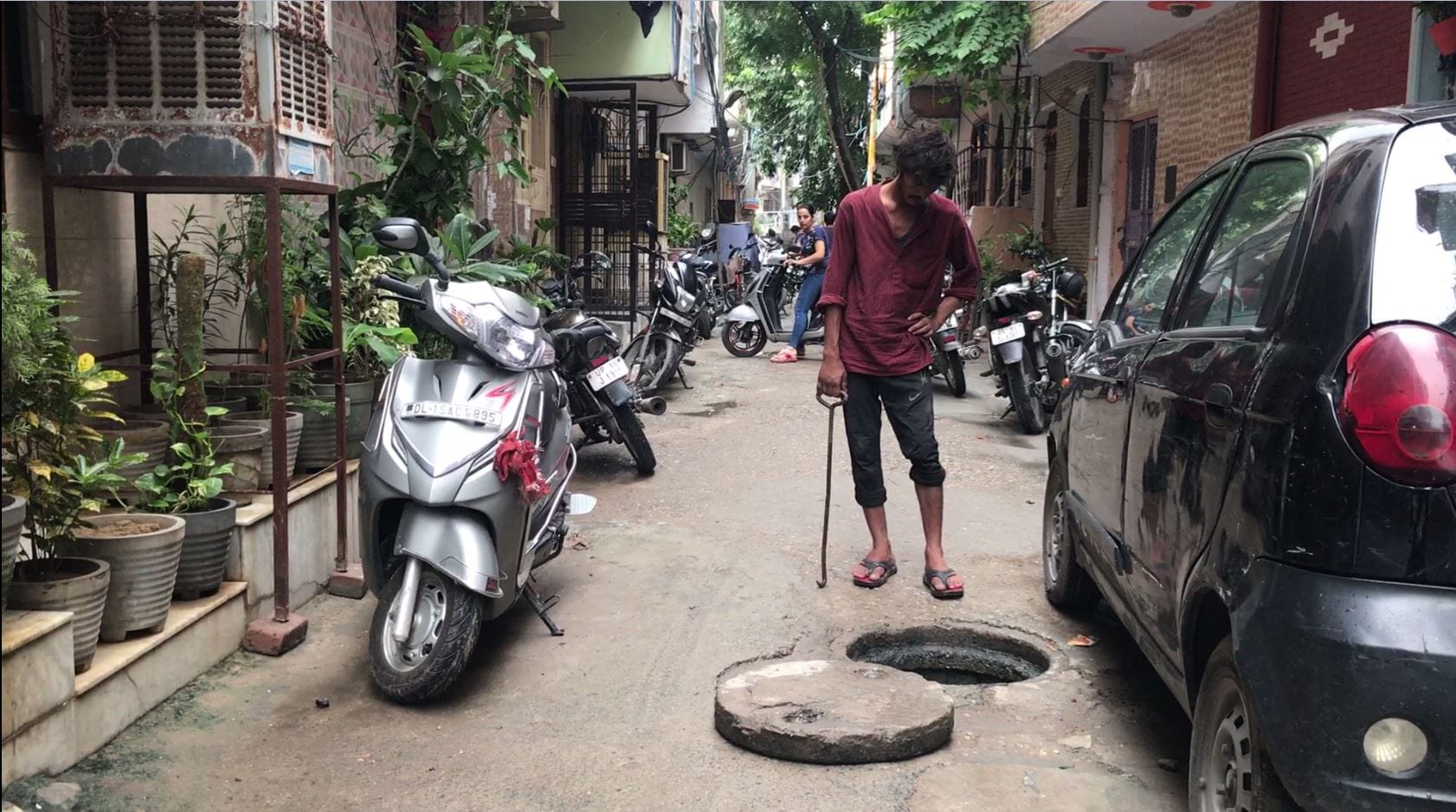 (Amit surveys the drain after cleaning | Credit: Syed Kazim/News18)
(In September, at least ten people died manually cleaning sewers and septic tanks across India, spurring a flurry of protests against the foul practice. This is the first part of #WhoCleansYourShit - a series of in-depth reports by News18 on the practice of manual scavenging, the reasons why the practice still exists India despite being illegal.)
Read full article
Countdown To
Elections Results
To Assembly Elections 2018 Results