This is Why Vogue India is Serving as the Launch Pad for Celebrity Kids like Suhana Khan
Here's why cover shoots have become so crucial for star kids aspiring to have a Bollywood career.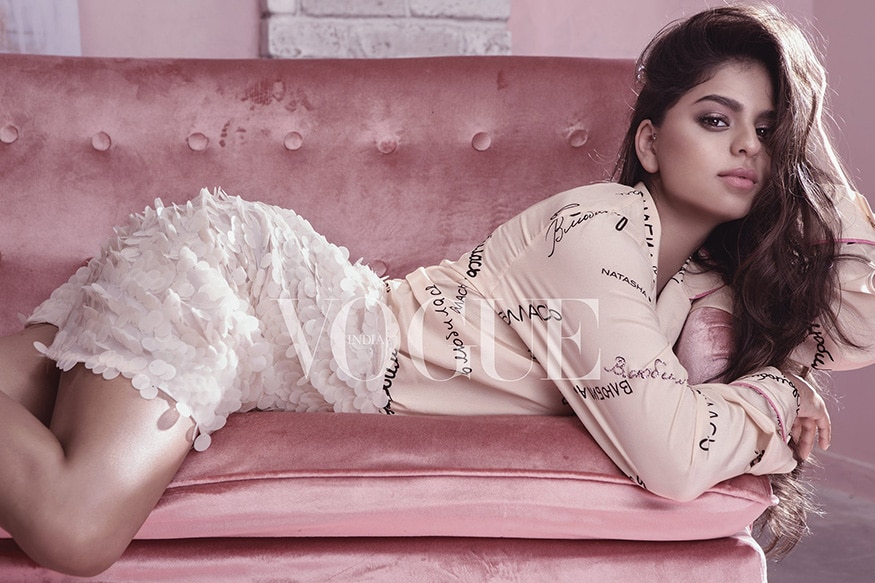 Suhana Khan for Vogue. (Image: Special Arrangement)
'Why Suhana Khan?' That's one question everyone has been asking Vogue India ever since the photographs of a dolled up Suhana appeared on their Instagram feed declaring that she is the cover girl of Vogue's August issue.
Twitter erupted with outage as people asked, 'What has she ever done to be on the cover of Vogue?' For those of you who do not know Suhana Khan, Vogue editors have a very interesting introduction of her. They describe Suhana as, 'student, theatre lover, future star.' However, one tiny bit of information that they leave out on their cover (although just peruse through the pages and it will be obvious) is that she also happens to be the daughter of Bollywood superstar Shah Rukh Khan.
In her interview with Vogue, Suhana reveals how her parents were the ones to bring her the Vogue photoshoot.
"I was excited when my parents brought it (Vogue shoot) up. I wanted to say yes straight away, but they wanted me to think about it -- this is a very public thing." said the 18-year-old. "They wanted me to gain confidence from the experience, not lose it," she added.
Suhana's photoshoot testifies that the girl doesn't have a dearth of confidence. She looks into the camera like a seasoned actress and strikes a pose like a supermodel. What's also charming about her is that she is disarmingly honest. In her interview, she recounts how she felt bad as a child when her dad was never addressed as her father but as Shah Rukh Khan, the star. She begins her shoot video by showing viewers that she has crooked fingers.
However, go through all the things that Vogue has to say about Suhana and you will realize that a Bollywood debut is the last thing on her mind. Suhana, who is still finishing her private boarding school education in London has her heart set on doing an acting course and completing university education after this. A Bollywood movie will follow of course ---because eventually, she wants to be an actress-- but it's not happening in near future.
Therefore, the question that, 'Why did Vogue pick Suhana as their cover girl?' becomes even more relevant. Let me begin by saying that it is an earnest inquiry and not a rhetorical question.
Vogue has faced tremendous backlash for making her the cover girl, so much so, that they had to disable their comment section. One of the main accusations that have come their way is that the only reason Suhana Khan is on the cover of Vogue is because she is Shah Rukh Khan's daughter.
While it may be a hard thing to deny (let's face it, an 18-year-old without any body of work to show for, will not even be allowed in Vogue's office, let alone on their cover) a more important question to ask now would be:
Will Vogue, the fashion bible of the world, give up their most coveted page just for good connections? Well, probably not.
In the last ten years of Vogue being in India, several other star kids have made their Bollywood debut, but no one has had the privilege of getting a Vogue cover before a Bollywood launch, except Janhvi Kapoor. Kapoor featured on the June cover of Vogue this year before her film Dhadak hit the screens. Strangely, Kapoor's Vogue interview was done by her film's producer, Karan Johar.
The only other star kid to be featured in Vogue solely for her lineage was Navya Naveli Nanda, the granddaughter of Amitabh Bachchan. She shared the cover of last year's August issue with grandmother Jaya Bachchan, and mother Shweta Nanda.
Don't be surprised if you see more star-kids, especially the ones making their acting debuts soon, on the cover of established fashion magazines.
Now, Twitter may ask 'why?' but will Vogue India be very wrong if they thought, 'why not?'
For starters, these kids, who are constantly being chased by paparazzi are famous even before they have done any project. From the Bollywood brat pack partying hard over the weekends to their airport sightings and gym looks, everything is on YouTube, and if you have one ounce of doubt about their popularity, I suggest you check out the views these videos get.
Moreover, they are all Instagram celebrities in their own right. In fact, they are so famous on the photos and video sharing site that their pictures often get leaked, several duplicates accounts mushroom in their names, and they also have, (wait for it) fan accounts. For example, there are several Instagram accounts in Suhana's name. While there is no way of saying which is the legit one, one of her profiles has about 134k followers.
In India, where the supermodel culture has gone to the grave more than a decade ago, and no one can really recall a popular model post the Mehr Jessia and Madhu Sapre phase, these star-kids serve as a substitute for Indian youth's obsession with US supermodels like Kendell Jenner and Gigi Hadid or UK ones like Cara Delevinge and Rosie Huntington-Whiteley.
Although these celeb kids do not have their modeling contracts or endorsement deals, they have the same luxurious decadent lifestyles that the youth looks up to. They have fashion designer friends, they hang out with all the famous people, they go on exotic vacations and of course, they have an obscene number of Instagram followers that would put any aspiring model to shame. Vogue India not only recognises this but banks on it. Hence, as we see fewer models on the cover of Vogue, the number of star-kids is slowly (but steadily) going up.
This isn't a trend that most other big fashion magazines are desperate to follow. In fact, they are cautiously sitting on the fence as Vogue takes flak for its Suhana cover. However, that does not mean they aren't following these star kids closely. In November last year, Elle did an article titled, '10 Bollywood star kids whose careers we're going to be watching' and had a tagline that asked, 'Who is the next-gen Lolo or Bebo?' This implies that there will be more magazine covers in coming months.
Perhaps Vogue is also earmarking their star-kids covers as cultural highpoints, saving it all up for posterity, such is their conviction that these kids would make it big in Bollywood.
Getting a film and marketing it well is not a huge deal for Bollywood godfathers. They have done it with several star-kids in the past. With a safety net around, they are likely to get the launch they want.
So, what are the chances that Suhana Khan -- daughter of one of Bollywood's biggest actor Shah Rukh Khan, or Janhvi Kapoor -- daughter of the legendary actress, Sridevi, and producer Boney Kapoor will fail? What are the chances that Vogue bucking all trends and introducing these kids as 'future stars' on their cover even though they have nothing to show for except celebrity DNA will go down as a wrong move in history?
Yes, there is a momentary backlash on social media, but if Suhana becomes the next Alia Bhatt or Kareena Kapoor, the positioning of Vogue will instantly change as the first one to predict her bright future.
Interestingly, this wasn't the case when Rishi Kapoor debuted in Bobby or Sunny Deol in Betaab. In fact, in recent times too, when Abhishek Bachchan-Kareena Kapoor was launched in Refugee or Ranbir Kapoor-Sonam Kapoor entered Bollywood with Saawariya, things were very different. While there was a steady buzz about them in the media, there was hardly a way for the public to directly know from these actors where they were holidaying, with whom they were hanging out and how they were spending time.
However, with an increasing number of communication channels (Instagram, Twitter, Snapchat), the public image of a new actor have become as important as his/her talent. It is only natural for celebrity parents like SRK and Gauri to think ahead about how Suhana (their 'shy' but 'warm' daughter) who isn't perhaps the most aggressive Instagrammer, can establish her public image before she ventures into acting. In such a scenario, a fashion magazine cover is probably the most important thing in their planning.
Get the best of News18 delivered to your inbox - subscribe to News18 Daybreak. Follow News18.com on Twitter, Instagram, Facebook, TikTok and on YouTube, and stay in the know with what's happening in the world around you – in real time.
Subscribe to Moneycontrol Pro and gain access to curated markets data, trading recommendations, equity analysis, investment ideas, insights from market gurus and much more. Get Moneycontrol PRO for 1 year at price of 3 months. Use code FREEDOM.
| Edited by: Simantini Dey
Read full article