Sunburn Noida 2013 artistes a mix of international, local talents
Influential artists are set to hit the stage at Galgotia University Campus One, Greater Noida on October 6 between 2 pm and 10 pm.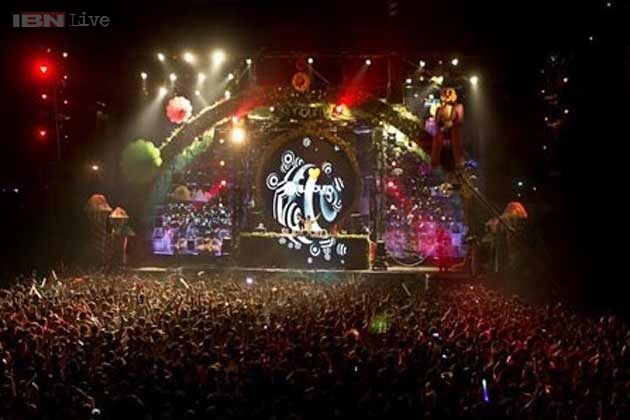 Influential artists are set to hit the stage at Galgotia University Campus One, Greater Noida on October 6 between 2 pm and 10 pm.
Noida: Sunburn Noida 2013, Asia's largest music carnival is back, much to the excitement of college-goers, music lovers and party animals across the world. Influential artists are set to hit the stage at Galgotia University Campus One, Greater Noida on October 6 between 2 pm and 10 pm.
Dash Berlin, Rank 1, Nervo, Porter Robinson, Shogun will take to the double stage arrangement with house, trance, commercial electronic music, guitar-based rock and techno tunes in line with 'Live Love Dance' theme of the festival.
The venue has two big stages, flea markets, food stalls, gaming areas, bar arenas, lights, audio-visual set up just like 2012.
"Sunburn is reborn in Season 7. The experience we are creating this season is like nothing India has ever seen. Sunburn has always been of the fans, by the fans, for the fans, and we are constantly searching and innovating. We want our fans to enjoy the most incredible experience possible. Our stage, sound, light, etc is on par with international standards," said Shailendra Singh, Joint Managing Director of Percept.
The 2013 edition of the music event is on over-drive, after the much successful carnival hit North India in 2012 for the very first time. People from different countries landed in Noida especially to watch Afrojack play.
Like every year, this year too hopes are high but some people seem disappointed with the artistes' lineup. "Last year we knew Afrojack was that one person we wanted to see, and we wanted to dance on his tunes, this time there is no such attraction, entire lineup sounds new to me," said Anchal Makhijani, a Noida resident.
But for Tabish Khan, who has attended each and every sunburn festival in India till now, 'it simply doesn't matter. Sunburn is Sunburn. You know the DJs wouldn't disappoint. If they weren't good they wouldn't be performing at Sunburn."
Not many would disagree with Tabish, as the lineup of artistes has the worlds 7th best DJ in the list, Jeffrey Sutorius aka Dash Berlin. Born in Netherlands, his journey to fame has not been as an easy one.
Before discovering his love for electronic music, he used to play drums influenced by his late father who was a drummer in a Jazz band. He worked in a record store in his teens, and as fate would have it, today he is the 7th best DJ in the world.
His official page boasts of his performances in different countries where people have let themselves loose to his tunes, his latest releases and interviews. If that wasn't enough, the 2 million likes on his facebook page speaks volumes about his popularity around the world.
"If he can get people dancing, singing, clapping, grooving to his numbers in Mexico, Toronto, Miami, this lad surely won't be a disappointment in India too," said DU student Razia Khan, who is very excited at the prospects of attending Sunburn 2013.
If you thought Dash Berlin is the only trance player at the festival, meet Rank 1!
Also from Netherlands, Rank 1 is a producer/DJ duo who plays trance music and has created famous numbers like Airwave, Such is Life, L.E.D. There be light etc. They are 2 decade old in the industry and still going strong.
But not everyone is banking on just Dash Berlin and Rank 1.
Hopes are also high on performances by Australian musicians and songwriters Miriam Nervo and Olivia Nervo. They will be performing at the Sunburn stage for the very first time. They are better known by their stage name Nervo or The Nervo Twins.
These girls have risen in the industry in a meteoric fashion. They have co-produced the No.1 hit single on Beatport "The Way We See The World" with Afrojack, Dimitri Vegas & Like Mike and co- writing Guetta's "When Love Takes Over" which went on to win a Grammy.
Also in line is American DJ-cum-Producer Andrew Chen aka Shogun. He is the first Asian DJ to be signed on to S107/Armada. He is known as the most influential performer in Trance/Progressive of the new brigade. Voted into the DJ Mag 2011 world rankings at #122, Shogun has served as resident DJ for the Ministry of Sound nightclub for over 3 years. He has remixed for the world's number one DJ - Armin van Buuren, and for Grammy nominated singer and songwriter Nadia Ali.
However, for Nigam Bhatnagar who plays at night clubs in Bangalore, Sunburn's freshest face Porter Weston Robinson's performance is all that matters.
An American electronic dance music producer and DJ from Chapel Hill, North Carolina, Porter is perhaps the youngest performer at Sunburn, Noida.
"I relate to Porter's style of EDM. He has worked with the biggest names in dance music like Tiesto, Skrillex and DeadMau5 at a very young age and I want to see myself up there just like him someday," said Nigam Bhatnagar.
Extremely excited to perform at Sunburn, here's what Porter wants to say to you.
"What sets us apart from the rest of the world, is our soul. The Indian spirit in our fans, in our team. All the DJs leave India saying that this was the greatest crowd that they have played for. They take home our energy. They take home a bit of Planet Sunburn. We show them what it's like to truly Live.Love.Dance," said Shailendra Singh.
The international dance music lineup will also get prolific support from many young Indian talents- Anish Sood, NDs & Blue, Vipul, Dualist Inquiry- unlike previous Sunburn festivals.
So for those who are not happy with the artistes line up, do not predict, this mix and match of Indian and international DJs might just do the trick. However if you are planning to sit back home, you can watch Sunburn Noida 2013 - Live on YouTube.
Indian talents who are performing at Sunburn Noida 2013:
1) Twenty-three-year-old Anish Sood based out of Goa is an Indian electronic dance music producer. His debut 'Wanna Be Your Only Love' was aired on Armin van Buuren's A State Of Trance and a music video for the same was released nationwide on VH1. He's also performed alongside some of the biggest names in dance music including David Guetta, Steve Aoki, Laidback Luke and Fedde Le Grand.
Check out his Sunburn Festival Promo Mix.
2) NDS & BLUE is the brainchild of childhood friends Gaurav Sharma and Siddharth Sharma. In 2007, after being bored with the originals and Bollywood Mixes driven music in India, the boys started producing commercial electronic music and sending out demo tracks to labels and other producers. NDS and Blue, teamed up with US trio - Party Killers, for dance floor shaker Alpha which incorporates trance and progressive house sounds.
3) Vipul is a Delhi based DJ-cum-producer. He set on a path familiar to many Indian students, with an intended future career working in computers. He attended university to study computer science but his exposure to the diverse college community led him to house music. He switched his goal to become a house music DJ upon exiting college.
4) Dualist Inquiry is the brainchild and solo project of Sahej Bakshi, a music producer, guitarist and cerebral agent who graduated from Los Angeles, CA. His sound is broadly categorised as a fresh mix of live electronica and guitar-based rock. He is currently in the process of releasing Doppelganger, his widely-anticipated, first full-length album.
Dualist Inquiry performed at The Great Escape Festival in Brighton UK, opening for international sensation Beardyman and hip-hop legend DJ Shadow at the world famous Brighton Dome. Most recently, he was chosen as the only Indian artist to support David Guetta in all three cities of the Eristoff Invasion Festival 2012.
####
Get the best of News18 delivered to your inbox - subscribe to News18 Daybreak. Follow News18.com on Twitter, Instagram, Facebook, Telegram, TikTok and on YouTube, and stay in the know with what's happening in the world around you – in real time.
Read full article