As India Bids Adieu To Section 377, Twitter Cries Tears Of Joy
In a landmark verdict on Thursday, the SC scrapped Section 377, making "India for all" again.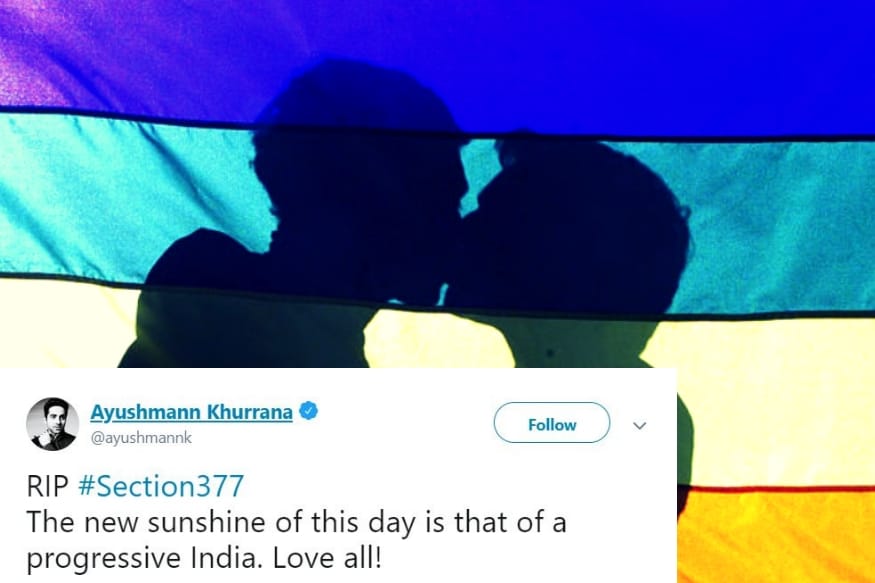 Sc scraps Section 377
September 6, 2018, will go down in history. The Supreme Court of India just delivered a historic verdict by decriminalizing Section 377. Restoring hope in the legal system of the country, Chief Justice of India Dipak Misra scraped the British-era law that the country has been debating for long.
It was a joyous moment for the LGBT community, activists and whole of India. Everyone from Bollywood celebrities to politicians and others started sharing their joy on social media.
One of the first reactions came from Bollywood producer/director Karan Johar:
Historical judgment!!!! So proud today! Decriminalising homosexuality and abolishing #Section377 is a huge thumbs up for humanity and equal rights! The country gets its oxygen back! 👍👍👍💪💪💪🙏🙏🙏 pic.twitter.com/ZOXwKmKDp5

— Karan Johar (@karanjohar) September 6, 2018
So #Section377 is decriminalized. An outdated law that needed to go. Congrats to all! For those who want to understand the issue and why it needed to be scrapped. My earlier column : "Section 377 is our collective sin: https://t.co/DSpZcbF6CC via @TOIOpinion

— Chetan Bhagat (@chetan_bhagat) September 6, 2018
Once again, Supreme Court treads where few politicians have dared. Congratulations & a big thank you to all the activists who stood up to be counted #Section377 pic.twitter.com/ECD9d2YMOp

— Milind Deora (@milinddeora) September 6, 2018
Congratulations to all the activists and petitioners on #SupremeCourt judgement scrapping #Section377 Your perseverance just made #India a freer place for everyone ! #LoveIsLove #Pride #377Verdict #377Scrapped Three cheers for the #SupremeCourt pic.twitter.com/grA64TTB3w

— Swara Bhasker (@ReallySwara) September 6, 2018
Actor/singer Ayushmann Khurrana tweeted:
"RIP #Section377. The new sunshine of this day is that of a progressive India. Love all!"
RIP #Section377

The new sunshine of this day is that of a progressive India. Love all!

— Ayushmann Khurrana (@ayushmannk) September 6, 2018
Others on Twitter also hailed the verdict in the most unique ways possible.
He+He is not Hehe anymore. Congrats India. #Section377

— Gabbbar (@GabbbarSingh) September 6, 2018
Remembered the film 'Aligarh' today. Wish Prof. Ramchandra Siras lived to see this day! @mehtahansal @BajpayeeManoj @RajkummarRao #Section377

— Ishan (@IHB30) September 6, 2018
Finally what is normal is now legalized in India.Well done.Homosexuality is no longer a crime. #Section377

— #LittleEuphoriaDay 💜 (@arpitamusic) September 6, 2018
GUYS, I CALLED MY COUSIN DIDI TO GIVE HER THE NEWS AND SHE SAID SHE'S GONNA FINALLY PROPOSE HER GIRLFRIEND.. THEY'RE GONNA TELL THEIR PARENTS OH MY GOD. I'M CRYING RN. THIS IS SO BEAUTIFUL.

SHE'S SO HAPPY TO FEEL ACCEPTED. #Section377

— ALEX KING (@ALEXKINGRAPPER) September 6, 2018
Pat your back, India. You did well.
Get the best of News18 delivered to your inbox - subscribe to News18 Daybreak. Follow News18.com on Twitter, Instagram, Facebook, Telegram, TikTok and on YouTube, and stay in the know with what's happening in the world around you – in real time.
Read full article