GET Stock

Quotes


Twitter Has A Field Day After Supreme Court Bans Crackers In Delhi-NCR
Supreme Court said, 'We should see at least in one Diwali the impact of a cracker-free festivity.'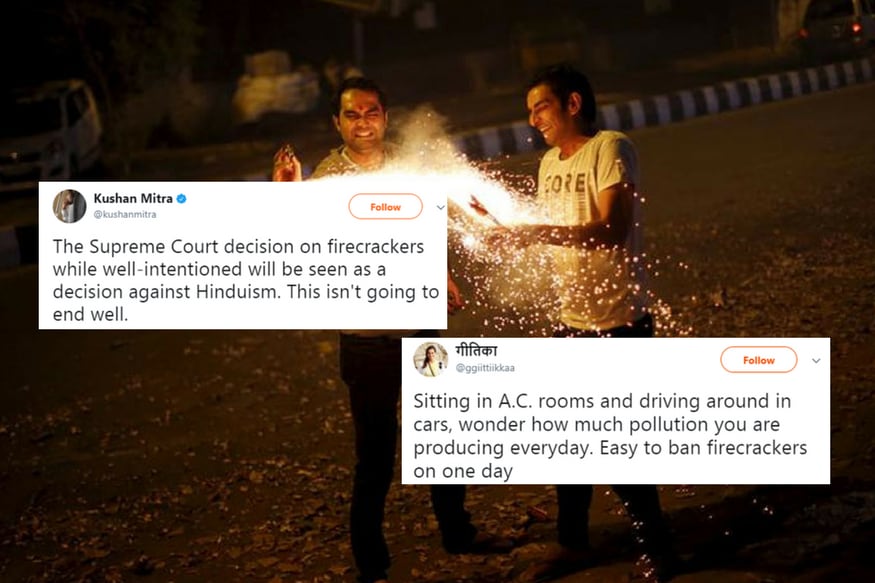 Photo credits: Reuters
The Supreme Court on Monday said its order of last November banning the sale of firecrackers in Delhi-National Capital Region (NCR) will continue till October 31.
A bench headed by Justice AK Sikri said the apex court's September 12 order temporarily lifting the stay and permitting sale of firecrackers would be effective from November 1. "We should see at least in one Diwali the impact of a cracker-free festivity," the bench said.
The top court said it has not changed the September 12 order but its November 11, 2016 order banning the sale of firecrackers "should be given a chance".
The top court, through the 2016 order, had suspended all licences which "permit sale of fireworks, wholesale and retail within the territory of NCR".
#BREAKING -- Ban on firecrackers till after Diwali; Firecrackers sale after November1 with restrictions: Supreme Court | Reports @SubhajitSG pic.twitter.com/j5B3Jqy6WM

— News18 (@CNNnews18) October 9, 2017
Cricketers such as Yuvi, Virat Kohli have already batted against the bursting of crackers.

Say no to crackers, let's celebrate a pollution free Diwali 🙏 #saynotocrackers #pollutionfree pic.twitter.com/l1sotpKizM

— yuvraj singh (@YUVSTRONG12) October 8, 2017
But as soon as the news hit the social media, many on the microblogging site hailed SC's decision.

Was in Delhi last Diwali & I remember the choking blanket of death that engulfed the city. You could feel the smog particles while inhaling.

— Johnny Blu (@Test_of_Steron) October 9, 2017
Leave aside Hindu-Muslim or any religious angle, I honestly think banning crackers in Delhi is a good move. City has worst pollution level.

— pinku (@LEDtvn) October 9, 2017
Ban on firecrackers may just be the best thing to happen to Diwali. Let us reinvent Diwali with lights without sound and smoke. 🌞⭐️🌟✨☀️

— Shivam Vij (@DilliDurAst) October 9, 2017
Supreme Court bans sale of crackers in Delhi till Nov 1st. Great move

— Nidhi Razdan (@Nidhi) October 9, 2017
Bestest news. https://t.co/9Bbs31gPCM

— Ashish K. Mishra (@akm1410) October 9, 2017
The Supreme Court decision on firecrackers while well-intentioned will be seen as a decision against Hinduism. This isn't going to end well.

— Kushan Mitra (@kushanmitra) October 9, 2017
Cant believe people r fighting cos they want to burst crackers. What bubble do they live in if they dont understand how its affecting health

— Protima Tiwary (@DumbbellsnDrama) October 9, 2017
Supreme Court bans fireworks on Diwali in Delhi-NCR region
Let's celebrate #Diwali #crackerfree.
Thank you Supreme Court.

— Geeta sharma (@BeingGeetaS) October 9, 2017
While some questioned SC's decision, others simply were against it.

What is the procedure of banning SC ???

— Zoombada... (@zoomphatak) October 9, 2017
Hindus, buy your crackers today and stock up. The assholes in SC have lost their brain and can fart in the wind anytime

— குடியானவன் (@_Kongu_) October 9, 2017
SC bans firecrackers in Diwali. But no Attempt to take on Animal Slaughter in EID.

Govt should bring law allowing Proper Diwali. Do it Now.

— Ishkaran S. Bhandari (@Ish_Bhandari) October 9, 2017
@narendramodi sir this is hightime, our festivals are selectively targeted need ur intervention, can't imagine diwali wtht #firecrackers

— Naveen Kaushik (@thekaushiks) October 9, 2017
Celebrating your biggest festival now is officially a crime. This is what we have come down to. Sad.

— Anuj Singhal (@_anujsinghal) October 9, 2017
The enormity of this should sink in and fast.
Be clear bout d things which will follow. Only one religion will be bearing the brunt of this https://t.co/rLjVB3ctg4

— Pratyasha Rath (@pratyasharath) October 9, 2017
Sitting in A.C. rooms and driving around in cars, wonder how much pollution you are producing everyday. Easy to ban firecrackers on one day

— गीतिका (@ggiittiikkaa) October 9, 2017
Supreme Court banned the sale of firecrackers in Delhi-NCR till November 1. Try banning the sale of bakras during Eid. Aag lag jayegi SC me.

— गीतिका (@ggiittiikkaa) October 9, 2017
No firecracker sale in Delhi-NCR this Diwali.
Why should SC decide pollution vs celebration? What's the elected legislature's role then?

— Ramesh Srivats (@rameshsrivats) October 9, 2017
SC ban on Diwali crackers is troubling. It'll draw copycat demands on other faiths' festivals. Art 142 is for exceptional use, not as a norm

— Shekhar Gupta (@ShekharGupta) October 9, 2017
RT if this year you will celebrate Diwali extra dhoom dhaam se.

— Virender Sehwag (@virendersehwag) October 9, 2017
Indian author and columnist Chetan Bhagat soon joined the bandwagon.

SC bans fireworks on Diwali? A full ban? What's Diwali for children without crackers?

— Chetan Bhagat (@chetan_bhagat) October 9, 2017
Can I just ask on cracker ban. Why only guts to do this for Hindu festivals? Banning goat sacrifice and Muharram bloodshed soon too?

— Chetan Bhagat (@chetan_bhagat) October 9, 2017
Banning crackers on Diwali is like banning Christmas trees on Christmas and goats on Bakr-Eid. Regulate. Don't ban. Respect traditions.

— Chetan Bhagat (@chetan_bhagat) October 9, 2017
And as always, some Twitter users stuck to cracking jokes.

Will miss seeing Delhi-NCR in NASA's Diwali picture this year.

— Trendulkar (@Trendulkar) October 9, 2017
List of things Supreme Court should ban on Diwali :

1. Bathing
2. Gifting cups
3. Relatives
4. Excessive cello tape on gifts

— Pakchikpak Raja Babu (@HaramiParindey) October 9, 2017
Demand of Samsung mobiles is going to rise in Delhi-NCR, thanks to Supreme Court..

— Writer Thakur (@IndianWriterV) October 9, 2017
Batman: "I'm vengeance. I'm the night. I am Batman." *throws smoke bomb*

Dilli police: "Oyeeee idhar aa hero, kahan se mila yeh bomb tereko be pata hai kitna pollution hai Delhi-NCR me"

— Akshar (@AksharPathak) October 9, 2017
(With PTI inputs)
Read full article
Countdown To
Elections Results
To Assembly Elections 2018 Results