Survivors of Sexual Abuse Decide to School Donald Trump and Tell Him 'Why I Didn't Report'
#WhyIDidntReport.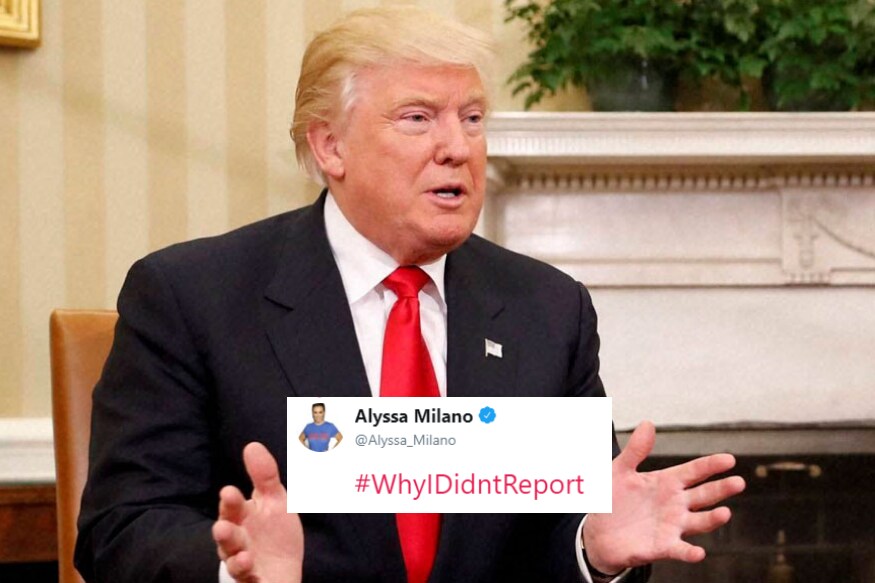 (Image: Reuters)
(TRIGGER WARNING: The following story contains stories of assault which may bring an unwanted emotional and/or physical response. Readers discretion is advised.)
It was after Christine Blasey Ford accused Supreme Court nominee Brett Kavanaugh of having sexually assaulted her in high school that the conversation around sexual harassment has come up in the media circuits yet again.
While the #MeToo movement, which celebrates its first anniversary next month, provided a podium for victims of assault to come out with their heart-rendering stories and putting the guilty under the eye of the justice system, Christine's story has been gaining much media attention, putting the spotlight on the accountability of a sexual abuser and the lengths to which people go on to defend these perpetrators under the name of 'assault by the radical-left'.
Survivors of sexual assault are sharing their stories using the hashtag #WhyIDidntReport to talk about their assault and state why they chose to not tell someone after US President Donald Trump called on Christine Blasey Ford to come forward with records of her sexual assault report against SCOTUS nominee Brett Kavanaugh.
Judge Brett Kavanaugh is a fine man, with an impeccable reputation, who is under assault by radical left wing politicians who don't want to know the answers, they just want to destroy and delay. Facts don't matter. I go through this with them every single day in D.C.

— Donald J. Trump (@realDonaldTrump) September 21, 2018
I have no doubt that, if the attack on Dr. Ford was as bad as she says, charges would have been immediately filed with local Law Enforcement Authorities by either her or her loving parents. I ask that she bring those filings forward so that we can learn date, time, and place!

— Donald J. Trump (@realDonaldTrump) September 21, 2018
However, immediately after Trump defended Kavanaugh on social media, several people decided to call out the hypocrisy and posted their stories of #WhyIDidntReport.
1.) How #WhyIDidntReport started
September 21, 2018
2.) Because culture said silence is the norm
Because the first time it happened, I was in 1st grade and didn't know how wrong it was. Because it happened so often over the years that followed that I thought it was the norm. Because the culture told me it was the norm. Forgive, forget, move on. Not anymore. #WhyIDidntReport

— Catherine Connors (@herbadmother) September 21, 2018
3.) Because there is an embarrassment in changing minds
16 – Boys unbuttoned my shirt when I fell asleep at a party. I was too embarrassed to tell anyone. 21 – a man on the street groped me. I did report it. Police asked if I was drunk. 23 – A date tried to assault me. I thought I wasn't allowed to change my mind. #WhyIDidntReport

— Kirsten King (@KirstenKing_) September 21, 2018
4.) Because people don't believe you
Because it was my friend's best friend.Because I didn't want to make a scene at a family event. Because it wasn't "rape."Because he stopped as soon as I ran to my friend, who intervened. Because even my boyfriend didn't want to believe me.#WhyIDidntReport

— Doha Madani (@DohaMadani) September 21, 2018
#WhyIDidntReport (a thread)16 years ago, I was molested by my cousin who was 19 when I was 7, I didn't report because my own father didn't believe me, and his my aunt said my cousin wasn't capable of it, I felt very alone, didn't think the Police would believe me....

— ✝️ (@Alwaysbepraisin) September 22, 2018
#WhyIDidntReportI did report. The Judge ignored the petechial hemorrhages in my eyes my fractured trachea, and said: I "better learn how to turn down men's advances w/o trying to ruin thier whole lives."

— Truth is Truth (@KindnessnMercy) September 22, 2018
5.) Because the guilty are not punished
University official pushed me into a room, locked the door, pinned me against a wall, tried to rip my clothes off. I got away, with bruises. I learned that this happened regularly, many had reported, nothing had happened. #WhyIDidntReport

— Jill K. Robinson (@dangerjr) September 21, 2018
I was sexually assaulted 3 times during my time in the US Army , twice I reported it and I was blamed and nothing happened to the men that did this . The 3rd time I didnt report it . ended up leaving the Army . I was blamed and shunned serving my country . #WhyIDidntReport

— PatriotsLady777 (@Patsgirl777) September 22, 2018
According to National Sexual Assault hotline out of 1000 rapes, 310 are reported to police. 6 of those lead to jail time. These are the stats for the US. Most countries haven't documented them. #WhyIDidntReport pic.twitter.com/ZxFMRavSGJ

— Megha Mohan (@meghamohan) September 21, 2018
6.) Because there are invisible scars
#WhyIDidntReport Because I was scaredBecause I was ashamedBecause I did not want to lose my jobBecause I am traumatized Because nobody will believe meBecause it wasn't a big dealBecause I deserved itBecause I get anxietyBecause somebody may harm me again

— Danny Deraney (@DannyDeraney) September 21, 2018
7.) Because of belonging to the minority community
Because I was Black and Gay and was the only one in my department and feared I would be the last if I ever said anything. I didn't want to be the example if there wasn't going to be a solution. #WhyIDidntReport

— Ernest Owens (@MrErnestOwens) September 21, 2018
8.) Because the perpetrator is someone you knew or trusted
I waited over 20 years to report my sexual abuser.Because I was 14.Because it was my hero.Because it was my priest.Because I thought I'd be expelled.Because I feared no one would believe me.Because I thought suicide was easier than telling 1 person#WhyIDidntReport

— Thomas Roberts (@ThomasARoberts) September 21, 2018
He lived in my house.#whyididntreport

— Beth Moore (@BethMooreLPM) September 22, 2018
Because I was married to him and didn't believe it counted as rape. #WhyIDidntReport

— PatriotsWithUs (@amrevgirl) September 22, 2018
#WhyIDidntReportBecause I was 8Because I was afraid he would hurt meBecause no one would believe meBecause he was my brother(There ... I said it)

— Penny Dier (@PennyDear9) September 22, 2018
More power to ALL survivors of assault.
Get the best of News18 delivered to your inbox - subscribe to News18 Daybreak. Follow News18.com on Twitter, Instagram, Facebook, Telegram, TikTok and on YouTube, and stay in the know with what's happening in the world around you – in real time.
Read full article