GET Stock

Quotes


'Tamil Nadu Lost its Father Figure': From Modi to Rahul, All Mourn Passing of M Karunanidhi
With DMK Cheif M Karunanidhi, 5-time Tamil Nadu Chief Minister, passing away, people have reached out with their condolences.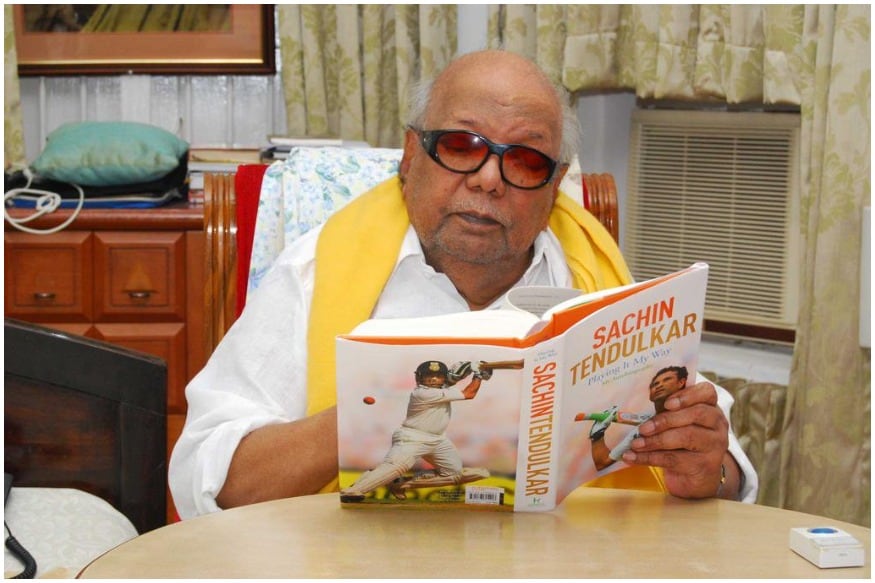 File photo of M Karunanidhi
DMK patriarch and five-time Tamil Nadu chief minister M Karunanidhi breathed his last at the Kauvery hospital in Chennai on Tuesday after a 11-day health battle. He was 94.
According to the medical bulletin, the time of death was 6.10 pm. His health had seen a significant decline in the last 24 hours due to multi-organ failure. Doctors stated that despite maximum medical support, he could not be resuscitated.
Thousands of Kalaignar's supporters are mourning outside the hospital and condolence have started pouring in for the veteran leader.
Karunanidhi, who was popularly referred to as Kalaignar (actor) was admitted to the hospital on July 28 after he contracted urinary tract infection and developed a high fever.
With the passing away of this prominent political figure, several prominent figures have shared their condolences.
Deeply saddened by the passing away of Kalaignar Karunanidhi. He was one of the senior most leaders of India. We have lost a deep-rooted mass leader, prolific thinker, accomplished writer and a stalwart whose life was devoted to the welfare of the poor and the marginalised. pic.twitter.com/jOZ3BOIZMj — Narendra Modi (@narendramodi) August 7, 2018
I have had the opportunity of interacting with Karunanidhi Ji on several occasions. His understanding of policy and emphasis on social welfare stood out. Firmly committed to democratic ideals, his strong opposition to the Emergency will always be remembered. pic.twitter.com/cbMiMPRy7l — Narendra Modi (@narendramodi) August 7, 2018



News has just come in of the passing of Kalaignar Muthuvel Karunanidhi, a giant of Indian politics as CM of Tamil Nadu & a screenplay writer who gave voice to the Dravidian movement through his immortal dialogues. Tamil politics can never be the same again. RIP.


— Shashi Tharoor (@ShashiTharoor) August 7, 2018
Loved by the Tamilian people, Kalaignar strode the stage of Tamil politics, like a colossus, for over 6 decades. In his passing, India has lost a great son. My condolences to his family as also to the millions of Indians who grieve for their beloved leader tonight.#Karunanidhi — Rahul Gandhi (@RahulGandhi) August 7, 2018
Extremely sad to learn of the passing of Thiru M. Karunanidhi. A doyen of our public life, as a contributor to the development of Tamil Nadu and of India he has few peers. Our country is poorer today. My condolences to his family and millions of well-wishers #PresidentKovind — President of India (@rashtrapatibhvn) August 7, 2018
Today India lost one of its greatest sons. And Tamil Nadu lost its father figure. Farewell @Kalaignar89. My deepest condolences to the people of Tamil Nadu, @arivalayam, @mkstalin, @KanimozhiDMK and family. India mourns your loss — Mamata Banerjee (@MamataOfficial) August 7, 2018



On behalf of the United States Mission in India, I wish to extend our heartfelt condolences to the family of former Chief Minister Muthuvel #Karunanidhi and the people of Tamil Nadu. He will be remembered for his years of public service to his state and the country at large.


— Ken Juster (@USAmbIndia) August 7, 2018
Saddened by the demise of DMK Chief Kalaignar M Karunanidhi ji. My deepest condolences to his family members and supporters. Om Shanti! — Smriti Z Irani (@smritiirani) August 7, 2018



Deeply saddened by the passing away of DMK chief #Karunanidhi Ji. Condolences to the family and supporters. #RIPKalaignar pic.twitter.com/niCO0Z02Ua


— Sachin Pilot (@SachinPilot) August 7, 2018
Only once in a while you see a visionary leader like @kalaignar89, who championed the cause of social activism and federalism. My respect to a giant soul who departed for heavenly abode. My condolences are with family and fans of Shri #Karunanidhi. — ShivrajSingh Chouhan (@ChouhanShivraj) August 7, 2018



A legend in his lifetime, counted amongst the giants of the political landscape of India #Kalaignar #Karunanidhi ji has left a void not just in his home state of Tamil Nadu but in the entire country that will never be filled. My condolences to his family & Tamils the world over.


— Omar Abdullah (@OmarAbdullah) August 7, 2018
Saddened by the demise of DMK Chief Kalaignar M Karunanidhi ji. My deepest condolences to his family members and supporters. Om Shanti! — Smriti Z Irani (@smritiirani) August 7, 2018
என்னுடைய கலைஞர் மறைந்த இந்த நாள் என் வாழ்நாளில் நான் மறக்க முடியாத ஒரு கருப்பு நாள். அவருடைய ஆன்மா சாந்தி அடையட்டும் — Rajinikanth (@rajinikanth) August 7, 2018



Deeply saddened at the passing away of Kalaignar M Karunanidhi.60 years a legislator,5 times CM & a pillar of many coalitions at the Centre,he influenced his State's & the National politics like few others. My deepest condolences to his family & admirers.He will be missed deeply.


— Pranab Mukherjee (@CitiznMukherjee) August 7, 2018
Saddened by the demise of DMK Chief, Thiru M #Karunanidhi, a great administrator & a humble leader who dedicated his life to TamilNadu. May God grant peace to his soul and strength to his family in this hour of grief. ॐ शांति शांति 🙏🏻 — Rajyavardhan Rathore (@Ra_THORe) August 7, 2018



Kalaignar Karunanidhi was a seasoned leader who dedicated himself in service to the poor and needy. He was a powerful voice of the marginalised section of our society. India mourns his demise.


— Rajnath Singh (@rajnathsingh) August 7, 2018
Our heartfelt condolences to the family and supporters of Kalaignar Karunanidhi. His passing is a great loss to the nation. May his soul rest in peace. — Akhilesh Yadav (@yadavakhilesh) August 7, 2018



I am grieved by the passing away of Shri M. Karunanidhi, one of the leading and longstanding politicians of our country who left a mark of his own during his long public life of about 80 years including 56 years as Member of the Tamil Nadu Legislative Assembly. #Karunanithi pic.twitter.com/a8rZsW9fDz


— VicePresidentOfIndia (@VPSecretariat) August 7, 2018

Our heartfelt condolences on the passing of one of India's most dynamic leaders, M. Karunanidhi. He was a true representative of our democracy and worked tirelessly for the people of Tamil Nadu. His contributions to the nation shall never be forgotten. pic.twitter.com/gCunM2wr1D

— Congress (@INCIndia) August 7, 2018




My heartfelt condolences to the family of former CM #Karunanidhi and to the people of Tamil Nadu.

He will forever be remembered for his years of public service to his state and India. #RIPKalaignar pic.twitter.com/6cQlLyZhev


— DK Shivakumar (@DKShivakumar) August 7, 2018
(Get detailed and live results of each and every seat of the state Assemblies in Madhya Pradesh, Rajasthan, Telangana, Chhattisgarh and Mizoram to know which candidate/party is leading or trailing and to know who has won and who has lost and by what margin. Our one-of-its-kind Election Analytics Centre lets you put on the psephologist's hat. Know interesting facts and trivia about the elections. Elections = News18)
Read full article
Countdown To
Elections Results
To Assembly Elections 2018 Results