TaxiFabric Co-Founder Named in #MeToo List, Maintains Radio Silence
The majority of these allegations come from women who wish to remain anonymous. However, several women have come forward publically to share their own unpleasant experiences with Alvani.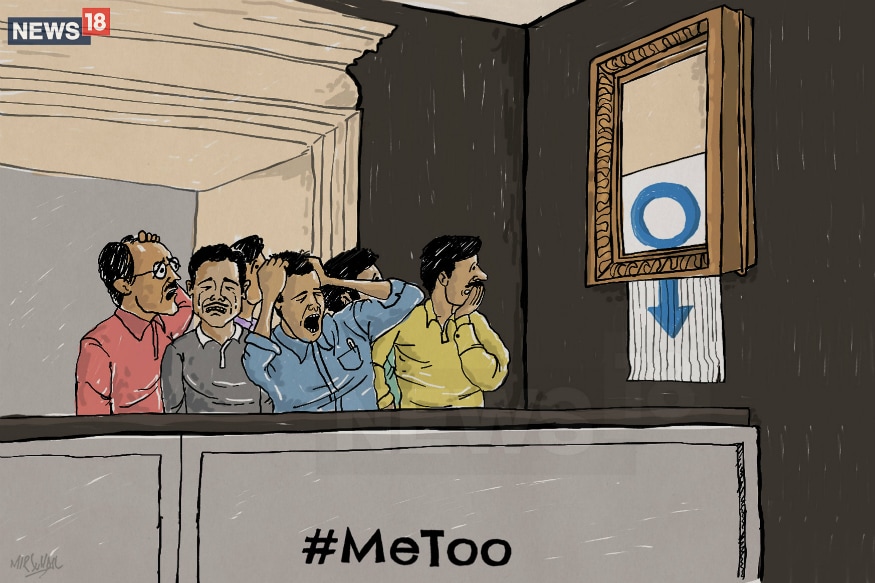 News18 Creative by Mir Suhail
As India's bastion of male entitlement continues to be blasted by a rising chorus of voices, the country's #MeToo movement can, finally, said to be in full swing. Politicians, actors, filmmakers, mediapersons, comedians and a slew of other professional luminaries are now facing a different kind of spotlight and boy, it's growing a-brighter.
The latest allegation is against a Mumbai-based designer Sanket Avlani, co-founder of the popular Taxi Fabric art and lifestyle brand. Swapna Nair, a creative entrepreneur in the same city, posted a powerful statement on her social media handles, accusing Avlani of constant inappropriate behavior and unwanted sexual advances when the two worked together several years ago.
Taxi Fabric is an artistic endeavour that aims to create a space for designers and artists to showcase their work and talent; the project first came to attention when it got artists to collaborate with Mumbai's taxi cabs to create quirky, vibrant upholstery for the vehicles, thereby providing a very public platforms for designers to show their work.
Sanket Avlani, founder of @TaxiFabric #TimesUp because some men cannot keep it in their pants. Honestly, this story is so embarrassing, I wanted to keep it anonymous. Thank you @TheRestlessQuil for giving me the courage to speak. I bow down to the Devi (Goddess) in you. Thank you pic.twitter.com/4hSL3K8R6i

— Swapna Nair (@nairswapna) October 13, 2018
The full text of her post reads:
We worked at the same agency a decade ago. He quit a few months after and left for higher studies to a well known institute in India. The rest happened after that. Only on texts fortunately. And I never had the courage to speak to anyone back then.
Every time I think of that guy, it creeps me out. After he quit, he sent me a text saying Hello or something. He was an ex colleague so I continued chatting. I liked his creative work. He was popular for his work even a decade ago and has quite a few accomplishments in his name today too.
But very quickly, the conversation became about some strange fetish of his. He repeatedly kept talking about how my dark skin would make him hard instantly.
It got more gross when he told me that, during our days at the agency, it was very difficult for him to sit and work because he had to rush to the bathroom every now and then. Why? Because I was a goddess who made him in a few seconds and apparently he's never been that hard in his whole life. He couldn't concentrate on his work it seems, I was so distracting.
I honestly thought it was bull at first. But then his d**c pics followed and proved me wrong. I have seen his d**k pics way too many times even after saying NO.
Unfortunately, I continued chatting trying to erase what he said from my memory. He'd randomly say lets do a nude photoshoot, he had some creative idea for it.
I regret being weak, not standing up and speaking about it back then. I did tell my close friends but had no idea what to do about it. I also immensely regret denying and blinding myself and chatting again thinking that at least this time he would be respectful.
I tried to change the conversation multiple times but it was impossible to have any conversation without his d**k interrupting. Just seeing his name made me uncomfortable. I even prayed that I must never run into him because I was honestly really scared and scarred back then.
Today I have no fear because Mr Sanket, now it's your turn.
Sanket Avlani, Taxi Fabric. #TimesUp
By,
Swapna Nair
#MeToo
#MeTooIndia
While Nair has clarified that Alvani's harassment was only virtual -- comprising mainly of lewd messages and pictures of himself, she has also said that she is now inundated with messages from other women accusing the designer of similar, and worse, behavior.
The majority of these allegations come from women who wish to remain anonymous. However, several women have come forward publically to share their own unpleasant experiences with Avlani.
This is never ending! I have had sooooooo many women come up to me and talk about @sanketavlani. The numbers are increasing by the hour. More stories to come out tomorrow. #advertising #metoo #metooindia #timesup @maitreyeeraje so sorry to hear about this. We hear you. https://t.co/X2JGYZuOAh

— Swapna Nair (@nairswapna) October 14, 2018
You're not alone, @nairswapna. I'm glad someone finally called him out. He used to send such weird messages to me when I repeatedly said NO, around 2012/13. He had a girlfriend back then. He sent sexts to her friends too I had heard. Sanket is a sick man and his #timesup. #MeToo https://t.co/T2rV2EPE4l

— Shephali Bhatt (@ShephaliBhatt) October 13, 2018
Dear Swapna, You are not alone. #metoo Here's my story with the same person. And the shameful part is that people who work with him now and on his recent projects have known this story and still support him! Shame on all of you too! https://t.co/3gB2nluSuD pic.twitter.com/QGfwl1ZNRA

— Ayesha Kapadia (@ayesha_kapadia) October 13, 2018
Hi @TheRestlessQuil and @nairswapna, just wanted to say that I have heard similar stories about Sanket Avlani from four other women. So despicable. #timesup

— Payal Khandelwal (@thefloatingbed) October 13, 2018
@nairswapna Thanks for coming out and saying what a lot of us experienced. @sanketavlani is a pervert and did the same thing to me nearly a decade ago. Fact that my boyfriend was one of his best friends didn't stop his pervertion. #metoo @Forbes @ForbesIndia #sanketavlani

— Maitreyee (@maitreyeeraje) October 14, 2018
Avlani and his company were recently featured on a Netflix mini-series called The Creative Indians, which celebrated well, creative Indians. While the show it still streaming on the digital platform, its future broadcast might be in trouble.
Given that comedy collective AIB had its content pulled off Hotstar following harassment allegations against several of its members, and with additional reports that the now disbanded troupe may also lose its contract with Amazon Studios India, companies across the board are touting a zero-tolerance policy for harassment. Since several people are now taking aim at Netflix for 'celebrating this sexual predator', it remains to be seen whether Avlani's show will go on.
Ironically, Taxi Fabric and Avlani's business partner, Nathalie Gordon, have issued minimalist statements, essentially amounting to a 'no comment until further notice', while the man himself has been maintaining radio, and digital, silence. Netflix India has not responded to queries either, yet.
Today I have been made aware of multiple allegations made against my Taxi Fabric co-founder and friend, Sanket Avlani.To those messaging me demanding answers - I'm sorry but at the moment I have none. When I know the facts and should I deem it appropriate, I will respond.

— Nathalie Gordon (@awlilnatty) October 13, 2018
With the story still developing, stay posted for further developments.
Get the best of News18 delivered to your inbox - subscribe to News18 Daybreak. Follow News18.com on Twitter, Instagram, Facebook, Telegram, TikTok and on YouTube, and stay in the know with what's happening in the world around you – in real time.
Read full article