After months of speculations, theories and restlessness, 'Game Of Thrones' premiered its first episode of season 6 and it was everything GOT is known for. (Well, almost)
After leaving the fans on a cliffhanger in last season's finale, the Season 6 first episode was more like an answer key. It had answers to most of the questions left unsaid, and gave a direction to the show. The audience at least has an idea about where the show is headed now.
While Jon Snow was present in the first episode, he was not alive. Arya Stark is still very much a part of 'Faceless Men' army training and Cersie Lannister is all set to pay her debts to Drone. Sansa Stark and Reek managed to escape the Bolton while Brienne finally fulfilled her duty to Catelyn Stark. On the far east, Tyrion is getting a hang of his responsibility as an ad hoc king of Meereen, while Daenerys Targaryen is back to her roots with the Dothraki clan.
However, it is not the central character that gives you the shock, it's the 'Red Woman'. We knew the red priestess is up to something when the very first episode was titled 'Red Woman' (and secretly we wished it to be related to Jon Snow). After all, Melisandre might have a big hand to play in Jon Snow's resurrection or in Night's Watch destruction.
The seductress who has lured many with her fiery nature is someone else after all. The young and dynamic priestess hides an ancient secret and that might help in carving the future of Jon Snow's status in the living world!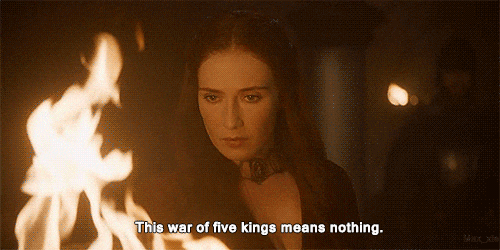 (Source: Tumblr)
While the thrills were less and answers more, the last twist of the Red Woman has left us intrigued till next week. There's much more to the God of Light and he will play a major part in this season through Melisandre.
Let the games begin!