GET Stock

Quotes


'The Chhetri Effect': All the Tickets for Indian Football Team's Remaining Matches Sold Out
Has the revolution begun?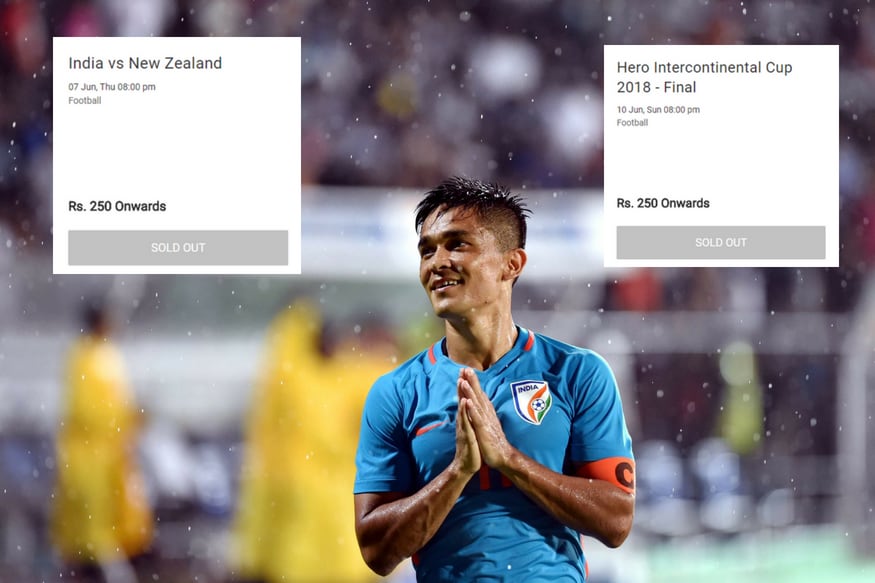 Image credits: PTI Photo/Mitesh Bhuvad
The unthinkable has happened. After nearly 9,000 people showed up for the
India-Kenya battle
, all the tickets for the Indian football team's remaining Intercontinental Cup matches at the Mumbai Football Arena have already gone off the shelves.
How did this happen?
Sunil Chhetri, one of the greatest footballers that India has produced, recently made a heartfelt plea to all the fans of Lionel Messi, Neymar, and Cristiano Ronaldo-- "abuse us, criticise us but please come to watch the Indian national team play."
The skipper who scored his third international hat-trick in-front of a near-empty Mumbai Football Arena (MFA) stand asked fans to come to the stadium, even if they want to criticise the Indian football team.
"To all of you, who have lost hope or don't have any hope in Indian football, we request you to come and watch us in the stadium," the skipper said.
His plea rattled the nation. Cricketers, YouTubers, celebrities rose up to the occasion and backed the skipper. Eventually, the Intercontinental Cup match between India and Kenya at the Mumbai Football arena officially sold out.
The team led by Sunil Chhetri took on Kenya in front of a crowd that was no less than a rock concert.
Thanks to "The Chhetri Effect," all the tickets for the Indian football team's remaining IntercontinentalCup matches have sold out.
Don't believe us?
Here's proof:
After thrashing Chinese Taipei by 5-0 and Kenya by a scoreline of 3-0, India will take on New Zealand in their final group game on Thursday.
With a guaranteed spot in the finals, India's opponent is yet to be decided. Nonetheless, sold out. Yaaay!

Last week, Chhetri's heartfelt plea video on Twitter was retweeted over 60,000 times and viewed nearly a million times.
"To all of you who are fans of big European clubs and support European clubs with so much passion and sometimes you guys think that the level is not the same, so why do you waste your time? Agreed, the level is not the same, not even close but with our desire and determination, we will try our best to make your time worth," Chhetri said while thanking the fans who did show up.
"To all of you, who have lost hope or don't have any hope in Indian football, we request you to come and watch us in the stadium," the skipper added. "I mean it's not fun to criticise and abuse on internet. Come to the stadium, do it on our face, scream at us, shout at us, abuse us, who knows one day we might change you guys, you might start cheering for us. You guys have no idea how important you guys are and how important your support is."
"I request you all to please come ...talk about the game, go back home, have discussions, make banners. Please get involved, this is an important time and juncture in Indian football and football in India needs you guys."
This is nothing but a small plea from me to you. Take out a little time and give me a listen. pic.twitter.com/fcOA3qPH8i

— Sunil Chhetri (@chetrisunil11) June 2, 2018
Read full article
Countdown To
Elections Results
To Assembly Elections 2018 Results