The Forgotten Songs Collective: Meet The Dynamic Duo Who Document The Fading Tribal Tunes of India
Goswami and Shetty have been nomads for the past eight years after they quit their corporate jobs and hit the dusty roads of rural India to find more stories to tell from communities that we often tend to forget.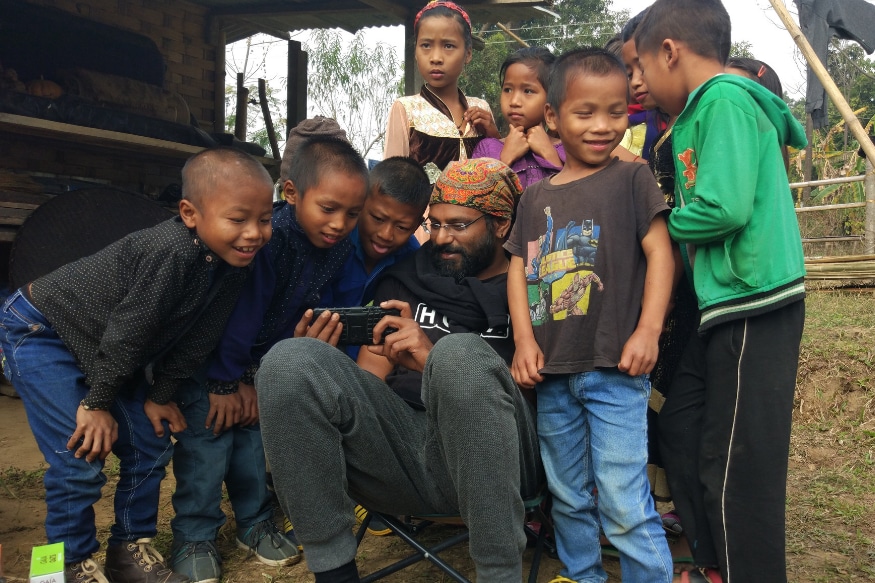 Vinayaka with kids in Assam. Image Courtesy: Rest Of My Family.
For Epa Lallura, his songs and tunes are his only valuables, his inheritance from many past generations of Biate tribe, who lived in the hilly district of Dima Hasao, in Assam.
Lallura, is one of the few remaining members of the tribe to remember the folk songs, stories and rituals of his community. As modernity seeped into the lives of his fellow tribesmen, and the Biate community embraced Christianity, Lallura witnessed his own tribe's history slowly fade away.
So, in January 2017, when Akshata Shetty and Piyush Goswami -- the founders of Rest of My Family -- arrived at his small Assamese village, he did what most village elderlies do when they get a new audience -- he complained and shared memories. He complained about how the current generation of Biates has forgotten their songs. He reminisced about the times when the Biates would gather around the fire under a canopy of stars, and sing their songs, and dance together.
Little did Lallura know that Shetty and Goswami will make these things happen for him and his tribe yet again by forming a collective --- The Forgotten Songs Collective that will not only allow members of the Biate tribe to collaborate with musicians from different backgrounds and revive their tribal music in new innovative ways but also allow the tribesmen to perform live in different cities.
As founders of Rest of My Family, a non-profit organisation that does social work through art, Shetty and Goswami have devoted the last eight years of their lives to such far-flung rural and tribal communities like the Biates, trying to make their lives better.
"In all our years of travelling and working, we have constantly felt that folk and tribal music of India has been largely ignored and underrepresented. These obscure music forms and songs have such unique imprints of history, culture, identity and life struggles of their respective communities," said Shetty.
"The Forgotten Songs Collective just seemed like the way to go forward...The younger Biate generation is losing interest in their cultural identity and music. Such collaborative efforts will also generate interest in their hearts and minds by helping them see that all that is old is not outdated and meaningless and that it can be and should be celebrated in modern times as well." she added.
The Forgotten Songs Collective is a multi-media art collective that Shetty and Goswami have begun by helping the Biate tribesmen collaborate with Vinayaka, an experimental electronic musician. Together, they aspire to create tribal- electronic fusion music which they want to sell as EP/albums in the market.
"In order to address their fading music, we felt it would be almost poetic to use state of the art experimental music and visual art mediums to tell the story of ancient music forms that are disappearing," said Shetty.
It isn't just the songs of the tribe that Shetty and Goswami are trying to preserve though. Rest of My Family is also trying different ways to help the community.
"We have a Farmer producer company project with Biate tribe in order to get them fair rates for their organic produce. We have also sponsored the education of close to 400 Biate children in the last two years," said Goswami.
One of the reasons the duo thought of documenting the stories of the Biate tribe is because of the lack of government intervention."Unfortunately, while the government has undertaken several initiatives to preserve the cultural heritage of tribes in Assam, the Biate community is yet to receive support from them," said Shetty.
"The Biate tribe has been recognized as a unique tribe in the district level, although the state government has failed to give them any recognition," she added. The duo is also working on various formats to raise awareness about the Biate tribe, their history, their current social challenges. A feature-length documentary film is also on the cards, so are a few photo stories.
"As of now, we are looking forward to completing the second phase of the Biate chapter with performances and musical releases. The next leg of the project will be a collaboration with the Bonda Tribe in Odisha, and then the Gond tribe in Bastar," said Goswami.
Goswami and Shetty have been nomads for the past eight years after they quit their corporate jobs and hit the dusty roads of rural India to find more stories to tell from communities that we often tend to forget.
There are many tribals in various rural corners of India, who share Lallura's sense of loss, who can hear their unsung songs in their heads and watch their customs and rituals slowly disappear in front of their eyes, which is why Shetty and Goswami have taken up the task of documenting their history and passing them forward. However, it has been a learning curve for them too.
Between 2010 and 2013, as they hit the road, Goswami continued to work on various independent photography, fiction and non-fiction films and Akshatha explored her tryst with writing as a journalist.
"We started sharing our findings through photo-stories. We did this for a while and initially thought that writing about social-issues would draw the attention of those who have resources to make a difference to the lives of the ignored sections of rural and tribal society," said Goswami. However, over time they were convinced that writing and documenting alone seldom results in a constructive impact on the individuals and communities that are being written about.
Throughout their drive, they documented many issues faced by communities across various states. They helped farmers in drought-hit regions of Karnataka and Maharashtra and tried to address the current situation of Devadasis in Koppal (Karnataka). The duo has also tried to mitigate social issues faced by the Lambani community in Chincholi (Karnataka) and Bonda tribe in Orisha.
With years both Shetty and Goswami made the problems of these far-flung communities their own. "Now we try our best to find solutions to the challenges with all our resources, ideas and limitations. Unless we realize that their problems are our problems as well and start to look at social and individual issues in this light and act accordingly in our own capacities, we continue to be a part of the problem and not the solution," said Goswami.
Read full article
Countdown To
Elections Results
To Assembly Elections 2018 Results