The Internet is All Praises for the New Spider-Man Game After Spotting the LGBT Flag
sPRIDErman much?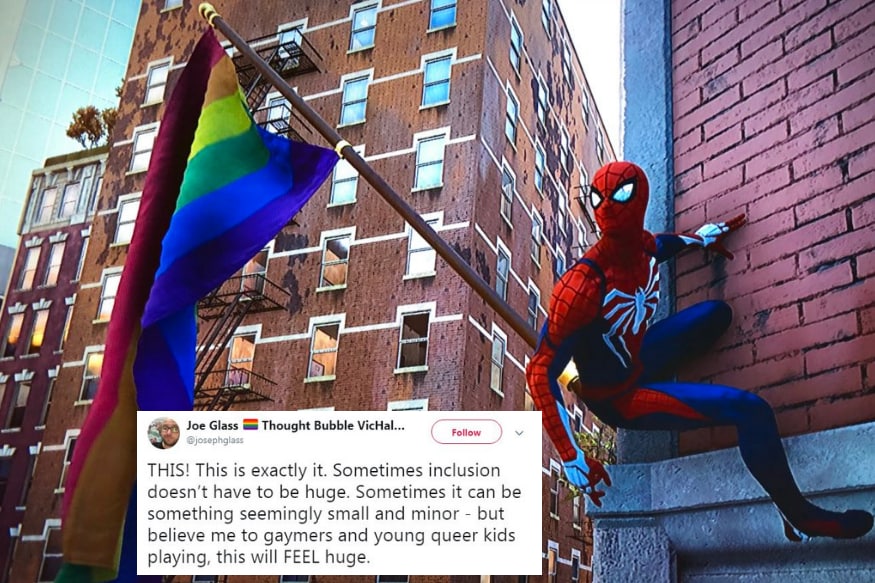 (Image: Twitter)
Action-adventure game Marvel's Spider-Man released on 7 September 2018 has been at the receiving end of many accolades for being one of the best superhero games ever made. Developed for PlayStation 4 by Sony and Insomniac Games, the game is said to narrate a story of the eponymous character that is not tied to any of the previous comic books, movies or video games.
But the game has come into attention for its seeming inclusiveness as well. Several users on the Internet swear to spotting the LGBT flag in the game. If that was not enough, there have been many sighting of the LGBT flag mural in the game.
Wow. I stopped to perch on a building in #Spidermanps4 and looked over and saw this.

Thinking about all the 12-year-old kids who will be playing this game and seeing this in towns where it's not safe to put that flag up. pic.twitter.com/QGr1Q7QrxZ

— Saladin Ahmed (@saladinahmed) September 8, 2018
forreal though this is the cutest thing my own two eyes have ever seen pic.twitter.com/LLlHFFZyvB

— erin (@modernbucky) September 8, 2018
DID YOU ALL EVEN REALIZE....... LGBT king pic.twitter.com/q9OTYsydYs

— ren (@onmyouroku) September 8, 2018
Ps4 Marvel :Spider-man is LGBT friendly! 🏳️‍🌈❤️😍❤️😍❤️😍🏳️‍🌈 #Spiderman #LGBT #TransIsBeautiful #love #PlayStation #awesome #Sony #freedom #nowar #gender #happy pic.twitter.com/jW9BQcuHQw

— Artway (@Artway6) September 8, 2018
I had to stop and appreciate this moment. pic.twitter.com/BmB5PWuYos

— Jaime Margary 🇵🇷 (@JaimeMargary) September 9, 2018
SPIDERMAN FOR THE PLAYTATION®4 HAS A LOT OF GRAPHICS AND IS VERY INCLUSIVE OF THE LGBT GAMERS WHICH IS BASED ALSO DID YOU KNOW THAT THAT YOU CAN TAKE PICTURES INSIDE OF IT TOO THAT IS SO CRAZY!!!!! THIS GAME IS EASILY AN 10 OUT OF 10. GREAT JOB @Sony AND @insomniacgames. pic.twitter.com/WKCRAsEjtn

— 🕹🎮7ru_Gäm3r☘420☘🎮🕹 (@Mememeister420) September 9, 2018
Yes boys and girls #Spiderman reps the #lgbt community too! #PS4share pic.twitter.com/hKJcstEHcW

— Bishop Cosplay (@BishopCosplay) September 7, 2018
Several users were also quick to point out that since the game is based in New York city, also the hub for many LGBTQ events, itis highly probable that these flags existed in real life, too.
So many people are posting the Pride flag in Spider-Man which is sweet and lovely but also WHAT NEIGHBORHOOD IS IT IN DAMN IT THAT BUILDING LOOKS FAMILIAR. Are y'all in the West Village? That Pride flag probably exist in reality these details are IMPORTANT

— Vampirella McNally (@vqnerdballs) September 8, 2018
What's interesting is this *is* great and noteworthy, but it's also the case all you need to do to contain this moment is…accurately represent New York City and its buildings

Video games have managed our expectations until we *expect* the queerness bowlderized out of real world https://t.co/7Zzqk4T1Qj

— mcc (@mcclure111) September 8, 2018
great to hear from you. it was an excellent touch. flags like this hang in plenty of places in NY so it's perfectly natural to have them just in the environment. awesome work on the game. goty hands down

— Cordelia (@keasbeydays) September 8, 2018
While there were others who spoke about the importance of representation and inclusivity in video games -- something that's often amiss from them.
not saying that it's some radical move, but just as someone who came up 30 years ago playing Spider-Man video games with boys who constantly hurled homophobic insults at each other IRL this is...different

— Saladin Ahmed (@saladinahmed) September 8, 2018
THIS! This is exactly it. Sometimes inclusion doesn't have to be huge. Sometimes it can be something seemingly small and minor - but believe me to gaymers and young queer kids playing, this will FEEL huge. https://t.co/O4yoFUIqlj

— Joe Glass 🏳️‍🌈 Thought Bubble VicHall 55! 🏳️‍🌈 (@josephglass) September 8, 2018
Representation is so important. It's something we wanted to put in this game, even in a small way like this.

— Ryan Benno (@BryanRenno) September 8, 2018
sPRIDErman

— Stone Cold Parmasean Astin (@LetsHearItForMe) September 8, 2018
I'm not sure what would happen if I put that flag up in my town, but I should anyway. Conversation won't start until somebody pokes a bit.

— Joel Spriggs (@joelspriggs) September 8, 2018
Gonna wonder if people are gonna think insomniac is trying to show the gay agenda down their throats with pride flags in new York in Spider-Man PS4... Me? Bring on the gay agenda! Hell give me a pride Spidey suit. pic.twitter.com/FAIHhcvnAZ

— James Portis (@jamesCportis3) September 8, 2018
Read full article
Countdown To
Elections Results
To Assembly Elections 2018 Results