The Internet Wants Hannah Gadsby to Host Emmys Next Year After Her 1 Minute Speech
Has someone started an online petition yet?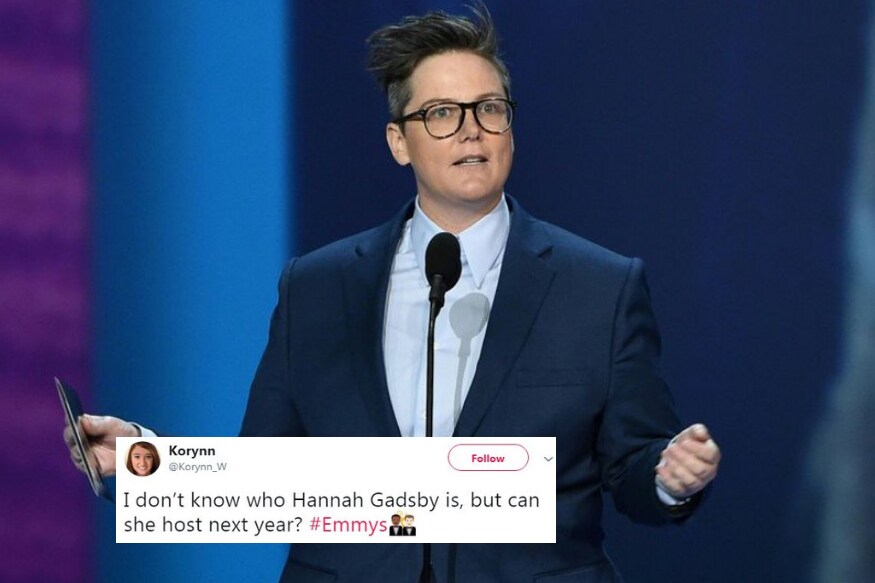 (Image: Twitter)
The 2018 Emmy Awards are occupying everyone's social media feed, with netizens either gushing over their favourite TV shows winning the coveted trophies or ranting about the big snubs of the awards night.
However, that's not all, folks. Turns out, there's someone else people are talking about this Emmy season and that's Hannah Gadsby, who shot to instant fame after her Netflix special 'Nanette'  soon became an internet favourite.
Hannah was at the Emmy Awards to present the award for Outstanding Directing For a Drama Series category. But Hannah being Hannah, decided to give a minute-long speech before giving the award.
Watch Australia's very own @Hannahgadsby and her amazing #Emmys moment. Legend. pic.twitter.com/usoEOCH36B

— news.com.au (@newscomauHQ) September 18, 2018
Calling her presenting an award 'not normal', but perfectly happy for getting a sweet gig with free suit and new boots just because "I don't like men." She playfully adds that it's all a joke and no one (read: men) needs to get upset over it but not before finishing with #NotAllMenButALotOfThem. However, her speech did not end just there. She called out men for taking offense to her 'jokes' and also wondered whether that's the reason behind her presenting an award all alone.
Stephen Daldry who won the award for The Crown could not be present, and Hannah playfully added before exiting the stage that she could be the reason for the absence. And while Hannah's speech was barely 90 seconds long, the internet is mightily impressed with her, and even hoping that she gets to host the Emmy Awards next year.
Hannah Gadsby looks perfectly at home on the emmy stage, if you ask me.

— Netflix US (@netflix) September 18, 2018
the best part of the #Emmys2018 was @Hannahgadsby. i really didn't know who she was prior to tonight, but i'm a fan now!

— Jenny Penny☮ (@giantpandabears) September 18, 2018
I can't get enough Hannah Gadsby. She should have hosted. LetAnAussieHostEmmys2019 dot au https://t.co/ZEB8mEv3Fa

— Karen Gussie Valenzuela (@VictoriaNoir89) September 18, 2018
Can she host all the next Emmy and oscar progs please?

— lynne clarke (@LizzieClarke00) September 18, 2018
When you know you should have hosted. #Emmys pic.twitter.com/HhCUzQurTc

— Vulture (@vulture) September 18, 2018
our new form of government is hannah gadsby gets to make all the laws now

— Matt Bellassai (@MattBellassai) September 18, 2018
why didn't hannah gadsby host the emmys why oh why did they choose a warm bowl of oatmeal instead

— Dana Schwartz (@DanaSchwartzzz) September 18, 2018
@Hannahgadsby is just the best. Jokes, just jokes, lighten up! Guys, if you don't get the jokes, either start paying attention and study up or slither back under your rocks. If you do get the jokes, congrats! Cuz you fellas can be part of the solution, if you're willing.

— Kristen English (@KristenKEnglish) September 18, 2018
Hannah Gadsby is truly a gift and a minute and a half is not nearly enough

— &Velazquez (@marysolthewise) September 18, 2018
all the emmys now go directly to hannah gadsby

— Kate Schatz (@kateschatz) September 18, 2018
congrats to hannah gadsby for hosting hopefully every award show ever

— Jon Savitt (@savittj) September 18, 2018
Hannah Gadsby was on the stage for 45 seconds and that segment was better than anything from these hosts. #Emmys

— Lily Herman (@lkherman) September 18, 2018
Hannah Gadsby was just funnier in 20 seconds than Che been all night

— Brittani Nichols (@BisHilarious) September 18, 2018
"#NotAllMen but a lot of them. Just jokes. But what are jokes these days? Nobody knows what jokes are but especially not men. Isn't that right fellas?" - @Hannahgadsby should have hosted the whole damn thing. #Emmys

— maria yagoda (@mariayagoda) September 18, 2018
Emmy Award to Hannah Gadsby for this bit right now.

— Kevin Fallon (@kpfallon) September 18, 2018
I don't know who Hannah Gadsby is, but can she host next year? #Emmys

— Korynn (@Korynn_W) September 18, 2018
So @Hannahgadsby looks like you'll be hosting next year! #Emmys2018 #EmmyAwards2018Live

— Magda Szubanski (@MagdaSzubanski) September 18, 2018
 WHERE'S HANNAH GADSBY'S EMMY FOR EXISTING

— Julie Kosin (@juliekosin) September 18, 2018
LET HANNAH GADSBY HOST THE EMMYS. DO IT NOW. MAKE THE SWITCH. #Emmys pic.twitter.com/Gule7B5Yk7

— Dorothy Snarker (@dorothysnarker) September 18, 2018
Emmys, are you listening...?
Get the best of News18 delivered to your inbox - subscribe to News18 Daybreak. Follow News18.com on Twitter, Instagram, Facebook, TikTok and on YouTube, and stay in the know with what's happening in the world around you – in real time.
Subscribe to Moneycontrol Pro and gain access to curated markets data, trading recommendations, equity analysis, investment ideas, insights from market gurus and much more. Get Moneycontrol PRO for 1 year at price of 3 months. Use code FREEDOM.
Read full article