The Lucknow Boy Who Was Harassed, Abused and Arrested For Loving Men
The last 17 years has taken most of the grief away, but Arif Jafar's anger is palpable, although masqueraded as jokes.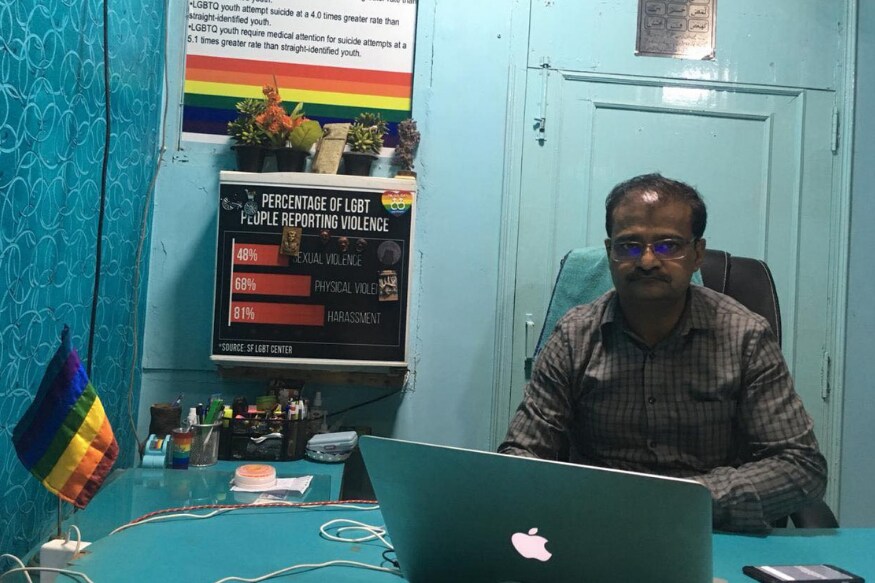 News18 image.
LUCKNOW-- There's no sign of grief on Arif Jafar's face. For a man who has lost his health, family, and 17 years, battling against Section 377, a section of the Indian Penal Code that was used to criminalize sexual activities "against the order of nature", it's no ordinary feat to remain brave. And his fight is not ending anytime soon.
The short, bespectacled man laughs while talking about how he lost all his teeth due to a kidney ailment during his stay in the prison. Despite repeated pleas, he said he got no medical attention, was refused clean water and forced to drink water from the drain. He talks about the jailer who announced that they will "all rot in jail" even if he doesn't have enough evidence. He remembers that he and his colleagues would be referred to as 'Gandu' by the fellow prisoners and often by the police officers too.
The last 17 years has taken most of the grief away, but his anger is palpable, although masqueraded as jokes.
On a rainy day in July 2001, Jafar was doing the job that he had been doing for a decade. Writing a newsletter called 'Sacred Love', seeking government aid for his organisation that worked on HIV and AIDS and collecting resource material from International organisations so he can impart education among the LGBT community in Lucknow. Jafar didn't know that he will soon be branded a criminal-- humiliated and assaulted in public and jailed for months for 'polluting Indian culture'.
"I was abused and tortured. I can't erase the traumatic memories I have from the days spent in the prison," the 47-year-old man said.
Outside his three-room office on the third floor of a building in Lucknow's Dalibagh, Tim Cook, Ricky Martin and Elton John greet every visitor. On his office desk, a tiny rainbow flag is placed. Just behind his chair, there's a graph on violence against the LGBT community. A big framed picture of him, with his head placed on his mother's lap, hangs on one of the walls.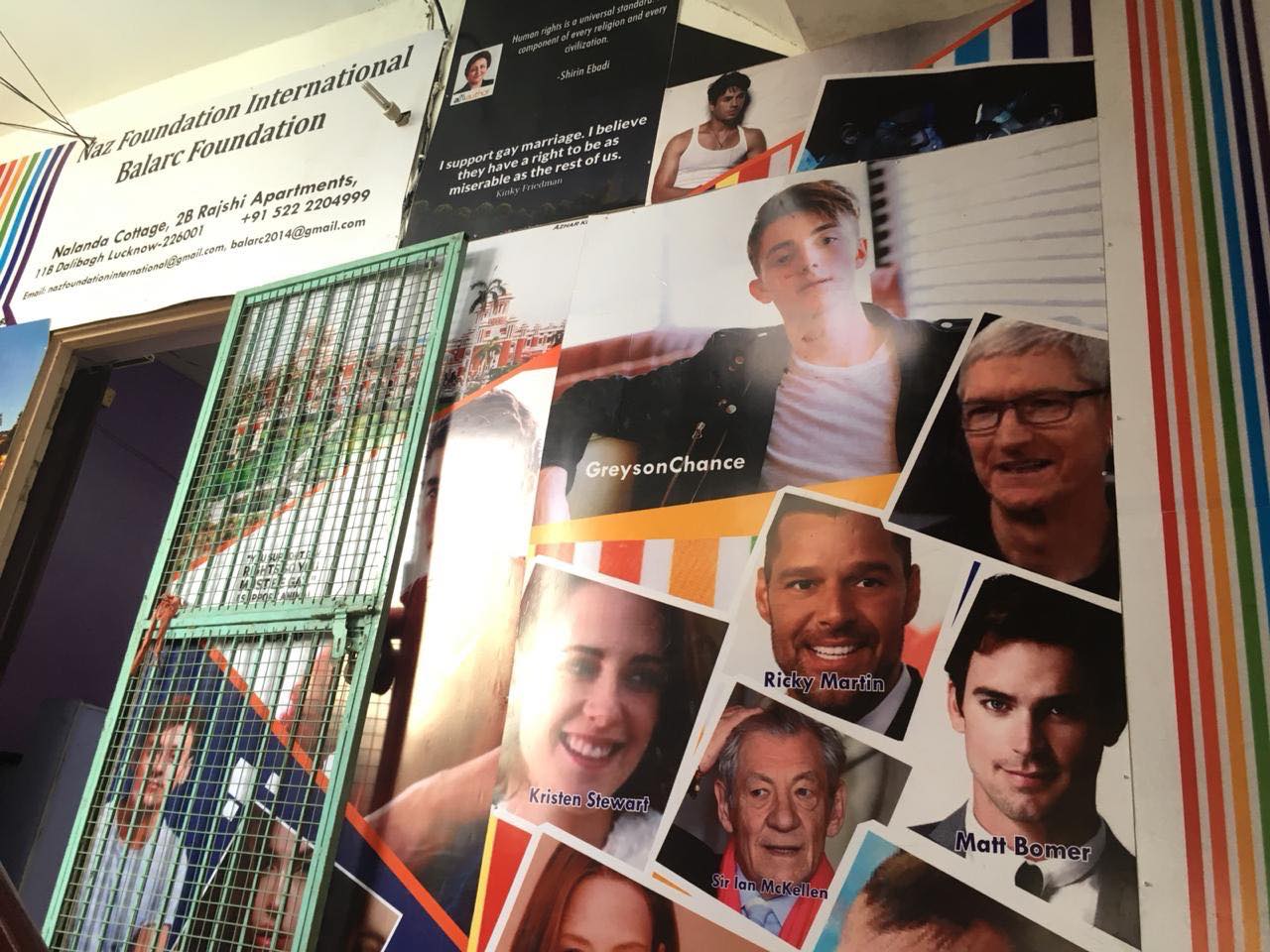 A lot has changed since 8 July 2001, the day he was arrested along with four of his colleagues at the Bharosa Trust, a community-based organisation that provided information, counselling, outreach and peer support for homosexual and transgender people. But seventeen years later, the case is still on. And Jafar hasn't given up. "Faith keeps me going," he said, adding that he prays five times a day without fail. He believes it was his prayers that finally got him out of jail.
The Case That Became 'Gay Sex Racket'
The day after Jafar and his colleagues were arrested, the front pages of local newspapers read 'Gay Sex Racket Busted'. "No media went to check the place where the raids were conducted. They just published the police's version," the 48-year-old said. Jafar, who was one of the petitioners in the case against Section 377, said that media may be cheering after the SC verdict, but they were not sensitised back then. "People had very little understanding on homosexuality," he said.
The latest National Crime Records Bureau (NCRB) data reveals that 2,167 cases were registered under Section 377 in 2016. Uttar Pradesh topped the chart, with 999 cases. Kerala came second with 207 cases that fell under the category of "unnatural offences." Delhi followed with 182 cases. In 2015, the number of cases was recorded at 1,347. The year before that was the first time that NCRB had started recording Section 377 cases from across India. That year, 1,148 cases were lodged. There's no record of the cases in the previous years. Arif Jafar's case isn't even a statistic in the criminal records.
It all began with the arrest of a man called Suresh Singh, who had allegedly sexually abused a masseur called Rakesh Singh. According to the report, Rakesh, a resident of Anand Talkies in Lakhimpur district of Lucknow, would offer services as a masseur in Hazratganj. Rakesh filed a complaint to the police alleging Suresh took him to an isolated place after promising him a double fee and then sexually abused him. Suresh was arrested. During his interrogation, Suresh told the police that many places in Lucknow 'promote homosexuality'. The Lucknow police followed Suresh's lead and raided two NGOs, the Naz Foundation International (NFI), headquartered in Lucknow, and Bharosa Trust. Both the organisations were led by Jafar.
In their report, the police said that they retrieved DVDs and cassettes of obscene videos, dozens of condoms, and books that had graphical visual elements of a human body.
Jafar and his three colleagues were arrested and charged under Sections 377(unnatural sex), 292(sale etc., of obscene books etc.,), 120b(criminal conspiracy) and 109(abetment) of the Indian Penal Code (IPC), under Section 60 of the Copyright Act, and Section 3 and 4 of the Indecent Representation of Women Act.
During his interrogation, Jafar was asked if he had ever visited Pakistan. The police also questioned him about the choice of his organisations' locations that, they said, were 'intentionally' close to defence areas. "They were not sure whether to brand me as a terrorist or a gay man," he laughed.
The Ongoing Battle
In his petition against Section 377, Jafar wrote that the "sole motivation in approaching this Hon'ble court is his wish that no other person should suffer what he had to suffer on account of a discriminatory law i.e. Section 377, IPC and that fellow LGBT citizens can live with the freedom, dignity and respect that they are entitled to".
In a win for Jafar and many others, Section 377 has been read down. While Jafar's arrest remains a chapter out of a horror story, there are nearly a dozen organisations that work for the LGBT community in Lucknow. Last year, the city had their first pride march too. But, Megha, a 23-year-old pursuing graphic designing in Lucknow, says that not much has changed in the city. "Most people still don't know the meaning of LGBT, they think all of us are transgender," she said. When 'Awadh Pride' hosted their first pride march in the city, the Hindi newspapers carried photos, captioning them, 'Kinnar ki parade'.
Megha said that many still indulge in 'corrective rape'-- in which a person is raped in the belief that it will change their sexual orientation and turn them into heterosexuals. "Often it's family members who force corrective rape on their children," Megha said.
The 23-year-old knows of Arif Jafar and the entire episode of harassment. "Something like that may not be repeated. We have the law on our side now," Megha said, a clear tone of hope in her voice. But immediately after, she said, "The mindset won't change so easily. The harassment won't stop overnight."
Rajesh Sharma, the lawyer who has been representing Jafar's 'Bharosa Trust', said that police wouldn't only use Section 377 to arrest a gay man. "It's not easy to prove Section 377, the police has to provide a medical report. They never manage to do that. So they had to take help of other sections to ensure that the case continues," he said. This, Sharma explained, is exactly why Jafar and his colleague's case won't be over even with the scrapping of Section 377. "People who were arrested under the law won't be released after the SC verdict. Decriminalising homosexuality means that the police can't arrest anyone under Section 377 anymore." In Jafar's case, the trial will be on because he was arrested under multiple sections.
Abuse, Torture and The Never Ending Harassment
When the police raided the NGOs and then arrested them, Jafar was surprised, he believed it was a case of mistaken identity. "I had been working here for a while. The top authorities knew I worked to spread awareness on AIDS. Why would they suddenly think I am running a sex racket?"
Now, looking back, Jafar feels it was all planned. He remembers that he got a flood of inquiries between January 2001 and till the time he was arrested in July. "Sometimes it would be about taxes, sometimes just random questions on what exactly I am doing," he said. The activist feels that the police had planned a 'big conspiracy'.
The four activists were first publicly beaten up at the Hazratganj traffic circle and then made to parade from there to the thana. "They asked us to carry our shoes on our head, they wanted us to be humiliated in public as if we had done a crime by being gay," said Sudhish Kumar Singh, one of Jafar's colleagues who was arrested as well. Sudhish's parents only found out about his sexuality after this episode. "The neighbours still don't talk to us, they keep mocking me and ridiculing my parents," said the 48-year-old man. Sudhish is a free man now, he can love whoever he wants to but he feels his reputation is gone. "What I have lost will never come back," he said, a smile that's plastered on his face quivers a little as he speaks.
All of them were remanded to judicial custody and their offices sealed.
Days after they were arrested, Aditya Bhattacharya, counsel for the accused, who is also a friend of Jafar's and was staying at his house, saw the police enter the premises of Bharosa Trust, which they had sealed. He found six policemen in the Bharosa office at 11-30 p.m. and suspected that they could have come to plant something. When Bhattacharya asked if it was another raid, he was accused of being part of the 'Gay Club Racket'. "It was obvious that they just wanted to harasss us," Jafar said.
Their bail applications of the accused activists were rejected twice, first by the Chief Judicial Magistrate (CJM) and then by the District Judge, Lucknow. The CJM denied them bail stating that "the work of the accused is like a curse on society" and then when they appealled at the District Court, they were told that they were 'promoting homosexuality'. "The police wanted to prove that we were trying to turn the Army men into homosexuals. Is that even possible?" Jafar asked. The disbelief at how the police, the state government and the media had a complete myopic approach to the case still baffles him.
It was only after the Lawyers Collective led by Indira Jaising and Anand Grover moved the bail appeal to Lucknow High Court, the four activists were finally released. The medical examination conducted on them had no evidence to charge them under Section 377. But it didn't end there.
Jafar and his colleagues have to be present in the court every month, even now. However, the primary witness, Rakesh Singh, the masseur, never appeared in court and no one knows about his whereabouts. Rajesh Pandey, the then SP Lucknow, who filed the report against Jafar, said that it was an 'organised, sophisticated crime'. When asked about the primary witness, Pandey, who is now posted in New Hyderabad in Lucknow as SP, Security said that it has been 'so long that he doesn't remember the case completely'.
"We did our job. Section 377 was an offence, and we had enough evidence to arrested them under that IPC," he said. When asked what were the pieces of evidence found, he said, "Homosexual books. All the walls in their office had homosexual materials." He didn't explain what exactly 'homosexual material' meant.
At Jafar's office, where a bunch of men has gathered to discuss their new initiatives for 'Bharosa Trust', Salman, who works as a ladies' tailor says that the fear is still there. "We can't walk on the streets holding hands. The police don't like us anyway, they will just charge us with something else," he said.
"We are happy that Section 377 is now gone, but maybe now they will say we are thieves. After all, that's what they did with Jafar Sir," said Raj, another worker at Bharosa Trust.
Jafar, meanwhile, just cracks yet another joke about his lost teeth. "It's going to be a reminder, forever," he said.
Read full article