The Man Who 'Slashed' Car Tyres Over Bad Parking Job is Being Hailed Online
Did he do the right thing?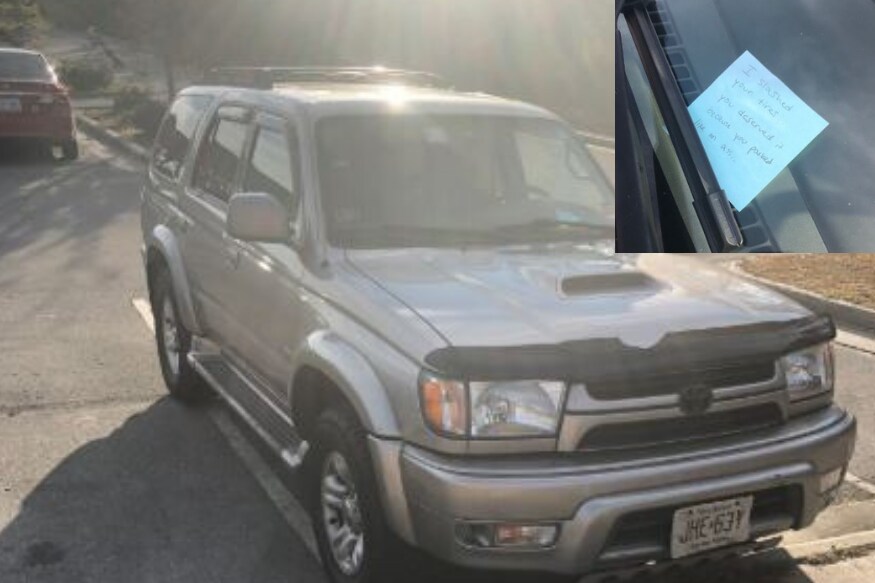 Image credits: @herbehancock / Twitter
Doesn't it suck when someone parks their car in public space like they own the place and all you can do is leave a note on their windscreen, asking them to do better the next time?
People, however, aren't as generous always and sometimes resort to vandalism to teach the offender a "lesson". Of course, damaging someone's property is no joke, let alone you'd find yourself in jail or at the very least facing legal troubles.
But when Matt Wille, a California resident, 'slashed' someone's tyres, who had parked 'liked a jackass', he was lauded by Twitterati for his actions.
"slashed someone's tires today because he parked like a jackass.. was it justified? I think so," Matt captioned his tweet and attached a bunch of photos of his act.
slashed someone's tires today because he parked like a jackass.. was it justified? I think so. pic.twitter.com/91g0Vb8km1

— Matt Wille (@herbehancock) December 8, 2018
The social media outrage was almost building up until netizens opened the last photograph in Matt's tweet.
Was about to get internet mad .... then saw the pics pic.twitter.com/18KsFhAtGV

— TheRoof® (@TheRealRoof09) December 9, 2018
at first I was about to be like that's a bit too much man but this is truly wholesome

— Michael (@BlasphemyJosh) December 8, 2018
I almost got mad. Then I laughed.

— jake☃️ (@jacobvanIue) December 10, 2018
This is oddly wholesome

— Dyl_face (@Dyl_toast_man_) December 8, 2018
Show the man a lil mercy, that's too savage fam

— MK (@Megatkhairoll) December 8, 2018
Sweet Child O' Meme.
Least you didn't break his axl

— Aaron Humphrey (@alfvaen) December 10, 2018
You cannot please everyone, can yo?
I'm mad I saw the picture and still kept looking for damaged tires ‍♂️

— sh3nghai (@sh3nghai) December 8, 2018
Being passive aggressive is the only way to go.
Idk about yall but i put this on people's car who cant park. Lmao. pic.twitter.com/KGL31HpPDv

— Sole.Keeper (@SoleeeKeeper) December 9, 2018
For the unaware, Saul Hudson, popularly known as Slash, is a popular British–American musician and songwriter, who recently got back in the acclaimed hard rock band Guns N' Roses after two decades of exile and has reunited with singer Axl Rose and bassist Duff McKagan.
Get the best of News18 delivered to your inbox - subscribe to News18 Daybreak. Follow News18.com on Twitter, Instagram, Facebook, Telegram, TikTok and on YouTube, and stay in the know with what's happening in the world around you – in real time.
Read full article