When Indian Navy Commander Vijay Verma saved a pregnant woman stranded on the roof of her house in flood-ravaged Kerala, he became an overnight hero. And made headlines everywhere.
But perhaps what Verma didn't expect was an appreciation in return. Yes, the Indian Navy Commander has just received a very special note for his successful rescue attempt.
A 'thanks' note was left, not a handwritten one but was painted on the roof of a house from where he had rescued two women.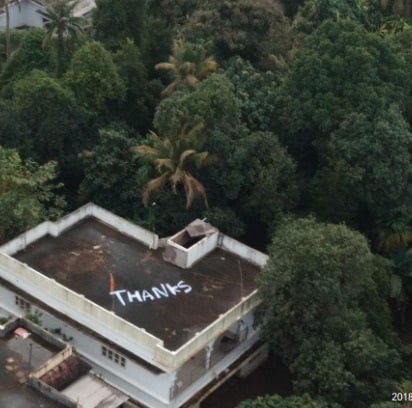 The unique gesture was appreciated by the Indian Navy. The official handle took to Twitter and wrote, "A Thank You note painted on the roof of a house where the Naval ALH piloted by Cdr Vijay Varma rescued two women. Bravo..."
On August 17, a doctor was first lowered from the chopper to assess the condition of the Sajitha, who was in labour. She was then lifted and admitted to the Sanjivani multi-speciality hospital in Alappuzha district where she gave birth to a boy.
The efforts of Indian Navy have been applauded on several occasions. Captain P Rajkumar had earlier landed a helicopter on a narrow rooftop, rescuing 26 people in a daring attempt.
The unprecedented rainfall, flood, and landslides in Kerala have brought the state to a standstill.
The Indian army, fishermen, volunteers, and the common people have been tirelessly working to bring Kerala back on its feet.
Here's How You Can Assist in the Relief Operations
Union Minister KJ Alphons said on Monday that Kerala now needs skilled people to rebuild it. "All possible assistance is being given. Things are working well and the fishermen have come out as biggest heroes. Kerala is responding well. I thank all for the help and funds. This is what we needed," he said.