Assembly Elections 2019
Exit Poll Results
The Tower of London Lit Up With the Light of 10,000 Flames to Celebrate 100 Years of the End of WW I
Britain declared five-year-long World War I to be officially over on the 11th hour of the 11th day of the 11th month, i.e, Nov 11, 1918.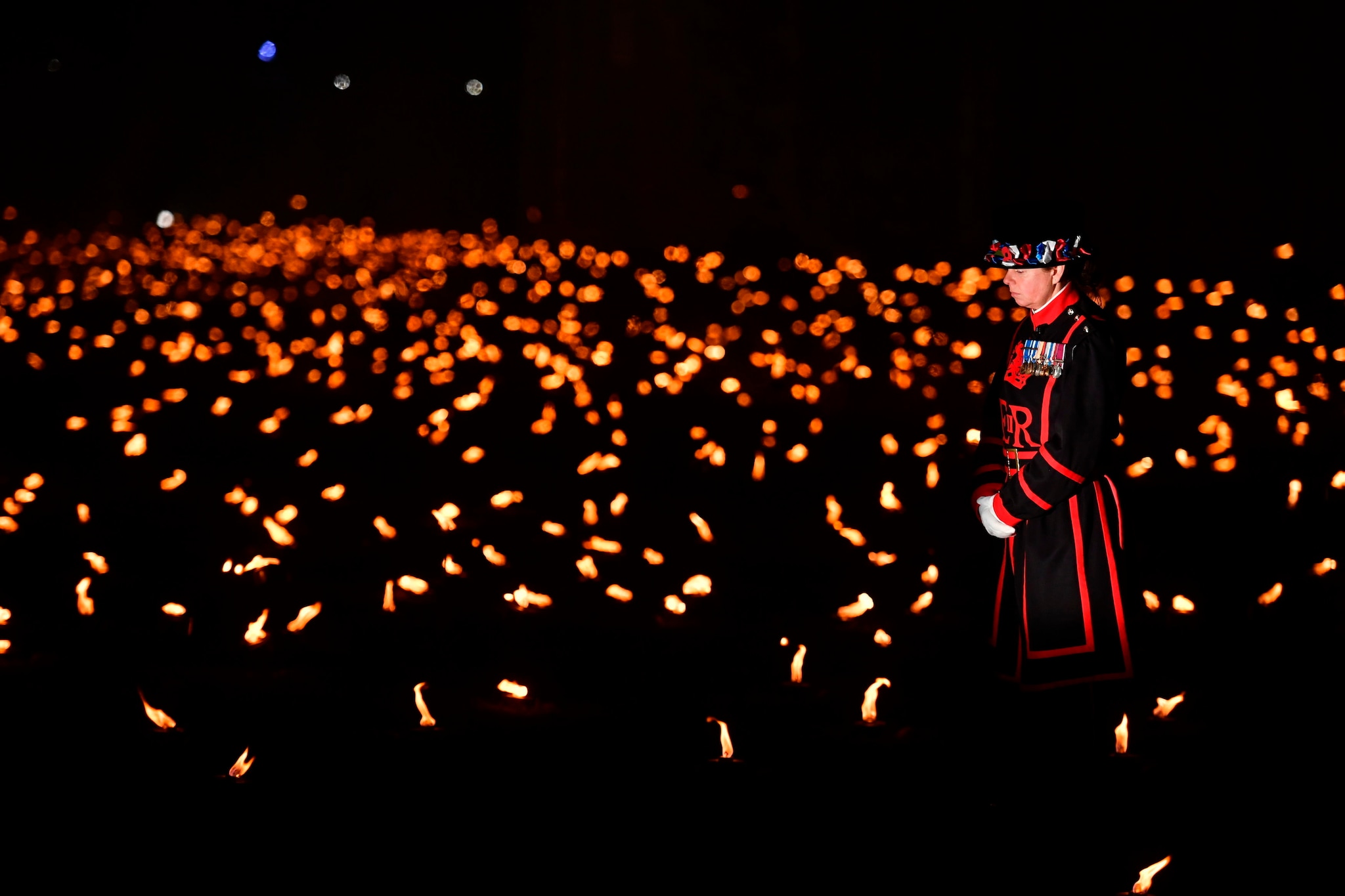 A Yeoman Warder, commonly referred to as a 'Beefeater', stands amongst the first of thousands of lit flames which form part of an installation called 'Beyond the Deepening Shadow: The Tower Remembers', in the dry moat of the Tower of London, to mark the centenary of the end of World War One, Sunday Nov. 4, 2018. ( John Stillwell/PA via AP)
This November marks the centennial anniversary of the end of World War I. The 'Great War', as it was then referred to, lasted for five years was crucial to the consequent course of political history in Europe and the entire world. The five-years-long war changed the face of modern warfare and was a turning point for world politics.
To commemorate the centennial anniversary, the Tower of London was lit up with the light of 10,000 flaming torches to remind the world of the brave who lost their lives in the war. The tower is hosting an event called
"Beyond the Deepening Shadow: The Tower Remembers
" from November 4 to November 11, the day that the historic armistice was signed and war was finally declared over in Britain.
The torches are going to be lit everyday from 5 pm to 9 pm by Yeoman Warders, ex-military officials and traditional guards of the Tower of London, better known by the name 'beefeaters'. Enthusiasts can also take guided tours of the inside of the tower.



#TowerRemembers from up high in the sky 🚁 A helicopter's view of the 10,000 candles filling the moat of the Tower each night this week to commemorate the centenary of the end of the First World War. https://t.co/qD7L1rGaep pic.twitter.com/oaidlIkvuE


— The Tower of London (@TowerOfLondon) November 4, 2018

Tower of London to be illuminated by 10,000 flames in act of First World War remembrance https://t.co/93WS8Ct1Zn pic.twitter.com/wcUhSm3X9p

— The Telegraph (@Telegraph) November 4, 2018




Drummer Steven Brown from F Company @scots_guards was privileged to light flames in the @TowerOfLondon Moat for #Remembrance installation #BeyondTheDeepeningShadow The sound and light show runs every evening until 11th November and is free to view. #armistice100 pic.twitter.com/vlBU0k1PvY


— The Army in London (@ArmyInLondon) November 4, 2018
Many on Twitter shared videos and photographs of the powerful sight.

Moving, memory-making and thought-provoking #TowerRemembers #BeyondTheDeepeningShadow @TowerOfLondon pic.twitter.com/pc2furBKDM

— John Barnes (@JBarnesHRP) November 5, 2018




A beautiful and haunting evening @TowerOfLondon 'Beyond the Deepening Shadows' #Remembrance100 pic.twitter.com/tOv9I8VDV9


— Sarah Collymore (@SarahCollymore) November 4, 2018

Torches lit by volunteers in the moat during first lighting ceremony Tower of #London. Torches will be lit every evening until #ArmisticeDay on Nov. 11. Part of series of events to commemorate 100th anniversary of the end of #WWI.
📷: Chris J Ratcliffe/@gettyimages @NBCNews pic.twitter.com/yfniNZV8ya

— David L. Casey (@kcdiversity) November 4, 2018




Stumbled across this tonight while walking by @TowerOfLondon - an extremely moving installation commemorating the end of #WW1. Was beautiful to listen to - video doesn't do it justice. #London pic.twitter.com/6ybWC2yTiM


— Susan Russell (@sunshinesuz) November 4, 2018

An amazing display for #Remembrance by @TowerOfLondon

Can @tompiperdesign confirm whether this display of 10,000 candles was inspired by #Diwali which is on Wednesday, & is the #FestivalOfLight where divas/diyas (candles/lamps) are lit to celebrate the triumph of good over evil? https://t.co/BD60r4m97b

— Akshay Vara #GTTO (@ThatGuyAkshay) November 4, 2018

Read full article
Countdown To
Elections Results
To Assembly Elections 2018 Results