There's a Reason Why Amazon CEO Jeff Bezos Wore Pajamas To a Board Meeting
Never before has Jeff Bezos been so comfortable at a board meeting.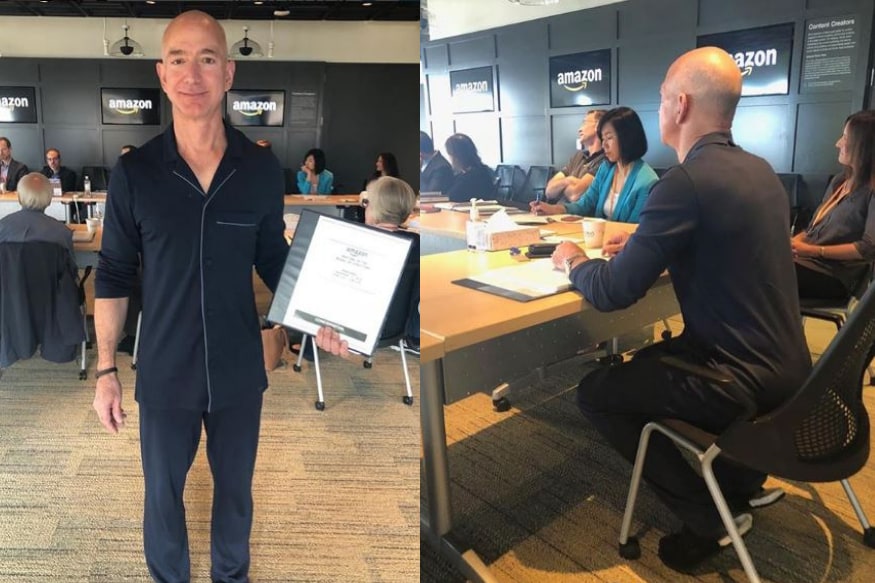 Never before has Jeff Bezos been so comfortable at a board meeting.
Amazon chief Jeff Bezos is living a dream.
While many of us wish we could just wake up and get straight from bed to work - showing up to work in pajamas is not acceptable. And very few of us can actually rock that sleepy bed-head look.
Amazon CEO Jeff Bezos, however, showed up to a board meeting in pajamas. While a normal employee doing it may be getting stares for his very 'casual' attire, Jeff Bezos, the richest man in the world, is doing it for a cause.
Wearing a dark blue night-suit with white piping, Jeff looked the classic example of someone who walked out of bed - and straight into a boardroom. In an Instagram post he shared why he dressed the way he did.
"September is Childhood Cancer Awareness month and each year Amazon partners with ACCOrg to raise awareness of childhood cancer – second leading cause of death for kids in the U.S. between ages 4 and 14." He shared on the post.
American Childhood Cancer Organization is an American organization dedicated "to fighting this last great disease killer of children." They say how they "are engaged in this ongoing struggle because we understand the emotional and physical toll childhood cancer takes on its victims and their families because we ourselves have been touched by it. "
PJammin events are hosted in "solidarity for the thousands of children living in their pajamas for months while receiving medical treatment." Each event helps raise money to support the organisation.
Partnering with Amazon to raise awareness, a specially branded Prime Air jet was rolled out along with some charitable donations.
Employees at Amazon followed Jeff Bezos example and also started 'PJammin.'
Pjammin at SDF1 in Campbellsville Kentucky! Raising awareness, providing support, and showing the love for precious children fighting this terrible battle. #GoGold #PJammin pic.twitter.com/vVF4sVAZob

— Carlos De La Garza (@CarlosDLG1994) September 12, 2018
Love what we are doing to raise awareness of childhood cancer. Make a difference and love what you do! The FTW1 team is #PJammin! #ChildhoodCancerAwareness #GoGold #Amazon pic.twitter.com/3X1NdvUISY

— Mike Flannery (@MikeFlan77) September 12, 2018
@InsideAmazon We at #PJammin at IND1! IB Team represents! #GoGold #DeliveringSmiles pic.twitter.com/8xbPdZlW6u

— Shannen Priser (@coorsltman40) September 12, 2018
#PJammin with the Americas CS team . pic.twitter.com/7kgpW6Mk6L

— Shiv Menon (@2408shiv) September 13, 2018
#deliveringsmiles ABE2 Goes Gold #Pjammin pic.twitter.com/UvHbFOYcGx

— Alana Repetsky (@alana_repetsky) September 13, 2018
Guess that is one workplace where turning up for your pajamas won't get you fired - especially if it for a good cause.
Read full article